Willamette River Fishing Report – It's definitely an off again, off again, kinda on, off again fishery here on the Willamette. There's more challenging day than successful ones. We're really going to test the number of fish per hour of effort this year. The Multnomah Channel has been a bit of an exception however.
There are definitely different "camps" of Willamette River anglers. This year, with the extended periods of low water, slow migration and lack of fish, Multnomah Channel trollers are having the most consistent success. The ODF&W statistics back this up with fish per rod stats showing about 1 spring Chinook for every 10 rods in the lower reach, while it takes 14 rods to catch a springer in the Oregon City area. The middle reach, from the St. Johns Bridge to the Oak Grove Railroad crossing seems to be no-mans land.
HERE are the statistics reach by reach, right from the horse's mouth but to summarize:
4,766 anglers retained 498 hatchery spring Chinook and let go 107 (82% mark rate) in the Multnomah Channel and from the mouth at Kelly Point to St. Johns Bridge reach,
1,412 anglers retained 61 keepers and released 18 wild ones (77% mark rate) from the St. Johns Bridge to Oak Grove RRX, and
1,500 anglers harvested 84 keepers, releasing 23 wild ones (79% mark rate) from the Oak Grove RRX to Willamette Falls last week.
There has yet to be a bank-caught spring Chinook recorded, but keep in mind that Meldrum Bar is closed.
There were 5 summer steelhead caught in the Willamette fishery; 3 in the lower river, which is unusual, and 2 likely in the Oregon City area.
Anglers are also still exercising some sturgeon in the river, with the lower reach getting most of the attention and most of the action. The upper river sanctuary closure is now in effect as spawning sturgeon should now be left alone.
There has also been a few shad caught in the Oregon City area, which shouldn't be all that surprising with the water temperatures and flow being so mild. Water temperatures remain in the high 50's and will hopefully cool with the onslaught of rain coming this weekend. The Willamette is on track to be dangerously hot again, like the situation we had in 2015 which killed countless spring Chinook in the system. In other words, pray for rain!
Passage at Willamette Falls is progressing nicely. To date, over 7,000 adult spring Chinook have bypassed the falls, and over 500 summer steelhead. That's a good start for upper river anglers. The mainstem Willamette should still be an option for anchor fishermen working spinners off of the back of their boats. Plugs should be effective as well, but hardware more so as the water temperatures warm.
A few readers have commented on the sea lions in the Oregon City area. Although the state removed 33 of those problem mammals last year, there are a handful in the Oregon City area as we speak. I have a call into ODF&W to get a better understanding as to what will be done, but I was told due to the social distancing guidelines, trap and removals weren't being conducted right now. Hopefully that changes in the very near future.
The Guide's Forecast – A change in the hydrograph is not a bad thing: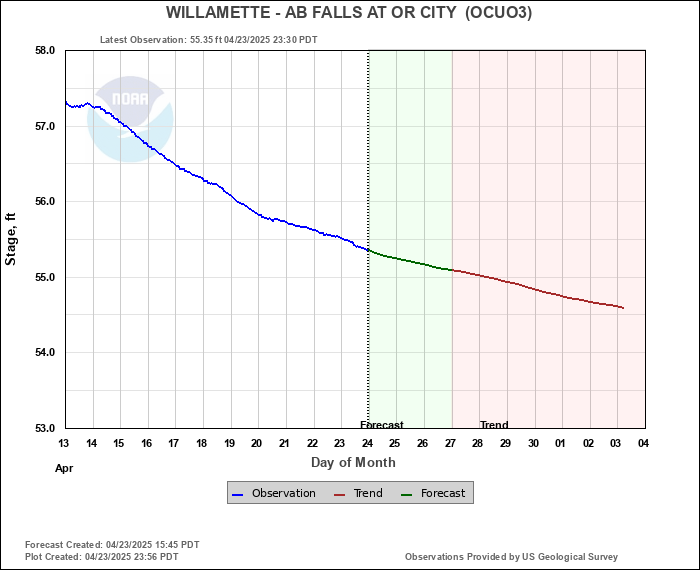 Although not a significant rise, a change in river levels should trigger some faster migration and a better bite for Willamette River spring Chinook. Couple this with the fact we have tens of thousands more spring Chinook to come back to the Willamette, and anglers do have something to look forward to in the coming week. Weekend anglers should get some time in before any strong rise in river levels come, but realistically, we're only looking at about a 1-foot rise in water level anyway. I've had some fantastic fishing on a slight river rise on low return years.
Until we get a change in river levels, and frankly after that as well, you're going to see anglers stuck in their ways, grasping for success. There will continue to be more challenging days than others, but there will be some good days too in the coming weeks. Even on the challenging days, there are still fish to be caught and you can't catch one from your living room couch.
Pro-trolling has come to town, and even the most seasoned prawn bouncers have converted over to 360 flashers and spinners. There aren't even many folks backtrolling eggs or shrimp in the swifter flows at Meldrum Bar and across from the mouth of the Clackamas. The Garbage Hole has a few Pro-Trollers but now egg backtrollers or back-bouncers, which certainly has something to do with a lack of flow. It's 360 flasher season and everyone in the upper Oregon City reach is doing it, along with middle river and lower river trollers as well. Herring however, remains a staple in the Multnomah Channel.
There are a few hoglines, lining up just above Meldrum Bar and they are taking an occasional fish. Without a doubt however, dragging 360 flashers with spinners is the way to go for simplicity and productive measures, that likely won't change for the remainder of the season.
The reach from Cedar Oaks to Willamette Falls should continue to improve for trollers. There has been an increasing number of trollers working the West Linn Bridge "puddle" troll although action is far from consistent, and that's where anglers are having the most trouble with sea lion interaction. Cedar Oaks to Meldrum Bar is a popular and fairly consistent reach for trollers.
Multnomah Channel trollers will stick to herring for the most part, but again, as waters warm so too should the spinner bite. Pro-Trolls and spinners should also become more productive in the Portland Harbor as most of those fish have already seen all the wounded herring they can stand.
Sturgeon fishing will close upstream of the Oak Grove RRX, but should remain productive downstream.
Shad fishing may turn on when the temperatures warm just a bit more.
Bank anglers will remain challenged to catch a springer or even a steelhead, access may be the biggest challenge however if cities, counties and the state don't start easing restrictions.
Columbia River Fishing Report – Although there is nothing to report other than passage at Bonneville is improving things are looking up for the Columbia fishery.
If you didn't catch it in the Fisheries Update section, there is going to be a joint state call between Oregon and Washington tomorrow afternoon, to discuss the re-opening of the Columbia River for salmon and steelhead. We often do not see what the staff recommendation is until just prior to the call, but we're hopeful we'll get a chance after Washington opens up the outdoors on May 5th, to get a chance to Columbia River salmon.
Fish passage is improving daily, with over 8,000 adults now over Bonneville Dam and Bonneville reaching the benchmark of passing 1,000 adult springers a day at the facility. If it indeed opens up, we should have some short, but sweet opportunity. We'll detail that in the next section.
The Guide's Forecast – We'll be sending out notice as soon as we get it, to our subscribers at The Guide's Forecast. Be sure to check your Inbox around 5:00 p.m. on Friday, May 1st to get the news, determining if sportanglers will get a chance at Columbia River springers, likely starting around May 5th. The numbers are Bonneville are pleasing, it should be a good opener if it happens.
Although there will be biters throughout the river, especially since we're approaching peak season for passage, opening day, let's say it's Tuesday, May 5th, should be great throughout the river. Keep in mind that the river is only open from Warrior Rock to Bonneville Dam to continue to protect depressed returns on the Cowlitz and Kalama Rivers. With 1,000+ springers per day passing Bonneville, they are well distributed throughout the lower river. Peak passage at Bonneville will likely happen within the next 10 to 12 days.
Without any anglers harassing fish for the season, the fleet should find many-a-willing biter on opening day (assuming that happens). After the first opening day, it won't stay as productive as opening day, but action should remain steady for however long we get to prosecute the fishery. Again, we'll send details when we get them, but if the fishery goes, it'll likely be crafted like the pre-season model of a days per week fishery. That'll enable managers to keep the horsepower in check but given we're fishing on a river full of fish, don't expect the season to last long.
Although the entire reach that's open will likely produce on opening day, the river is on a steep climb as spring spill is happening at this time: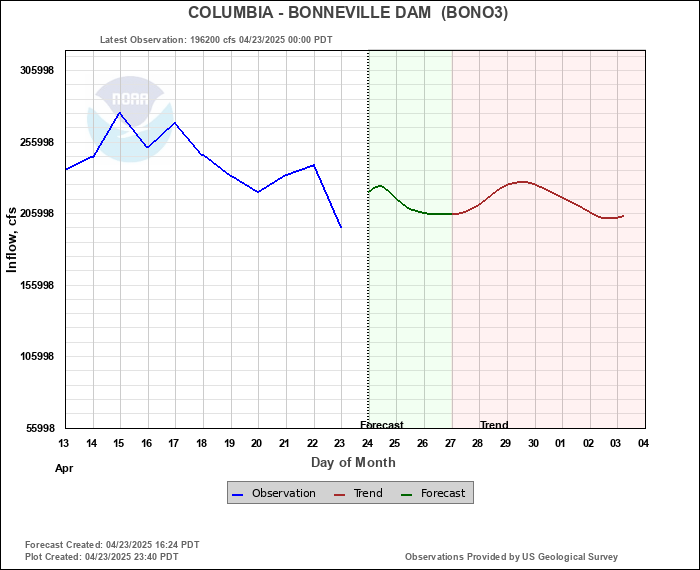 This has historically stifled catches downstream of the Columbia River Gorge. High water will also make trolling less effective so I recommend those fishing downstream of the gorge to try their hand at anchor fishing with plugs wrapped with sardines. Anchor fishing in the shallower water is always a good idea when the flows are ripping. Also keep in mind that fish are always moving in the mainstem Columbia so employing a technique such as plunking or anchor fishing in one spot is a productive technique, especially if you happen to land in a well traveled migration lane for these fish. Fishing alongside wing jetties or rock outcroppings is a great strategy to funnel more fish towards your gear.
If you're a troller, the Columbia River Gorge springers seem to be more responsive to trolled gear in that reach. The river in front of Horsetail and Multnomah Falls is a consistent reach, working the 15 to 22-foot of water with flashers and herring, close to the bottom. Skamania Island used to exist in that reach, but got washed away in high water one year.
ODF&W has temporarily taken down regulation and fishing information on the Columbia River, but it should be updated soon after the joint call on May 1st. As I mentioned, we'll be sending out details if the fishery prosecutes, but you may also check the Columbia River section of the ODF&W web site HERE. At least keep it as a continual reference.
Simply summarized, plugs with sardine fillets (held in place with Bob's Bait Wraps of course) if you're fishing downstream of the Columbia River Gorge or troll herring around Multnomah and Horsetail Falls in the Columbia River Gorge, ideally with flashers, keeping your gear close to the bottom. There's surprisingly few snags in this fishable reach.
For those wondering about a saltwater option, the tides are right for a south or sunken jetty excursion for sea bass or lingcod, and it would be productive, but the ocean swell will NOT be friendly this weekend so don't go out! It looks like a freshwater fish show for the near future.
Clackamas River Fishing Report – With access limited, so are the fishing reports. That said, winter steelhead will be tailing off and more summer steelhead should start to show in the catch. Bank angling is the best option right now with the upper reaches having the best mix (read: spent winter runs and some summer runs) of steelhead. With state parks being closed, those reaches will be hard to access however. If you do get to the river, flow are good about now, but will likely be on the increase late in the weekend: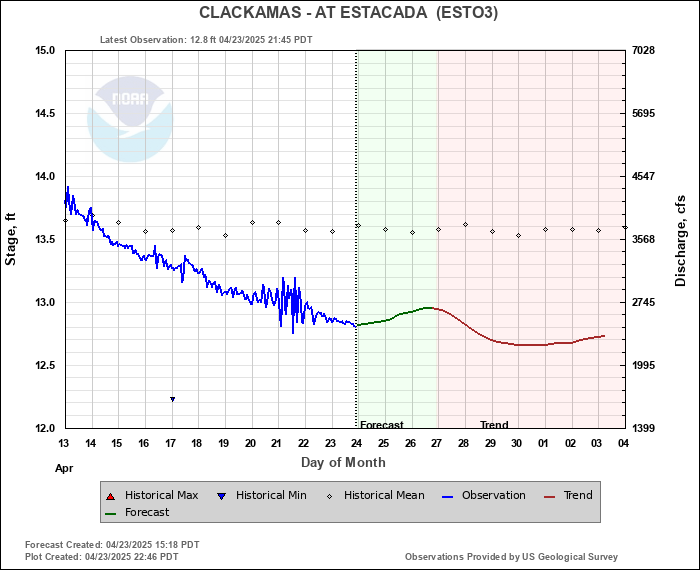 Although it sounds like fishing will open back up again on the mainstem Columbia, boat ramps and state parks may remain closed until later in May. That will make river access challenging for the foreseeable future.
Spring Chinook should be starting to enter the river and the creel program starts this week, but if history repeats itself (and it most likely will), hatchery fish will likely be challenging to find, but there should be fair numbers of wild fish for catch and release fishing for the avid Clackamas angler. There's nothing more hurtful and majestic at the same time, then letting a fat laden wild spring Chinook head to the spawning grounds of the upper Clackamas River. It would be much easier if they didn't taste SO GOOD!
The Guide's Forecast – If you're planning on a trip to the Clackamas, you must know of some fair bank access for steelhead. You'll be challenged by a rapid rise in river levels come Saturday, but maybe even more challenging is the fact we're between seasons for winter steelhead and spring Chinook and summer steelhead. It's not peak season for anything right now, but all three species should be in the river.
The better fishing will likely happen by Monday or Tuesday of next week, when flows start to come down following the rapid river rise over the weekend.
Remember to use big, colorful offerings in higher flows and drop down to smaller baits and more subtle colors when flows subside.
Sandy River Fishing Report – Pro guide Jeff Stoeger (503-704-7920) reports, "Hello All. I hope that everyone is doing well. I know a lot of people are starting to get frustrated with having to stay in and being cooped up. I heard today that the state parks look like they going to keep all parks closed until the 25th of May. I know a few guys that have gotten out on the Sandy the last couple of days and have caught fish. I heard of a couple of springers caught on plastic worms as well as spinners. A buddy caught a real nice summer steelhead on a bead pictured here:
The Guide's Forecast – Jeff continued, "The forecast is for the river to stay at current levels with the river to take a small bump with the next rain event. The current level is 10.29ft and is expected to go up to 10.49ft and should hold for the next few days. With most of the parks being closed, and Oxbow being the only one open to the public. I would concentrate most of time there and learn as much as possible. Keep records of what time you fish and the gear and technique that you are fishing for future reference. There will be fish still coming in after the release from lockdown and the parks should open, so we will have more access to get out to our favorite spots. So get out and wet your line and wishing you best of luck."
North Coast Fishing Report – Although spring Chinook are starting to show in the Tillamook district, we're still weeks away from peak season. Historically, mid-May was the most productive period for springers here. Now, some of the best fishing takes place in mid to late June.
There have been reports of spring Chinook caught in Tillamook Bay, but I can't tell you how those boats are getting access to the bay. Of course there are some folks that have moorage on the bay and hopefully as counties and the state start to lift restrictions, we'll all get back on the water. Until that happens, fishing for spring Chinook on Tillamook Bay will remain challenging.
The bulk of the spring Chinook will be destined for the Trask hatchery. With the hatchery hole being closed, and river access in the Trask equally challenging, fish should start to stack up with little harassment from anglers. Again, getting access to them will be the challenging part. We're all on a wait-and-see situation with river access.

Meanwhile, winter steelheading is effectively over. The fish are spawning and many are already spawned out and making their way back downstream. There should be a few summer steelhead in the Wilson and Nestucca systems, but they will be few and far between. Bank anglers will have the best access to them, and fish the traditional steelhead water with traditional steelhead tactics.
There will be a nice rise in river levels over the weekend, we'll go over that in the next section.
Bottomfishing should be excellent, but again, we struggle with access. The seas have been big lately so even those that already have boats in the water aren't really going out.
Bay crabbing is fair-at-best, if you can get access.
The Guide's Forecast – One word… access. If it opens up, it'll be time to pursue an occasional spring Chinook and certainly bottomfish. There should be some sea bass and lingcod available on the north and south jetties near Garibaldi but those areas too, may be hard to access.
Soft tides this weekend will make the jetties a better option for herring trollers, but don't count on a lot of fish to be available. You should be feeling fortunate if you catch a single springer, but they sure are nice fish. From high tide at about 8:00 a.m. on Saturday, (9:30 on Sunday) through low slack, should provide the best opportunity for a rare spring Chinook. Saturday's weather however looks rocky at best however; lots of wind from the SW, NOT FUN!
Bottomfishing won't be an option either, I won't even bother posting the NOAA weather prediction. DON'T GO! Bay crabbing, maybe, but the commercial crabbers are saying ocean crabbing is poor as the crab are in the spawning clutch.
Rivers may provide the best sport, especially on the drop come Sunday and Monday. There will be fair numbers of spent winter steelhead in most of the systems, but the Wilson, Nestucca and Siletz should have some summer steelhead around (with an emphasis on some) and the Trask should have a few spring Chinook around, if you can find access to the river. You'd frankly be better off with a different fishery for the weekend.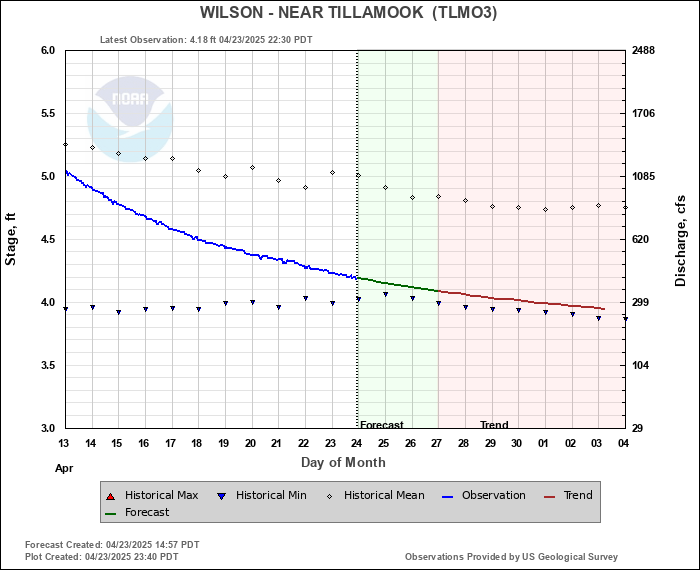 The Tillamook district won't be your best option for the weekend, we're in peak spring Chinook season in the Willamette Valley, it might be best to stick close to home.
Central and Eastern Oregon Fishing Reports –
From TGF contributor Tim Moran:
The "traditional opener" last weekend was pretty good in most spots. Here is how it went and what to expect this week…
Odell Lake – Kokanee were biting from the surface down to about 30 feet. I expect the schools are probably that thick so you can catch them in the top half of the water column. A flasher and no weight to 3/4 oz. and a spinner or hoochie tipped with scented corn will catch fish all day.
Wickiup Reservoir – Campgrounds are closed but the ramp is open. I camping is open in unimproved. kokanee fishing was good last weekend and I expect it will hold up for awhile. Limits were the norm for folks fishing the surface down to 20 ft. Browns are in the same area and will be off points waiting to ambush kokanee that stray into their zone.
Crane Prairie – Crane fished well and should only get better. Cranebows to 5 lbs. fell to trollers, worms and powerbait as well as fly fishers stripping leech and nymph patterns. I even got reports of pretty good bass fishing so it looks like Crane is a solid bet for the foreseeable future.
Lower Deschutes River – Maupin area – trout fishing has been good fishing nymphs. Last week was perfect for a march brown hatch with overcast skies and fishing didn't disappoint. Dead drifting a stonefly imitation tool some big trout last weekend and I expect there will be more taken this week. The big bugs are on the move and fishing for them will transfer over to dries in the next week or two.
John Day River – the river bounced to 7000 CFS and is on the drop but it needs to drop and warm a bit to make a smallmouth trip worth it. Look for flows below 2800 CFS and them plan your trip. Boater passes are not available yet and May has been cancelled.
Crooked River – Baetis and BWO imitations from the nymph stage through the adult cycle are the main dry's but a small purple haze or Renegade is always a good choice here.. Scuds, renegades -wet or dry and small dries in sizes 18 to 20 are effective. I would expect fishing to be good as usual on the Crooked in spring!
Owyhee River – We fished it last weekend and it was good on Friday and tough on Saturday. Friday we did really well swinging a size 18 soft hackle with a size 22 brown nymph behind it. The fish would take one fly or the other but we had a tough time setting the hook softly enough to hook the fish without it breaking 6X tippet. It was quite a game. We did get several fish with the biggest a 23 inch fish in the 4 lb range. Lots of 15 to 18 inch browns a few football rainbows. Saturday, nothing was happening for us until we tied on some big, gaudy stonefly nymphs. We caught three fish and lost a few more…the takes were ferocious! We either hooked them or they took the fly and immediately broke off.
That's the report…I'm heading to Wickiup this week so I'll have a report fresh from the lake next week.
Enjoy the weekend everyone – Tight lines!