Columbia River Fishing Report and Forecast by Bob Rees
Columbia River closes for spring Chinook, focus will turn to Willamette
Columbia River Fishing Report – Same story, different year.
Just as action was starting to pick up, the fishery has once again closed to the taking of spring Chinook. Although as typically the case for Columbia spring Chinook, or spring Chinook in general, one day can be good while the next could be a disaster. That has certainly been the case for the Columbia fishery although catches had become more consistent as we neared the closure date.
I had the pleasure of fishing the last day of the fishery (Wednesday) in the Columbia River Gorge with iconic angler Buzz Ramsey, even more iconic angler Maggie Ramsey along with TGF writer Terry Otto. We started off the day trolling in front of Multnomah Falls and on the first pass, Maggie caught and released a wild spring Chinook in the 10 or 11 pound class. The fish was taken on a red and white size 5 Mulkey blade. It all went downhill from there.
The company was sure good, but wind waves bucked up the river making it very challenging to fish. After a few more challenging passes, we went with the wind chop downstream to Rooster Rock State Park to get a ride back upstream to retrieve the truck and boat trailer. We cut the day short as that was just not weather we wanted to fish in. We did see other fish caught but overall, it did not look like it was shaping up to be an epic day.
ODF&W data from the previous 3 days prior to the fishery closures indicated this, from ODF&W biologist Jimmy Watts:
During April 4-6, anglers made 6,422 trips and caught 1,505 adult Chinook (1,392 kept and 113 released) and 22 steelhead (10 kept and 12 released). Based on preliminary VSI sampling, upriver spring Chinook comprised 81% of the retained catch.
Here's the season final NOT counting the last day of the fishery. For a change, we went OVER our impacts, here's hoping for an accurate or under-predicted run size. We really can't afford any more restrictions. The sport fleet downstream of Bonneville Dam was alloted 3,913 fish. Our take the day before the last day of the season was 3,904.
Lower river anglers reported good fishing on Monday, challenging fishing on Tuesday and back to fair to good fishing for the last day of the season (Wednesday). One guide reported only seeing 2 fish caught in Clifton Channel by trollers on Wednesday, but heard of a pretty good bite by trollers working the inside of the lower end of Puget Island, where the strong flows of the minus tide didn't have as much of an impact on trolling speeds. As we forecasted, anchor anglers often produce better when tides are pushing so hard.
Overall, reports and data suggests a pretty good season for Columbia River anglers, hopefully, an indicator of a larger than expected return of adults. As expected, nearly twice as many fish were caught and retained during the last 6 days of the fishery, when compared to the previous two months (February/March) when it was open as well.
After a nice spurt of early season fish, passage at Bonneville has tapered for reasons I'm not sure about. It's still off to a good start, more will be revealed in the next couple of weeks (while we sit on the river-bank).
The Guide's Forecast – Well, this won't take long, but I thought I'd take advantage of this empty space by explaining what it would take for the agencies to reopen the fishery. First of all, given the fact we have likely exceeded our impacts for the lower river, we will have to wait until run size update, sometime around May 10th, before we find out just how big this year's adult return will be. Following that, we will see how our prosecuted fishery fared against catch sharing with the upriver tribes and how we butted up against are ESA allotted impacts. The more likely scenario will be the possibility of an immediate opener if the run size is actually under-predicted along with, or in lieu of the possibility of tacking on a few extra days with the summer Chinook opener, likely to happen starting June 15th. It's a complicated mess, and I can't even say with a lot of certainly that I've translated that accurately. It's just what's happened in the past so we hope for a repeat performance with better news in the weeks ahead. We'll be tracking run passage closely in the coming weeks. Until then, the fishery remains open above Bonneville Dam, but check regulations carefully as there are expansive area closures, especially in the Bonneville Pool.
It'll be best to keep yourself updated by reviewing the ODF&W regulation updates from their Columbia River Recreation Report found HERE.
Until we meet again, hope you got out and caught fish and even though I still see it as a positive that thanks to mark-select fisheries we had this opportunity, we can do much better by recovering wild, Snake River salmon. GO HERE to sign the petition that tells our policy-makers that we CAN DO BETTER!
Some notes on upriver fishing for spring Chinook. Even on years of good returns, it seems few anglers have it "Figured out," as to how to catch these fish upstream. With the Bonneville Pool closed to Tower Island near The Dalles, there's a few boats that successfully anchor in the swift water below The Dalles Dam, but trolling upriver of the Dalles Dam and the pools upstream of that seems to produce limited success. That may change over time, as more anglers innovate and learn the fishery, but for now, few have consistent success and believe me, there's been an effort to try.
Good luck if you go, you'll need it. A total 960 adults have bypassed Bonneville Dam to date, tens of thousands yet to come.
If you haven't heard about the retention season for sturgeon, it starts on May 11th and runs through June 4th. That's each Wednesday and Saturday, but also includes Monday, May 30th, Memorial Day (also likely a Free Fishing day sponsored by ODF&W). HERE is the official press release.
Like what you see? Go to Oregon Memberships and get this info EVERY WEEK!
Willamette River Fishing Report and Forecast by Bob Rees & Glenn Zinkus
Willamette springer bite improving as we enter peak season. By Bob Rees
Lower Willamette River Fishing Report – Catches continue to improve for Willamette River spring Chinook anglers. The next 3 weeks will really give us a look as to how the Willamette run will fare this year.
So far this year, catches are almost double what the 5-year average is, certainly a good thing but also pretty early in the run (and sample size) for this fishery. A total of 331 kept springers were tallied this week on the Willamette system, probably not a bad tally given the pressure that took place on the mainstem Columbia prior to the closure. Kept catch rates are some of the best since 2016, very comparable to 2018 if that means anything to you. It's off to a good start, let's keep it going.
Here's the river reach by river reach catch, along with the mark rate for this week:
Lower river trollers continue to produce the best catches by number, but that's also where the most effort is. Mark rates were really good for lower and middle river anglers, about 71% for Oregon City backtrollers and anchor anglers. Upper river boat anglers didn't luck into any spring Chinook this week or steelhead either for that matter.
Reports from the lower Multnomah Channel for the last 2 days have been poor. Trollers have really been struggling for results there.
One recreational angler (Primo) reported landing a nice springer at the head of the channel on Wednesday. The fish was taken on a Pro Troll with size 3.5 spinner blade, which shouldn't be too surprising with the warming Willamette. We've typically preached however, that we don't get all that excited to use hardware until temperatures reach closer to 57°. It should really be about what you fish with that gives you confidence, especially this time of year.
There was a good egg bite on Tuesday at Oregon City, with backtrollers at the Garbage Hole reporting good success. One guide boat reported keeping 4 springers. Flows have slowed for hogliners in the area, but that may change early next week.
Sturgeon fishing has slowed dramatically on the lower Willamette. Seems a bunch of the keeper-sized fish have left the building. It should be a smelt free-for-all on the mainstem Columbia, certainly a better option than foraging in the lower Willamette this time of year.
The Guide's Forecast – Fresh off a nice bump in the hydrograph, Willamette River anglers have another one on the way after the weekend: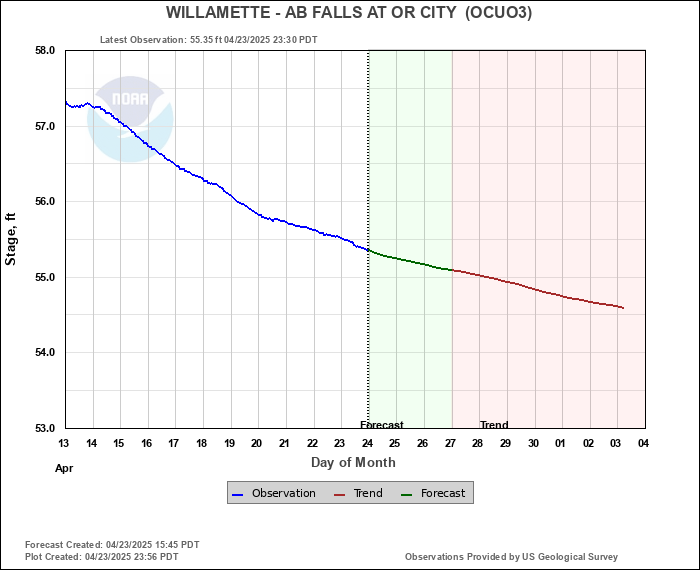 River levels are pretty good right now and visibility wasn't drastically impaired from the last river rise, which contributed to a nice bump in catch rates earlier this week. We're entering peak season, it's time to start fishing that way.
Weekend anglers should continue to see good water conditions to fish in. The bigger problem may be a cold weather front moving onshore, which is likely to slow the bite. Recent reports are far from encouraging, and it's not likely to get any better, especially as the weather transitions. A drop in air temperatures will certainly lead to a drop in water temperatures, which isn't all that bad. Temperatures have got as high as 53° already this year.
So, if you're going to brave the wet, colder weather coming about this week, you'll earn every ounce of your spring Chinook. Every river reach should be an option this weekend, but as always, you better bring your bag of persistence, especially with an approaching cold weather system afoot.
Herring will likely continue to be the bait of choice for downstream trollers, but eggs and/or sand shrimp in the Oregon City area will likely continue to be the best choice. If the trash fish are destroying your sand shrimp, it'll be time to prawn up, a much more durable bait.
Sturgeon fishing is apparently going to become a waste of time. It's peak spring Chinook time anyway.
South Willamette Valley Pond Best Bets. Rivers Are High, But Fishable. By Glenn Zinkus
Alton Baker Canal: Alton Baker Canal rwas stocked monthly through the spring. Alton Baker Canal is scheduled to receive another 1000 legal size trout during the week of April 11th.
Detroit Reservoir: Detroit will be stocked later this month, during the week of April 25th with 4,000 trophy trout.
Levels continue going up. As of right now, Detroit Lake surface elevation is currently at 1542 feet, so both the main upper and the lower ramps are accessible. Check the water levels here: https://waterdata.usgs.gov/or/nwis/uv?site_no=14180500
Fishing conditions are improving. Kokanee in the 11 to 14 inch range are being caught by trolling. Depths are all over the place from 25 to 90 feet. Wonderbread dodgers worked great for some anglers.
Watch your catches for the small Chinooks, and please release these carefully. Look for the black mouth and release these fish.
Detroit looks to be one of the better bets for kokanee right now.

Green Peter Reservoir: The reservoir is now rising as we are into April, and anglers/boaters are finding Green Peter accessible. Water level has come up about 5 feet since the last report. Water level is at 982 feet right now. Water level can be found here: https://waterdata.usgs.gov/nwis/uv?site_no=14186100
Kokes in the 8 to 9 inch range are being caught.
Fishing near the mouth of Quartzville Creek for trout can be effective. Not scheduled for trout stocking until May.

As a caution, there are some reports of thefts from boat ramps including catalytic converters.
Quartzville Creek: Quartzville Creek is open all year, but it was last stocked in July, and ODFW plans to stock again during the month of May.
Junction City Pond: JC Pond was stocked this week with 1500 legal size rainbows, and is scheduled again to be stocked during the week of April 11th with 1000 legal size rainbows and 40 trophy trout. Good local option for southern Willamette Valley anglers.
Timber Linn Park Pond: Was stocked with 1000 legal size rainbows this past week, and scheduled to be stocked again next week with 1400 legal size rainbows. Timber Linn was stocked last month with 40 trophy size rainbows.

EE Wilson Pond: EE Wilson Pond will be stocked the week of April 11th with 1200 legal size rainbows.
South Santiam Steelhead: No New Updates
South Santiam Trout: No New Updates.
North Santiam Trout: No new reports. The North Santiam received 2,200 legal size trout in August.
Some reports of fly anglers successfully "dapping" for trout came in.
Foster Reservoir: Foster was stocked with 3,300 legal size trout last month, and scheduled to receive 3300 more next week. Foster Lake was lowered for the winter refilling, and the level was fairly steady over this past week. The water levels are reported here: https://waterdata.usgs.gov/or/nwis/uv?site_no=14186600
Small craft may be able to launch from Sunnyside Park, but I don't yet have a report on boat ramp accessibility.
Willamette River – Middle Fork:

The middle fork bumped up slightly over the last few days, now at 2110 CFS. It is currently fishable. Water temperatures vary up and down around between 48 to 54 degrees.
Baetis imitations will prove effective, as well as general searching patterns including pheasant tails, BH thorax, prince nymph variations and twists.
Willamette River – From Harrisburg, to Corvallis, to Albany:
The Willamette River bumped up, and is now slowly dropping – currently at 8190 CFS at Harrisburg and remaining steady to slightly dropping. It's been high and still running a little too high for optimal fishing.
There are March Browns on the water. So be ready with size 14 March Browns. The usual impressionistic nymphs, like PTs will take trout. The guys at The Caddis Fly Shop are saying a jigged style prince nymph was super effective.
A detailed list of flies for right now on the McKenzie and Willamette Rivers include:
Morrish's MayDay March Brown, Soft Hackle March Brown, March Brown Wets, 20 inchers, CDC Elk Hair Caddis, Purple Haze, Parachute Adams, Peacock Caddis, Parachute Caddis, Girdle Bug, Missing Link Caddis, Superman Caddis, Pheasant Tail Soft Hackle.
Dexter Reservoir: Dexter received 3,000 trophy trout last week and another 2,000 trophy trout during the last week of the month.
Current water level at Dexter Reservoir can be found here: https://waterdata.usgs.gov/or/nwis/uv?site_no=14149500
Clear Lake: Will become accessible in the spring.

Gold Lake: Will become accessible in the late spring.
Hills Creek Reservoir: Hills Creek Reservoir, near Oakridge, received 2,840 legal size trout next week, and scheduled to receive the same again during the week of April 4th. All bait and lure options will take these trout. Fly anglers could slow troll leech and streamer patterns.
Leaburg Lake: Stocking will start in mid-April. Worms, Powerbait, corn will all take these trout.
McKenzie River:
The mainstem McKenzie water levels spiked earlier in the week and are dropping. The river is currently at a 4410 CFS flowrate at Vida. Fishable, but certainly on the high side, especially for fly fishing.
Water temperatures are in the 44 to 48 degree range.
March Browns are active. Aside from floating, good access at locations such as Armitage Park in Eugene offer anglers access to great water.
The Caddis Fly Shop guys had best luck on nymphs, with a jigged prince nymph working well.
A detailed list of flies for right now on the McKenzie and Willamette Rivers include:
Morrish's MayDay March Brown, Soft Hackle March Brown, March Brown Wets, 20 inchers, CDC Elk Hair Caddis, Purple Haze, Parachute Adams, Peacock Caddis, Parachute Caddis, Girdle Bug, Missing Link Caddis, Superman Caddis, Pheasant Tail Soft Hackle.
Like what you see? Go to Oregon Memberships and get this info EVERY WEEK!
Clackamas and Sandy River Fishing Reports and Forecast by Bob Rees and Jeff Stoeger
Transition time for Sandy and Clackamas. Winters fading, too early for summers and springers
Clackamas River Fishing Report – 2022 Wild and hatchery returns of winter steelhead have already surpassed last year's actual returns to the North Fork facility, solidifying a better return than last year for this particular run of fish. April is a big month for wild fish passage at this facility and accurately reflects what's happening real time for Clackamas River anglers. It's not much different from what's happening at the coast.
With mostly wild fish in the system and a strong spring Chinook showing in the Willamette, there is very little effort seeking fair to good numbers of wild steelhead in the Clackamas system. For that reason, reports are sparse, but still predictable. For the few fishing, it's largely a catch and release opportunity, which is fine for some.
It's too early for spring Chinook and creel counts start to make this speculation more factual. No one is having expectations of a fantastic spring Chinook or summer steelhead run, but it's fun to remember the good 'ol days when April meant something. There's good news in the future however, as ODF&W now has the authority to utilize an improving wild run of spring Chinook to re-invigorate the hatchery broodstock program that has fallen on its face in recent years.
The Guide's Forecast – Flows on the Clackamas remain fairly stable, but a recent warm temperature day is likely to cause a slight bump in the hydrograph: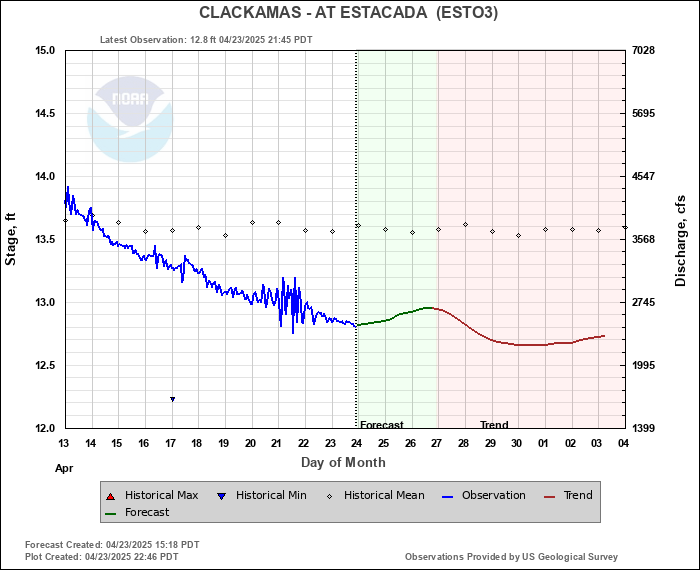 It won't have much impact on an already mediocre fishery, but wild fish will be wild fish, and the slight river rise should inspire some of the wild fish available to anglers for catch and release fishing. The upper reaches of the Clackamas, upstream of Barton, hold the best numbers this time of year. You're unlikely to find a fin-clipped fish, at least one of good eating quality.
That said, yes, there are a few fin-clipped summer steelhead around, an likely an even rarer quality hatchery winter fish too. Finding a spring Chinook, especially a hatchery one, will be like finding a needle in a haystack.
There are better options for catch and keep anglers this week, that's for sure, but if solace and good action for wild steelhead is your thing, this should be a good weekend for action on the Clackamas.
Sandy River Fishing Report – Sandy River anglers are starting to turn their focus elsewhere. Although there are confirmed catches of spring Chinook here, and summer steelhead too, like the Clackamas, late-run wild winters, and some nice ones at that, should be the more likely catch for weekend anglers. Also like the Clackamas, the upper reaches will be where the bulk of these fish are at this juncture.
Reports are becoming harder to come by, and with Jeff Stoeger on a 2-week hiatus, I'd be throwing darts at a dart board. Here's the ODF&W report, which isn't typically updated weekly:
Though fewer bright steelhead are being caught, steelhead are still being found throughout the system. Anglers would do best to check river levels before heading to the river. Fresh fish should be entering the system with each passing rain event for the next several months. Fishing effort has been high in this system.
Flow and visibility on the Sandy are greatly influenced by each passing front and change in snow levels. Colder temperatures, as well as less precipitation means this glacially fed system will not only be on the drop, but will also clear up much more quickly.
The Guide's Forecast – The Sandy looks as if it will be bumping fairly similarly to the Clackamas River, despite the fact this graph looks a bit more volatile than the Clackamas graph: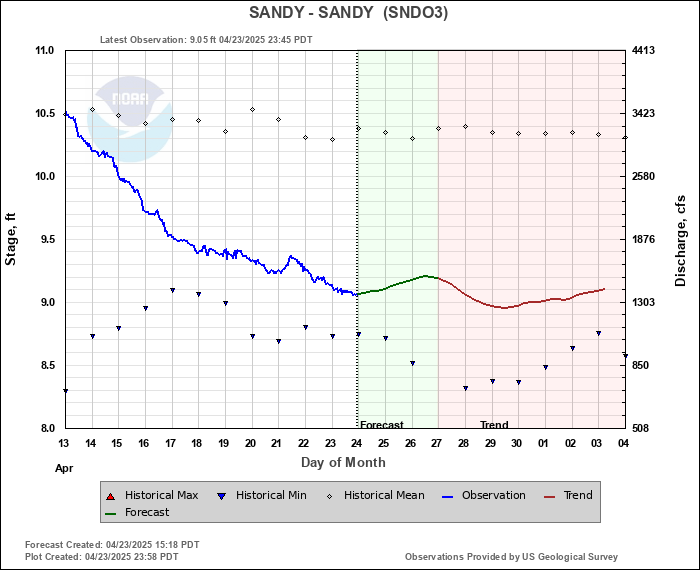 A change in weather may look good for the hydrograph, but in reality, the ensuing cold front seems to more adversely affect the Sandy over the Clackamas, due to its proximity to the Columbia River Gorge. Weatherwise, it doesn't look to be a pleasant experience steelhead fishing on the Sandy this week, but if you wanna feel like your winter steelhead fishing, this will be a good week to go, without the real possibility of actually catching a quality winter fish.
Cedar Creek remains a good option for all three species, if you consider the news I just delivered a "good option." Until temperatures stabilize, steelhead, either winter or summer fish, not to mention what few spring Chinook are in the system, will be a great idea.
Like what you see? Go to Oregon Memberships and get this info EVERY WEEK!
North Coast Fishing Report and Forecast by Bob Rees
Winter steelhead fading fast, ocean a bad option for the weekend
North Coast Fishing Report – North Coast steelhead anglers are looking for better alternatives given the poor performance of the fishery this year. Recent reports indicate that despite good water conditions, catches remain quite challenging.
Most recently, pro guide Rob Gerlitz (503-812-4950) reported very challenging fishing on the Wilson River. He put in a full day's effort early this week, yielding only a single wild fish and one other opportunity under near ideal conditions. Traffic on these North Coast systems has dwindled to very few, leaving what few opportunities exist to only a few select persistent guides and anglers.
The river rise early this week should have presented a perfect scenario for late season steelheaders. And it would have been a great situation if there were even fair numbers of returning adults this year. This can be a fantastic time of the year to fish on the North Coast with most consumptive anglers targeting spring Chinook in the Willamette Valley. Wild fish are still making strong showing on the North Coast this time of year, neither were highly available this week however.
Reports from the Nestucca we're very similar. Few anglers fishing and fair at best results. Much like what we've seen most of the season, guides are focused on fresh fish riding the tide in the lower reaches of the river. It's been a challenging year for most and the few remaining fishing guides are looking forward to capping the season.
Other river systems are barely worth a mention. Anglers need to check if their favorite systems remain open, regulations vary by watershed starting April 1st. Speaking of April 1st, spring Chinook season is now officially open for fin-clipped adults.
The Trask River can be a late season spotlight but again because there are a few catch and keep opportunities, effort will remain low, which could be a good thing for motivated anglers.
The Nehalem, NF Nehalem, Kilchis, Siletz, Alsea and Necanicum Rivers are either closed or are poor options for steelhead now.
Catch and keep anglers will now look West, when ocean conditions allow for offshore reefs that will produce ample catches of sea bass and lingcod. Crabbing as well as bottom fishing was reported very good by pro guide Rob Gerlitz (503-812-4950) on Thursday, April 7th. Limits of each species as well as crab was the rule for his crew today (4/7). Rob wanted to fish for deep water Chinook as commercial catches have been off to a good start. He had kicker motor trouble however, preventing him from giving it a good effort.
Bay crabbing remains fair although not many people are doing it. The strong tides this week weren't great for crabbing but should improve next week for motivated anglers.
The Guide's Forecast – Angler effort on the North Coast will only continue to deteriorate. With winter steelhead well on its way out, and a rough ocean predicted well past the weekend, there will be many other local, calm water opportunities in the Willamette Valley.
River conditions look like they will remain nearly ideal for those that want to stay focused on the few remaining steelhead yet to come back to these North Coast systems.
Here's what the Wilson river will look like for a weekend anglers: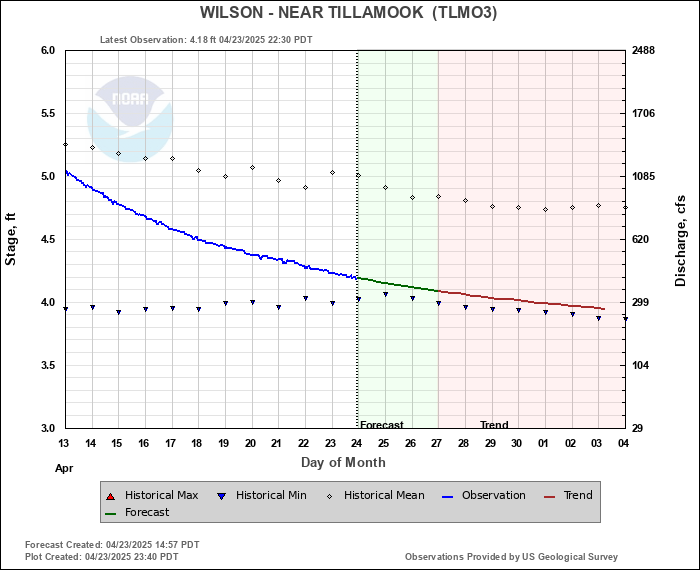 The Wilson and the Nestucca systems will remain the two top choices for steelheaders on the North Coast. There should be a few remaining hatchery winter fish as well as a very rare summer steelhead available for persistent anglers. At least you will not have a lot of competition, which is not always the case, even this time of year.
Other systems on the North Coast will remain a poor option for steelheaders.
It's too early for spring Chinook to make a showing in the Tillamook district even though the fishery is now open. Spring Chinook make a stronger showing around mid-May, with mid to late June seemingly the peak season anymore. It would be a miracle if an angler lucked into one anytime soon.
The ocean is a bad idea for the foreseeable future:
TONIGHT SW wind 10 to 15 kt with gusts to 20 kt. Wind waves SW 3 ft at 4 seconds. W swell 6 ft at 11 seconds. Showers.
FRI W wind 10 to 15 kt with gusts to 20 kt. Wind waves W 3 ft at 5 seconds. W swell 8 ft at 10 seconds. Showers and a slight chance of tstms.
FRI NIGHT NW wind 10 to 15 kt with gusts to 20 kt. Wind waves NW 4 ft at 5 seconds. W swell 8 ft at 10 seconds. Slight chance of tstms in the evening. Showers likely.
SAT NW wind 10 to 15 kt with gusts to 20 kt, rising to 15 to 20 kt with gusts to 25 kt in the afternoon. Wind waves NW 4 ft at 6 seconds. NW swell 8 ft at 10 seconds. Showers and a slight chance of tstms.
SAT NIGHT W wind 15 to 20 kt with gusts to 25 kt, becoming NW 10 to 15 kt with gusts to 20 kt after midnight. Wind waves NW 4 ft at 5 seconds. NW swell 8 ft at 10 seconds. Showers likely and a slight chance of tstms.
SUN NW wind 10 to 15 kt with gusts to 20 kt. Wind waves 4 ft. W swell 8 ft. Showers likely.
SUN NIGHT SW wind to 10 kt with gusts to 20 kt. Wind waves 2 ft. W swell 8 ft. Rain likely.
MON NW wind 10 to 15 kt. Wind waves 4 ft. W swell 12 ft.
TUE W wind 10 to 15 kt. Wind waves 3 ft. NW swell 11 ft.
Sea bass, lingcod and ocean crab will be waiting for your return in calmer seas.
Bay crabbing should remain an option, but you'll still want to pick your days. Plan for colder, wetter weather than we've been seeing. Tides look favorable however.
Like what you see? Go to Oregon Memberships and get this info EVERY WEEK!
Central Oregon Fishing Report and Forecast by Glenn Zinkus
Metolius Fishing Improving. Twin Lakes Are Hot. Columbia Walleye Fishing Is Good When The Wind Is Not Blowing.
Weather Outlook Across Central and Eastern Oregon:
The Thursday temperature spike will cool beginning Friday into the 50s through much of the region, and becomes cool for this time of year on the weekend and into next week with highs mainly in the mid-40s through much of the regions with lows in the 20s during that same time period.
Lower pressure systems arrive on Friday, and some moisture pushes into the Cascades. Heaviest snow on Monday. Central Oregon may even see a few showers beginning Saturday night and into Monday morning.

ODFW News – Angling Restrictions

Deschutes River
Mouth at westbound I-85 bridge upstream to the Pelton Dam regulating reservoir –
Closed to all angling for and retention of steelhead from Jan. 1 to May 31, 2022.
All other permanent rules for the Central Zone, as stated in the 2022 Oregon Sport Fishing Regulations, remain in effect.
Lower Deschutes River:
The Lower Deschutes is steady – currently right around 5240 CFS at Moody and forecasted to remain steady into next week.
Temperatures on the lower portions of the river are in the 48 to 53 degree range.
Nymphs are a good way to go with some incoming weather variability and some winds on the weekend. Nymphs this time of year are the stonefly nymphs (smaller Skwala size and the larger black stone nymphs), Perdigons, and caddis pupa/larva flies in various green and brown tones. Bird's Nest nymphs are now a go-to for the month of April in sizes 14-16. There are almost daily hatches of BWOs and midges, starting anywhere from mid-morning up to the afternoon. Short hatch times on sunny days, and prolonged hatches on overcast days.
The Guides Forecast – Lower Deschutes River:
We are getting close to the April 22nd opener for the areas upstream of Maupin, including Warm Springs, Trout Creek, and South Junction. Looking forward to getting on these waters again later this month.

Fish are showing themselves more and more, and coming up for dry flies. Skwala stones make occasional appearances, but will be fading off the stream soon. Gray-olive color bodies in size 10s. Fish these along the banks for an explosive rise.
There are some good March Brown hatches, although it varies day to day. Afternoon caddis have been and will be a staple. Amy Hazel at Deschutes Angler mentions a large (size 12) brown caddis that was around last week.
Nymphing has been and will continue to produce. Euronymphing, indicator nymphing, and swinging will get you into trout. Perdigons, Frenchies, Two Bit Hookers, small soft hackles will all produce. Amy at Deschutes Angler recommends a variety of colors, and suggest "changing up the bead colors on your beadhead nymphs from silver, to copper, to pink, to gold, to orange, etc, is a good strategy for discovering what the trout are eating on any given day." Don't forget to have the stonefly nymph box as well.
Suggested Lower Deschutes Dries/Emergers:, BWOs – dries, sparkle duns, emergers in sizes 16-20, Skwala Stones in size 8 -12, March Browns in 12-16.
Suggested Lower Deschutes Nymphs: Hare's ears #14-16, Micro mayflies, Puparazzi #14-16, Jigged Copper John #14-18, Perdigon (try all colors) #16-18, Frenchies #16-18, Two Bit Hooker #16-22, Juju Baetis #16-22, Silvey's Submerger Caddis #14-18.
Middle Deschutes River: River level will be starting to come down right now. The Skwalas make occasional appearances, and there are some occasional March Browns. BWOs, especially on cloudy days, are coming off. The Middle Deschutes is starting to fish well now.
Our friend Josh Pardee reports that the Deschutes is fishing well in and around Bend for browns.
Haystack Reservoir:

ODFW stocked Haystack with several hundred big rainbows (broodstock) in January, and several hundred more went in again during February. Our friend from Central Oregon Fishing Report, Josh Pardee says that Haystack will become excellent after the drawdown starts on April 1st. Haystack is at 86% full today.

Jeff Perin at The Flyfishers Place suggest wade fishing is good near the dam or launch a boat or pontoon and fish drop-offs. Black, red and olive chironomids are great right now, as well as black, olive and maroon leech patterns.
Lake Billy Chinook: Jeff Perin at The Flyfishers Place reports good fishing for Bulls in the Metolius Arm.
Kokes, from all the reports, are still deep in depths of 85 to 145 feet. Effective colors include purple, pink, orange and brass.
As mentioned, there have been some incidental bull trout catches while koke fishing. Bull trout are also being caught at the same depths – nice sizes in and around 5 to 6 pounds.
Metolius Arm is now open.
Crooked River: Flows remain low and steady. Water has been dirty. Jeff Perin at The Flyfisher's Place in Sisters that with the low flows, many of the fish migrated down river from Prineville to approximately MP14.

Blue Wing Olive and midges will be the primary surface action, especially during the warmest time of day during the early afternoons. Most of the action will be on nymphing – Perdigons have been the ticket. Nymphing is consistent and anglers are catching redsides and whitefish.
If you really want to catch fish on the surface, be prepared with BWOs as emergers and cripples. Jeff Perin likes the Knock Down Dun. Sizes 16 to 20, mostly 18s. Also be ready for midges. The Fly Fishers Place recommends imitating midges in all stages from drifting pupa, emergin pupa, adults and cripples. Go light on the tippet!
Whitefish are being caught on nymphs.
There maybe some midge hatches during the later afternoons, and a Griffiths Gnat in the box will help on these days.

Suggested Crooked River Dries: Parachute Purple Haze #14-20 (larger sizes are helpful for hopper/dropper setups), Para Wulff Purple #16-18, Tilt Wing Dun BWO #18-20, BWO Sparkle Dun #18-20, Griffiths Gnat (with a bright post for visibility) #18-22, Klinkhammers #18-20, BWO Film Critic #18-20, Knock Down Dun #16-20, CDC caddis #14-18.
Suggested Crooked River Nymphs: Jigged Copper John #14-18, Perdigon black or purple #16-18, Twisted May #14-16, Zika Jig #18-20, Two Bit Hooker #18-22, Juju Baetis #18-22, Zebra midge #18-22, Flashback Pheasant Tail #14-18, Scuds, Leech patterns #6-12, caddis pupa (gray-olive colors) #14-16, Puparazzi #14-16 (various colors).
Fall River: Fall River is scheduled to be stocked the week of April 11th with 1000 trophy trout.
Think small streamers on Fall River.
BWO hatches in size 18, March Browns in size 14, midges are all out on some of these nice weather afternoons. Hatches are becoming more consistent. Lunchtime hatches maybe up until 2 PM will happen. Most reports are that the BWOs are small, in the size 20 range. Midges are hatching regularly. The guys at Fly and Field say that midges just below the surface are attracting trout.
Jeff Pering reports that if you are in the right place, there are March Browns in the afternoon.
Nymphing with midges, thorax baetis and euro style nymph assortments is effective. Zebra midges are one of the standout flies.

There are multiple reports of anglers doing well on micro-leeches. So bring streamers and microleeches and fish these near the banks.
Suggested Fall River Dries: Tilt Wing BWO #18-20, Parachute Purple Haze #18-20, Thorax BWO #18-20, Griffiths Gnat #18-22, Stillborn Midge #18-20, Hatching Midge #18-20, Winkers Midge #20-22
Suggested Fall River Nymphs: Rainbow Warrior #18-20, Juju Baetis #18-22, Tailwater Tiny # 18-22, Disco Midge #18-22, Glo Bug #12-16, San Juan Worm, Perdigons #16-20, Tungsten Micromayflies, Juju Baetis # 18- 20

Microleeches!
Metolius River:
The BWOs do come off during the early afternoon, now around noon. Sometimes earlier these days! Early in the month, and mid-month, I did see some small gray caddis lower on the rivers upstream of Bridge 99, and there are some reports of a size 14-18 dark tan caddis. I saw some stonefly activity just upstream from Bridge 99 early this week.

Metolius bull trout fishing remains prime right now. If swinging flies for bulls with a trout spey Skagit setup with a white and olive Intruder style streamer with success.
The river above Allingham Bridge is now closed until May.

The Guides Forecast – Metolius River:
BWOs are typically the most prevalent hatch, coming off during the first half of the afternoons. Be ready around lunchtime, but this can happen anytime from late morning through the early afternoon hours.
Dry flies are becoming more prevalent and besides the BWOs, there are some hatches of small caddis and Cinygmula mayflies during the afternoons.
Continue to fish stonefly nymphs not only for weighting down your other nymphs, but also because the redsides will take these. Use stonefly nymphs especially in the rocky bottom runs. Golden stone nymphs and little black stone nymphs all can be good. I've had fish both in the upper river and below Bridge 99 take stonefly nymphs early in the week.
Egg patterns remain important, as I fish these into early March with success. Whitefish are spawning and the trout will take a small (1/8") pink-peach egg fly. This is one of my winter confidence flies. Fish for maybe another week or two.
Nymph fishing throughout the river is good and the go-to technique most of the day on the Met. Jeff Perin recommends golden stone, frenchies, perdigons, 2 Bit Hookers, Rainbow Warriors, CDC Guide Hares Ear, Red Copper Johns, Caddis pupa and soft hackles.
Jeff Perin also reports some silver stripe sedges (# 10) and small Bracycentrus caddis (# 14-16) can be present.
Jeff also highlights the color of blue for the winter. I've been a fan of some blue in nymphs for a while now, and I like bright blue Perdigon patterns. Jeff mentions blue jigs, blue zebra midges and blue prince nymphs.

Suggested Metolius Dries: Thorax BWO #18-20, Tilt Wing BWO #18-20, Hackle Stacker #18-20, Purple Haze #18-22, BWO Sparkle Dun #18-22, Black Stimulator #12-14, CDC Caddis #14-18, Caddis Film Critics #14-18, Yellow Sally #12-18, Golden Stone #8-10, Brown Micro Mayfly, Split Case PMD, Half Down Dun, Knock Down Dun
Suggested Metolius Nymphs: Lex's Improved Stone #10-14, Jimmy Legs #12-8, Electric Rock Worm #18-20, Zika Jig #16-18, Duracell Jig #14-18, French Nymph #14-16, Perdigons #14-20, Jigged Hares Ear Nymph #14-16, Two Bit Hooker #16-20, Terminator Golden Stone #10-14, San Juan Worms #12-16, Rainbow Warriors #14-18.
North and South Twin Lakes: It looks like the Twin Lakes are becoming accessible again just now. Josh Pardee continues with reports this week of great fishing – he says fishing for trout is hot, hot, hot. I have not been there myself yet this season to see how accessible the lakes are.
North and South Twin Lakes are scheduled to be stocked with 2500 legal size trout in each lake during the week of April 11th.

Crescent Lake: Crescent is low, but we have reports of good fishing for lake trout at Crescent over the past week.
Crescent Lake- Lake Trout (Courtesy of Josh Pardee)
Crescent Lake- Lake Trout (Courtesy of Josh Pardee)
Prineville Reservoir: The reservoir is at 27 % full as of today. Josh Pardee report that Prineville reservoir is fishing well for rainbows, and the bass are starting to get active.
Crane Prairie Reservoir: Crane Prairie is now closed.
Lava Lake/Little Lava Lake: Lakes are open, but not yet accessible.
Three Creek Lake: Inaccessible for the season.
Paulina Lake: Access closed on November 16.

East Lake: Access closed on November 16.
North Central Oregon/Mid-Columbia Waters:

This week's report from Wendy at Gorge Outfitters Supply (541-739-2222) in Rufus, between the John Day and Deschutes Rivers are that the walleye fishing has been good.
Anglers are doing well when the wind is not blowing too hard. (Note that the wind picks up on Friday and Satuday) The temperatures are not quite high enough so that the walleye are 100 percent into the spawn.
Jigging with any color seems to be working well, and trolling worm harnesses and bottom walkers in silver, gold, purple, and pink are working. Fish seem to be holding in 30 to 60 feet of water.
The salmon bite picked up overnight. Both bank anglers and boaters are doing well for springers.
Catfishing is good – night crawlers and chicken livers are working.
Bass are being caught as well; plastic grub are working for the bass.
Perch are being caught by bass anglers and even one walleye angler.
Like what you see? Go to Oregon Memberships and get this info EVERY WEEK!
SW Oregon Fishing Report and Forecast by Jeff Rome
The Rogue and Umpqua remain open for steelhead, but are closed to trout angling. Steelhead catches on the mid to upper Rogue are producing sporadic catches of newer winter fish along with down runner summer fish. Recent rain this Monday got flows up and some color to the water providing better conditions for winter fish to move around. The lower Rogue saw a "slight" bite earlier in the week with a couple Springers caught.
The Umpqua system is still seeing some good steelhead catches and a few springers have been caught. Stripped bass angling has gotten increased attention lately.
Lakes and ponds have been getting regularly stocked with trout and is a great time to take the family out to have some fairly easy catches and fun. Since the weather has warmed, bass and bluegill are also an option. Lost creek and Applegate reservoir have been producing some nice trout for both boaters and bank anglers.
Up towards the upper Southern coastal area, Charleston and Winchester bays are getting a good bite of bottom fish and surf perch as well as great crabbing. Winchester Bay Charters (Cole-541-285-7838) is now offering Striped bass trips!
Best bet for this weekend is the mid and upper Rogue for steelhead. Recent rain got the river up 1000+ to over 2500 cfs earlier and should have pushed more winter steelhead throughout. It's dropping fast, so get on it! Lakes and ponds such as Lost Creek, Lake Selmac, Medco, Reinhardt, Empire and Saunders are good for spring trout and bass fishing. Bottom fishing on the ocean looks like a no go until at least mid next week. The Umpqua system might pan out for some steelhead and maybe a Chinook for a lucky angler.
I'm finally getting to go on a much needed vacation starting next Wednesday and will miss writing this edition of TGF for two weeks in a row. I don't expect too much to change except for some Spring Chinook catches to increase in the Umpqua and Rogue systems. Winter steelhead on the Rogue should continue to be decent through May at least. Spring trout fishing on many lakes should be good as regular stocking has started. Weather permitting, ocean bottom fishing should remain excellent. See ya back on the 29th!
Tight Lines 🎣 – Romer
SW Oregon Guides Forecast
Marine Forecast: the weekend is not looking promising most everywhere along the Southern coast due to winds and some more rain from another front moving in. However mid next week into the following weekend is forecast (so far) to be good.
Prior to this week's wind and rain event, catches of Ling cod
and assorted rock fish
have been good. When this next front gets through, good fishing on the ocean should be great again later next week.
Surf perch
catches slowed a bit during the big surf earlier this week but should pick up again this weekend. You can catch redtail surf perch on the sandy beaches like Horsefall and Bullard's beaches and striped surf perch along any of the rocky shorelines all along the South coast beaches and jetty's. These excellent dinner fare and fun to catch fish using sand shrimp, mole crabs or Berkley power worms.
The daily general marine fish bag limit is 5 fish for the 2022 season with a 1-fish sub-bag limit for China and copper rockfish combined. There is no harvest of cabezon allowed until July 1. Bottom fishing is now open to all depths through June 30. Anglers can still harvest 2 ling cod per day.
The ocean Chinook salmon season opened on March 15 from Cape Falcon to Humbug Mountain. Anglers can keep two salmon per day but no retention of coho.
Andy Martin- Brookings Fishing Charters 541-813-1082
Andy reports that the ocean conditions this week kept his charter fleet off the water, but Thursday was the only window of opportunity to get out until mid next week.
Last weekend was excellent for his charter clients for nearshore Ling cod
and bottom fish action
Andy also reported that there have been a few more Spring Chinook catches in the lower Rogue right after the recent rain, but now the river has dropped again and the bite is off.
Sport crabbing from shore along the South jetty and the Coast Guard station
should pick up this weekend providing the wind and surf isn't too bad.
"There's still smelt in the Harbor basin if anybody want's em"
NOAA Weather Marine Forecast for Brookings, Chetco Cove, OR
Friday High : 52ºF
NNW wind 9 to 14 kt increasing to 17 to 22 kt in the afternoon. Mostly cloudy, then gradually becoming sunny. Mixed swell…WNW 7 ft at 11 seconds and SSW 1 ft at 14 seconds. Wind waves 1 ft building to 4 ft.
Saturday High : 52ºF
NNW wind 11 to 15 kt. Sunny. Mixed swell…WNW 9 ft and SSW 1 ft. Wind waves 3 to 4 ft.
Sunday High : 50ºF
NNW wind 7 to 9 kt. A chance of showers. Mixed swell…NW 8 ft and SSW 1 ft. Wind waves around 2 ft.
NOAA Weather Forecast for Charleston, OR
Friday High : 54ºF
NW wind around 9 kt. A chance of showers, mainly before 11am. Mixed swell…WNW 7 ft at 11 seconds and SSW 1 ft at 14 seconds. Wind waves 1 to 2 ft.
Saturday High : 51ºF
NNW wind 9 to 12 kt. A chance of showers, mainly before 11am. Mixed swell…WNW 9 ft and SSW 1 ft. Wind waves around 3 ft.
Sunday High : 50ºF
WNW wind 5 to 9 kt. A chance of showers. Mixed swell…NW 8 ft and SSW 1 ft. Wind waves around 3 ft.
Mid Coast Forecast:
COOS RIVER BASIN: The steelhead season is over as most have focused their attention on the great Spring trout fishing to be had at Empire, Ben Irving, Floras, and Powers pond and many other small coastal lakes that have been stocked.
As weather permits, jetty fishing from bank and boaters have been doing well for rock fish and ling cod.
Lakes and ponds to fish this week:
AGATE LAKE (White City): Lots of recent stocked trout have been planted and has a good usable concrete boat launch. It's almost full, but water clarity is cloudy but the warm weather has warm water angling picking up nicely. Target around the dam and boat ramp. Anglers might also find some crappie and yellow perch on the flats.This is mostly a crappie and bluegill fishery with some bass in the mix. Yellow perch are also prolific. Anglers may want to consider fishing for bullhead catfish with chicken livers fished off the bottom in the early morning or late evening.
APPLEGATE RESERVOIR: is now about 40% full and both Copper and French Gulch ramps are open. The lake has been stocked recently and is providing some nice trout fishing for both boat and bank anglers. There should also be some nice sized hold over trout mixed in with recent stalked trout. 5 fish/ day limit here.
BEN IRVING RESERVOIR: Fishing should be good with lots of trout available and fishing towards the upper end of the reservoir has great habitat for bass to hide in.
EXPO POND: just got another 1500 trout stocked this week. So, get on out to Expo Pond while the fishing is good! Power Bait and nightcrawlers on smaller size 6 and 8 hooks are the usual. Spoons and spinners have also led to strong strikes.
GALESVILLE RESERVOIR: is still low but full of recent trout stockings and hold over fish that should provide for great catches. The boat ramp is iffy but might be usable for smaller boats and float craft.
LAKE SELMAC Last weekend reports by friend's of mine say that trout fishing was excellent! Both trout and bass fishing should be very good due to big trout stocking recently and there are very few weeds or crowds to deal with. Power bait from shore is probably a good bet.Trollers will want to fish small wedding rings tipped with a night crawler. Or troll a leech for some early season bass.
LOST CREEK RESERVOIR: Fishing has been very good, but the lake is low at only 52% full. Trolling the typical flasher setup with a wedding ring tipped with worm or power bait is the trick. Also, small spoons in silver and gold (on cloudy days) work good too. There should also be some very good holdover fish available that are in the 15- to 16-inch or greater range. The only ramp usable at Lost Creek Lake is the Takelma ramp operated by the US Army Corps of Engineers on the northwest side of the lake.
MEDCO POND: recent rainbow trout stocking should be good for trout and picking up for bluegill and bass with the warmer weather. A small boat or float tube will allow anglers to access more of the pond.
REINHARDT PARK POND (Grants Pass) is fishing good with recent trout stockings and low weed conditions now. Power Bait fished from the bottom, or a threaded nightcrawler fished under a bobber on smaller hooks from the many band and dock areas to fish from will catch fish.
WILLOW LAKE: is 66% full now and there are plenty of other holdover trout available, as well as yellow perch. Fishing should be good. Angler pressure has been relatively low. Fishing from shore will likely produce plenty of perch and possibly some bluegill.
Rivers and streams to fish this week:
COQUILLE RIVER– Stripped bass anglers are reporting improving catches from Coquille to Arago with best success at night.
Rogue anglers reminded of April 1 closures, low flow conditions (from ODFW)
Wednesday, March 30, 2022
CENTRAL POINT, Ore – ODFW reminds anglers of several closures on the Rogue River beginning Friday, April 1.
Closures:
Hatchery Hole: closes to all angling April 1 – July 31, 2022. This closure is primarily due to poor hatchery spring Chinook returns and to help meet broodstock needs.
Trout fishing: closes April 1 – May 21 in the Rogue, Applegate and Illinois rivers to protect wild steelhead smolts headed to the ocean. Catch and release fly angling for trout is also prohibited during this time. This annual closure has been in place since the mid-1990s.
Low flow conditions:
The upper and middle Rogue are close to record low flows, due partly to water being held back to help fill Lost Creek and Applegate reservoirs. Continued drought is also affecting flows in Rogue tributaries.
Biologists say many wild winter steelhead that typically spawn in tributaries are now spawning in the main stem Rogue because of low flows. Redds (fish nests) are typically found along tail outs and river margins.
Anglers and other river users should avoid disturbing spawning fish and redds and in the shallow riffles and tail outs of the upper Rogue. Because the developing eggs and fry will remain in the gravel through June, caution is needed for the next few months. With higher-than-normal wild winter steelhead spawning in this area, redds could be damaged or destroyed by disturbance or trampling.
Lower Rogue:
Jim at Rogue Outdoor Store – Gold Beach, Oregon 541-247-7142
Jim reports that the recent rain event spurred a "small bite" of 2, yes 2 confirmed Spring Chinook catches. It's still early and not much pressure yet until later in the month and into May where anglers are hopeful of a good run this year. Winter steelhead catches remain slow except for maybe a few by the locals up toward Agness.
Silver perch along with red fin are in the mix of surf perch action that will continue through the next few months. There's plenty of places from the jetty's and or sandy shores to target them. Cocktail shrimp, clam necks, jigs with twister tail are perch favorites. Come in and see Jim for more info and tackle set ups.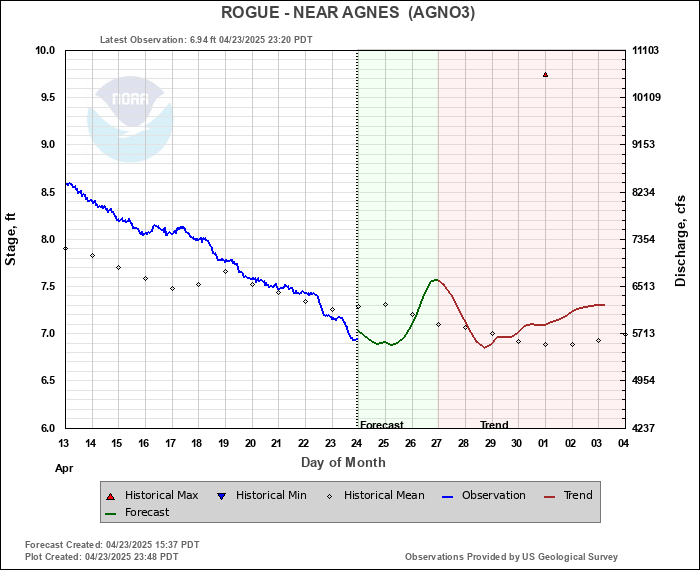 Middle Rogue– The mid Rogue got a spike in flow earlier this week and is dropping like a hot potato. Reports of good catches of fresh winter fish mid week by those able to get on it were rewarded. There are fish throughout but the bite has been very sporadic. Soft beads and plugs and spoons seem to be the favorite. Colors of which can change by the hour due to varied water conditions. There are also a fair amount of down runner fish (kelts) and keeping them is an option. AS mentioned above, trout angling is closed until May 21st. Winter Steelhead from an acclimation project near the Baker Boat ramp should see some hatchery fish beginning to stack up as well.
1 wild fish over 24″ can now be kept if caught above Hog Creek.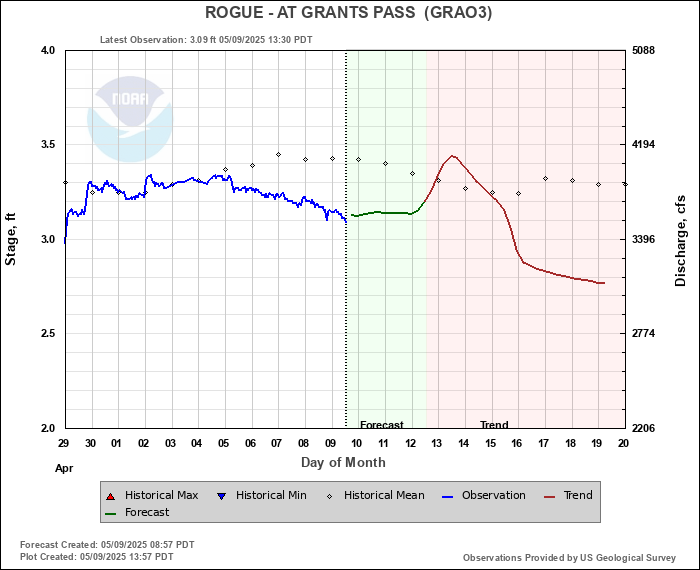 BE SURE AND KILL EVERY PIKE MINNOW – AKA SQUAWFISH!
Upper Rogue- increased catches of winter steelhead have been reported this week followed by Monday's rain. Most fish that have been caught are wild and need to be released unless at least 24″. More numbers of winters have been counted at the hatchery as well as some summer run fish. Fishing the area between Shady Cove to Touvelle remains the better option. If fly-anglers are so inclined, the Holy water should start improving with the cloudy and slightly warmer days for fly fishers. Keep in mind this is catch and release only here!
The Hatchery Hole, which encompasses the blocker dam to 1200 feet below, is closed to ALL fishing from April 1 through July 31. It is also closed year-round to Chinook fishing.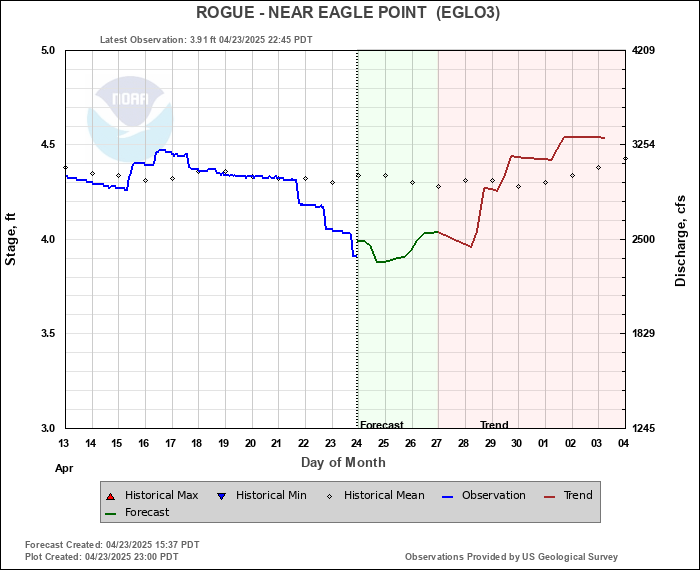 SMITH RIVER, Umpqua system- Anglers are catching a decent number of striped bass. Fishing at night is best.
UMPQUA RIVER System– Recent rain has slowed down fishing pressure, but anglers are anxiously awaiting for Springer action as many are targeting them since the steelhead action has slowed. River conditions over the weekend look promising to hit your favorite salmon hole!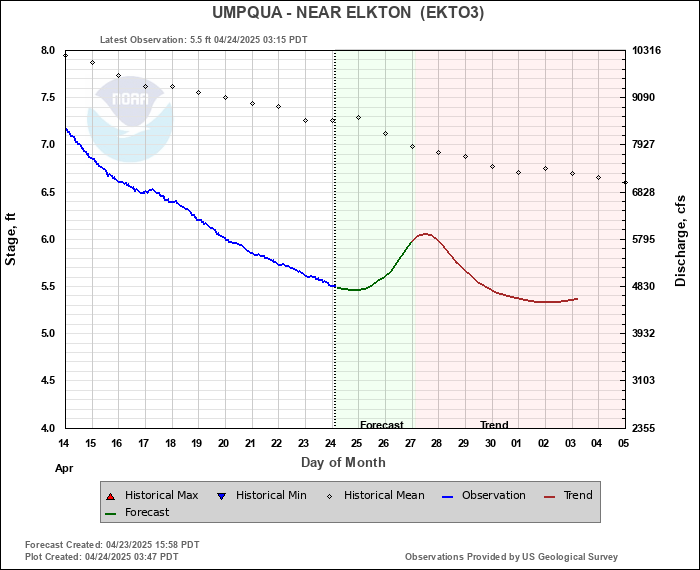 North Umpqua – Steelhead catches had slowed but are expected to pick up again after recent rainfall. There should be a good mix of fresh winters as well as down runner summers.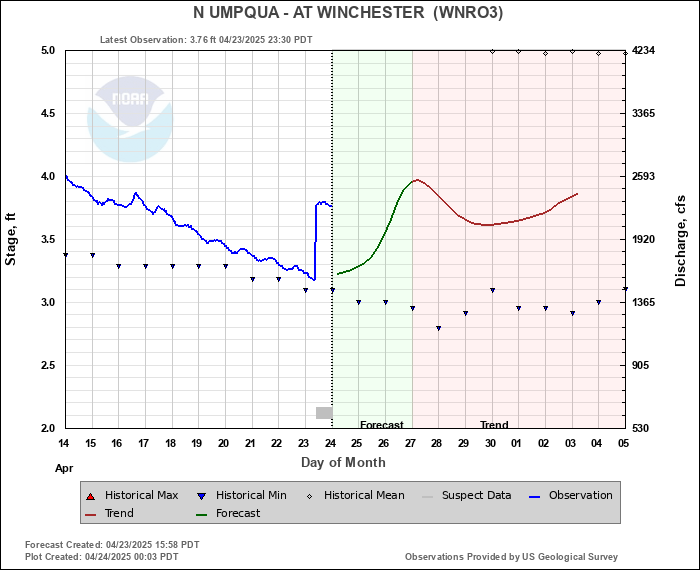 South Umpqua– The steelhead bite picked up for those able to get out and fish the last couple of days following the nice rain. Weekend outlook is good and there should be some fresh winter fish in.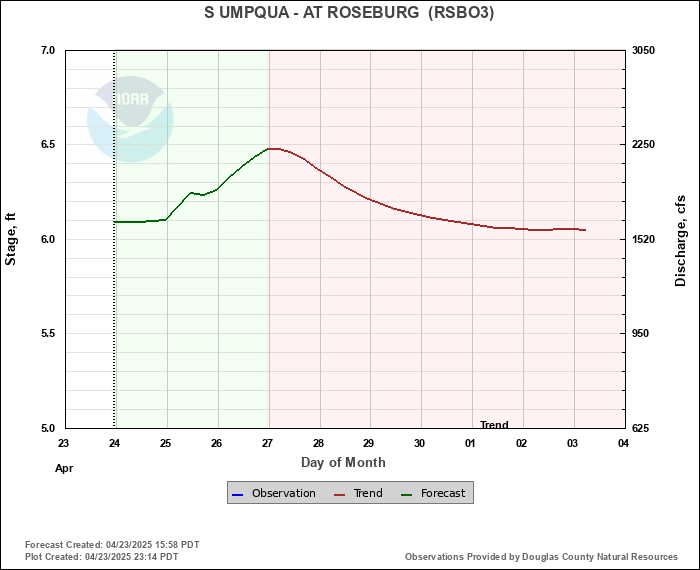 Umpqua river regs starting Feb. 1 – June 30, 2022:
Only hatchery spring Chinook may be kept on the main stem Umpqua River. Harvesting wild spring Chinook (jacks and adults) is prohibited.
Just one (down from two) adult wild spring Chinook per day, 10 per year may be kept on the North Umpqua River. All other Southwest Zone permanent angling rules apply.
Like what you see? Go to Oregon Memberships and get this info EVERY WEEK!