Springers hit the mid-river, Multnomah Channel still producing well by Bob Rees
Lower Willamette River Fishing Report – The spring Chinook run is peaking in the lower Willamette River, but there's a LOT of salmon yet to come. Furthermore, it seems catches, anecdotally anyway, that maybe we have a better than predicted return of Willamette springers coming back this year.
We're entering peak week for spring Chinook angling, as noted in this table under week:
In other words, this is the week to fish, if you believe in historical data.
Reports from the lower and middle river have been good. John Shmilenko (AKA the Sultan of Sellwood), has had a week he only described as "like the good old days." For 4 partial days of effort, he's boated 13 springers although I'm not sure of his hatchery/wild fish ratio. If it's like what the stats suggest for that reach of river, 98% is pretty good odds.
John is sticking with herring in these cooler waters, stating the conditions are ideal for flow, color, temperature and timing. How can you ask for anything more? Here's a recent couple of pictures from John, including one from his favorite watercraft for harvesting salmon:
But seriously, this is one of the better spring Chinook seasons John has seen in recent history, with so much more of it to go.
Other reaches of river also fared well, but the Milwaukie to Willamette Falls reach suffered a hit this week. You can see by the section by section breakdown above that the Oregon City reach catch was halved from the previous week, a surprise for me given the good flow we've seen this week. The mark rate for this reach of river remained at 88%, which is certainly good for the upper reach but it continue to tell the story that more hatchery fish are culled from the fishery downstream, leaving Oregon City anglers with "the dregs." There aren't a large number of boats working Oregon City right now, but they are doing a variety of strategies. There doesn't seem to be much pressure at the Garbage Hole or just downstream of the I-205 Bridge, but there remains a hogline at the Lakeline and backbouncers working the sand bar just upstream of the I-205 Bridge. There even seems to be a few boats jigging between the West Linn Bridge and the I-205 Bridge also. It's a comfortable crowd, that's for sure.
Lower river trollers, mostly in the lower Multnomah Channel are having a good week, and that's to be expected. Those working Scappoose Bay, Santosh Slough and Coon Island are scoring pretty good results, but it's certainly not consistent day to day. Two to 5 chances a day seems common for guide boats fishing in the Multnomah Channel these days, that likely won't change if water conditions remain favorable.
The head of the Multnomah Channel downstream of the St. Johns Bridge has been sporadic lately. There seems to be a fair bite at daylight, and just a fish here and there for the remainder of the day. It's still a herring show for the most part here and that won't change until water temperatures do.
Water temperatures at Willamette Falls are hovering around 48° with 3.6 foot of visibility. That's good conditions all around, for bait fishing especially. 335 spring Chinook adults have bypassed Willamette Falls, far less than 2021, but we had 59° to 60° temperatures at that time. Fish RACE across the falls as it nears 60°, which is way too early in my opinion. Thankfully, we've had this cold front bear down on us, which should keep fish downstream of Willamette Falls for a good while longer. Summer steelhead passage is teetering at 291 adults, while winter steelhead passage is at 2,616 as of the 20th of April.
Bank anglers at Meldrum Bar had a fair week. Plunkers working spin-n-glos and coon shrimp found favorable conditions and fair catches, which is common in high water. Fishing should stay good there as long as flows do.
Oregon City anglers also found some (likely incidental) steelhead in their creel this week. Bank anglers at Meldrum Bar landed 7, 5 of which went home with anglers. I'm sure there was a mix of late-run wild winter fish and a few summer steelhead in the catch too. Boaters in the Oregon City reach released 6 wild steelhead.
Sturgeon fishing interest is tapering when spring Chinook interest is growing. There are still fair numbers of keepers and shakers coming from the Portland Harbor however, for those using smelt for bait. It's likely that a good percentage of the fish that were in the Portland Harbor are migrating out to feed on dead and dying smelt in the mainstem Columbia at this time. It seemed like a sizable smelt run.
The Guide's Forecast – Here we go! It's statistically peak week on the Willamette and there's no reason to think we won't repeat again this year. Catches are ramping up, water conditions are ideal and we may even have the dogwoods bloom real soon, which is one of the most reliable indicators that the spring Chinook are biting. Kinda ironic, actually.
From a hydrologic prospective, things couldn't be better: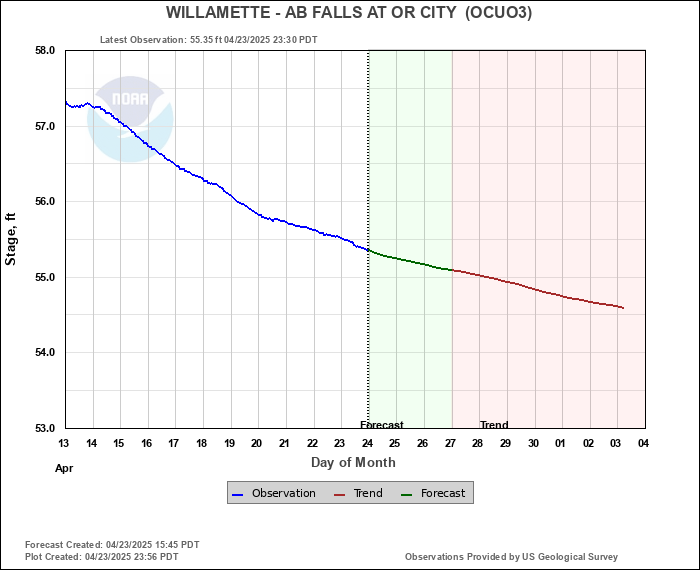 It looks like the river height is already peaking, clarity is near 3.5 foot and flows are steady and strong, slowing migration down and keeping fish on the bottom, where it's easier to target them. Yeah, it's going to be a good week.
The lower Multnomah Channel should continue to be the highlight of the lower river. It's common sense however, the best catch is going to be where the pressure is the highest and the fish haven't seen any offerings downstream of them. Remember, the mainstem Columbia is closed so those are "virgin" fish by the time they enter the Multnomah Channel at St. Helens.
Trolled herring will continue to be the cat's meow for that fishery, but tides and current will likely be strong enough to run some plugs on outgoing tide if that's a thing for you. Santosh Slough is a good place for that.
Have you seen Josiah Darr's webinar on Multnomah Channel Fishing? It's still hot off the presses, get it HERE! Of course we offer a 100% money back guarantee if you're not 100% satisfied with ANY of our products!
The Portland Harbor will be the Portland Harbor. You have hundreds of anglers targeting these springers downstream of you so you have to realize you're fishing over "fished-over" springers. There are of course, a small contingent of spring Chinook that utilize the Kelly Point Park entrance of the Willamette River (the true mouth), but in high water flows, the bulk of the springers pass through Multnomah Channel. It's still too cold and too turbid to consider the 360° flasher and spinner combination. Use 360's with herring however, and you may have something. The head of the channel will remain your best bet, from Fred's Marina to the St. Johns Bridge, but the Hawthorne Bridge and downtown Portland will also offer up a fair bit of opportunity this week as well. Sellwood is likely to remain productive too, with fish being caught in every reach, Sellwood Bridge is getting oddly overlooked right now.
Upper river anglers in the Oregon City/Meldrum Bar reach should have a better week this weekend than last. There's clearly a lot of fish coming according to downstream catches and high flows and cold water should stack fish up at Oregon City this weekend. Backtrollers will be working Meldrum Bar, the Garbage Hole, the Sandbar and the water upstream of the I-205 Bridge, and should find good success this weekend. Of course back-bouncing should be productive as well with prawns, sand shrimp and eggs as well, although the egg bite tends to pick up better when temperatures climb above 50°. Hoglines at the Lakeline and Sand bar stretches upstream of the I-205 bridge should do well this weekend too. I don't anticipate that the jiggers will have an outstanding weekend, but you have to go with what you have confidence in.
There's still too few fish upstream of Willamette Falls to expect anything spectacular. It won't be long and if the water temperatures remain cool, upper Willamette spring Chinook anglers should dust off their spinners, they could be back on the water without algae interfering with their gear.
It's too early (and cold) for hardware in the downstream reach of Willamette Falls just yet.
Steelhead aren't typically targeted this time of year, but if of hatchery origin, they're often gratefully accepted. Summer steelhead flesh is almost as good as spring Chinook, with an emphasis on almost. Any steelhead falling this weekend and into next week, are often "incidental" catch. Hopefully Meldrum Bar continues to put out both salmon and steelhead for the bank anglers, they'll certainly have good water conditions to justify the effort.
Sturgeon fishing in the Portland Harbor is likely to taper next week. With spring Chinook interest growing, and sturgeon likely exiting to find better forage in the mainstem Columbia, catches are likely to continue to decline. If you have this year's smelt however, you should still find decent action if you put in the time.
Detroit Reservoir Trout. Rivers Are High – McKenzie Is Fishable. Mainstem Willamette High. By Glenn Zinkus
Alton Baker Canal: Alton Baker Canal was stocked monthly through the spring. Alton Baker Canal received another 1000 legal size trout during the week of April 11th and will receive another 1000 trout during the week of May 2nd.
Detroit Reservoir: Detroit was stocked this past week with 4,000 trophy trout, and again next week with 4,000 trophy trout. Levels continue going up. As of right now, Detroit Lake surface elevation is currently at 1549 feet, so both the main upper and the lower ramps are accessible. Check the water levels here: https://waterdata.usgs.gov/or/nwis/uv?site_no=14180500
Fishing conditions improved through this month of April, and the reservoir is ready for more anglers.
Kokanee in the 11 to 14 inch range are being caught by trolling. Depths are all over the place from 25 to 90 feet. Wonderbread dodgers worked great for some anglers.
Watch your catches for the small Chinooks, and please release these carefully. Look for the black mouth and release these fish.
Detroit looks to be one of the better bets for kokanee right now.

Green Peter Reservoir: The reservoir is now rising as we are well into April, and anglers/boaters are finding Green Peter accessible. Water level has come up about 2 feet since the last report. Water level is at 984feet right now. Water level can be found here: https://waterdata.usgs.gov/nwis/uv?site_no=14186100
Kokes in the 8 to 9 inch range are being caught.
Fishing near the mouth of Quartzville Creek for trout can be effective. Not scheduled for trout stocking until May.

As a caution, there are some reports of thefts from boat ramps including catalytic converters.
Quartzville Creek: Quartzville Creek is open all year, but it was last stocked in July, and ODFW plans to stock again during the first week of May.
Junction City Pond: JC Pond was stocked this week with 3000 legal size rainbows. Good local option for southern Willamette Valley anglers.
Timber Linn Park Pond: Was stocked with 1400 legal size rainbows this past week, and scheduled to be stocked again next week with 1200 legal size rainbows. Timber Linn was stocked earlier with 40 trophy size rainbows.

EE Wilson Pond: EE Wilson Pond will be stocked this past week with 1500 legal size rainbows and will be stocked again with 1500 legal size rainbows.
South Santiam Steelhead: No New Updates
South Santiam Trout: No New Updates.
North Santiam Trout: No new reports. The North Santiam received 2,200 legal size trout in August.
Some reports of fly anglers successfully "dapping" for trout came in.
Foster Reservoir: Foster was stocked with 3,300 legal size trout last month, and scheduled to receive 3300 more next week during the week of April 25th. Foster Lake was lowered for the winter refilling, and the level was fairly steady over this past week. The water levels are reported here: https://waterdata.usgs.gov/or/nwis/uv?site_no=14186600
Small craft may be able to launch from Sunnyside Park, but I don't yet have a report on boat ramp accessibility.
Willamette River – Middle Fork:

The middle fork bumped up slightly over the last few days, now at 2220 CFS. It is currently fishable. Water temperatures vary up and down around between 46 to 50 degrees.
Baetis imitations will prove effective, as well as general searching patterns including pheasant tails, BH thorax, prince nymph variations and twists.
Willamette River – From Harrisburg, to Corvallis, to Albany:
The Willamette River is up – currently at 12700 CFS at Harrisburg and remaining steady to slightly dropping. It's been high and running too high for optimal fishing.
There were March Browns on the water. So be ready with size 14 March Browns. The usual impressionistic nymphs, like PTs will take trout. The guys at The Caddis Fly Shop are saying a jigged style prince nymph was super effective.
A detailed list of flies for right now on the McKenzie and Willamette Rivers include:
Morrish's MayDay March Brown, Soft Hackle March Brown, March Brown Wets, 20 inchers, CDC Elk Hair Caddis, Purple Haze, Parachute Adams, Peacock Caddis, Parachute Caddis, Girdle Bug, Missing Link Caddis, Superman Caddis, Pheasant Tail Soft Hackle.
Dexter Reservoir: Dexter received 3,000 trophy trout early in April and another 2,000 trophy trout next week.
Current water level at Dexter Reservoir can be found here: https://waterdata.usgs.gov/or/nwis/uv?site_no=14149500
Clear Lake: Will become accessible in the spring.


Gold Lake: Will become accessible in the late spring.
Hills Creek Reservoir: Hills Creek Reservoir, near Oakridge, received 2,840 legal size trout during the week of April 4th. All bait and lure options will take these trout. Fly anglers could slow troll leech and streamer patterns.
Leaburg Lake: Stocking will start in mid-April. Worms, Powerbait, corn will all take these trout.
McKenzie River:
The mainstem McKenzie water levels are fairly steady. The river is currently at a 4850 CFS flowrate at Vida. Fishable, but certainly on the high side, especially for fly fishing.
Water temperatures are in the 43 to 45 degree range – cooler than our last report.
The McKenzie below Leaburg Dam received 6000 legal size trout this week, and will receive 5,166 legal size trout next week. The McKenze above Leaburg Dam will receive 6,166 legal size trout next week.
As an aside, Leaburg Lake received 1,800 legal size trout during this past week.
March Browns are active. Aside from floating, good access at locations such as Armitage Park in Eugene offer anglers access to great water.
The Caddis Fly Shop guys had best luck on nymphs, with a jigged prince nymph working well.
A detailed list of flies for right now on the McKenzie and Willamette Rivers include:
Morrish's MayDay March Brown, Soft Hackle March Brown, March Brown Wets, 20 inchers, CDC Elk Hair Caddis, Purple Haze, Parachute Adams, Peacock Caddis, Parachute Caddis, Girdle Bug, Missing Link Caddis, Superman Caddis, Pheasant Tail Soft Hackle.