Reporting for the week of February 11th – 17th, 2022
North Coast Fishing Report and Forecast
Low water persists; bottomfishing may be a weekend option
North Coast Fishing Report – Steelheaders continue to be frustrated by the low, clear water conditions we're experiencing on the north coast. There is effort out for steelhead still, but it's far from an ideal scenario for the bulk of steelheaders.
The Wilson River continues to give up success, but for those so motivated to get up early to secure a spot in a productive hole (of which there are few) or those that fish plugs, where one can find flow. Pro guide Chris Vertopoulos has been running plugs on his favorite north coast stream, finding 2 to 4 opportunities per day in just a select few spots. It's been pretty challenging for bobber doggers when the fish are all kegged up in the deep water. It's hard to pull plugs under this scenario, but if you can keep one or two plugs working in the deep water current, you can rest assured, you're at least in the face of some Wilson River steelhead. There aren't many deep spots left in the lower river that hold steelhead, especially biting steelhead.
The Nestucca has also been fishing fair given the water conditions. Guides working the lower reaches have been producing fair catches of steelhead, it is peak season after all. Pro guide Kent Anderson (503-550-6303) is fishing nearly everyday under these conditions. He found at least 3 steelhead on Monday, the only semi-foul weather day we've had all week. The group caught 2 hatchery fish and one wild one fishing the lower reaches with not much competition for the time of year we're upon. It's been tough and like the Wilson, fish are concentrated in small pockets to feel protected in the deeper water, waiting until the next rain freshet brings better migration opportunities.
The Nehalem has been the other river systems of the north coast in fine shape to fish. It's a good time to target Nehalem River steelhead and conditions are good, although also dropping and clearing, challenging steelheaders accordingly. The lower reach from Beaver Slide to Roy Creek has been the most popular.
The Siletz has steelhead present, both wild and hatchery and action has been fair despite not-so-great water conditions. Anglers are also fishing the lower reaches in hopes of tidal fish, which aren't all that motivated on these mediocre tides. Steelhead don't mind the low water however, but they do bite better in darker conditions and certainly the next rain freshet will be a welcome sight.
The Alsea has been slow. Here's what ODF&W had to say about the Alsea:
Winter steelhead fishing has been fair on the Alsea with the low water conditions. There are still fish around to be caught throughout the system but the low water is making it tough, especially for the bank anglers on the NF Alsea. The drift boaters fishing the mainstem are still catching fish but it has slowed down there as well. Fishing should pick back up with the next significant rain event.
Smaller systems such as the Necanicum, NF Nehalem, Klaskanine River and Big and Gnat Creek continue to put out kelts after a successful spawn. Even in these low flows, steelhead are somewhat responsive given their degraded nature. They are headed back to sea and hungry after a hard stint on the spawning grounds. As we mentioned however, the NF Nehalem DOES have late-run hatchery broodstock steelhead available however, but number of returning adults are low this year, soon to improve however.
Anxious saltwater anglers are keeping their eyes on the horizon. With a weekend window a possibility, folks are geared up and ready to hit the lingcod grounds. There hasn't been much activity this week due to a big ocean.
Bay crabbing remains fairly good given the record commercial harvest of recent weeks. They do have to throw back the sport-legals, ya know.
The Guide's Forecast – It's more of the same for north coast steelheaders. Low, clear water conditions will continue to challenge even the best of steelheaders this weekend and well into next week too. Here is our river by river forecast, in likelihood of productivity:
Nehalem River – The mainstem Nehalem should stay in good shape for weekend anglers although it too is getting low and clear. Stick to the lower reaches for your best opportunity of a tide fish, it's not a bad idea to time your take-out with high tide. Beaver Slide to Roy Creek is the best option, you're likely to see plenty of fly anglers on this reach this weekend.
Nestucca River – Likely the best option for hatchery fish, the Nestucca is hitting its stride for migration, if only we had good water conditions to inspire them. The lower reaches will remain the best option, downstream of 1st Bridge at least, but Farmer Creek or Three Rivers to Cloverdale may provide the better options.
Wilson River – Motivated anglers will be starting early, securing holding water for holed up steelhead. The more aggressive anglers will be launching at Donaldson's, fishing their way down to Sollie Smith and find their way to another drift, picking off the most aggressive biters on their first foray. Boats working downstream of Sollie Smith Bridge will also have the advantage in these ultra-low flows if you feel comfortable working your sled in that skinny water.
Bank anglers may find some aged steelhead in the upper reaches of the Wilson. Target them in the boiling eddy's and broken surfaced areas where they are most likely to hide.
Siletz River – Tidal fish should be entering the lower reaches of the Siletz although it's not the best series to inspire new fish to enter this system. None-the-less, it is a good time of year for Siletz River steelhead and anglers utilizing low water strategies should find some degree of success.
Trask River – There should be some sizeable brutes entering the Trask in the coming weeks. The lower reaches should provide some opportunities this weekend from Loren's Drift downstream. Look for broken surfaced water and deep pockets to hold fish under these conditions.
Kilchis River – There's not much water here, but plenty of deeper water and troughs that should hold fish. It's an all wild scenario here, but those are the more aggressive biters if you get at them with out spooking them.
North Fork Nehalem – It's a small system to expect big results, especially under these conditions. There are some quality broodstock fish however, that should inspire some. The tidewater reaches may be the best bet, especially on the stronger afternoon outgoing tide. There won't be many brave fish upriver, that's for sure.
Necanicum River, Klaskanine, Big and Gnat Creeks – Mostly spent kelts and a rare wild one for most of these systems. A good place to take the young ones, but these systems are so small to begin with, they will be challenging to fish.
It could be a saltwater weekend, for those prepared to tackle lingcod and seabass. Here is the offshore weather forecast:
FRI NE wind 10 to 15 kt. Gusts to 20 kt in the morning. Wind waves NE 3 ft at 4 seconds. W swell 8 ft at 14 seconds.
FRI NIGHT NE wind 10 to 15 kt. Wind waves NE 2 ft at 4 seconds. NW swell 6 ft at 12 seconds.
SAT NE wind 10 to 15 kt, easing to 5 to 10 kt in the afternoon. Wind waves NE 2 ft at 4 seconds. W swell 5 ft at 12 seconds.
SAT NIGHT E wind 5 to 10 kt. Wind waves E 1 ft at 4 seconds. W swell 5 ft at 11 seconds.
SUN S wind 5 to 10 kt with gusts to 15 kt. Wind waves 2 ft. W swell 4 ft.
SUN NIGHT SW wind 10 to 15 kt with gusts to 20 kt. Wind waves 3 ft. W swell 3 ft. Rain.
MON NW wind 10 to 15 kt. Wind waves 2 ft. W swell 8 ft.
TUE NW wind 10 to 15 kt. Wind waves 2 ft. W swell 8 ft.
Saturday looks to be the first window of opportunity, Sunday morning looks dreamy.
Lingcod and sea bass fishing should both be good. Crabbing for sport legals should also be fair.
No good tides for clams this weekend, but we're not far off.
Willamette River Fishing Report and Forecast
Springers To Show Any Day Now; Sellwood Bridge Is Key Location
Willamette River Fishing Report – Effort is on the increase, but catches are not. Frankly, I'm a bit surprised that there weren't a few more springers hitting the deck this week. Anglers are reporting more on gorging Stellar Sea Lions over spring Chinook, but that's just the nature of the beast.
Reports remain sparse however, but anglers remain motivated. The Sultan of Sellwood continues to report nothing for his almost daily efforts. John Shmilenko notes that the flows are getting low (Can you believe that for February) so he's waiting to put in his effort on the outgoing tide for a change. Nobody likes outgoing tide but one needs flow to be successful at Sellwood, and Shmilenko is all of that.
Anglers fishing the Multnomah Channel aren't reporting much in the way of success or sign. Trollers don't mind putting in long hours under favorable weather conditions, there's something special about a February spring Chinook.
As you can see from the predicted water levels, we're looking good for motivated anglers: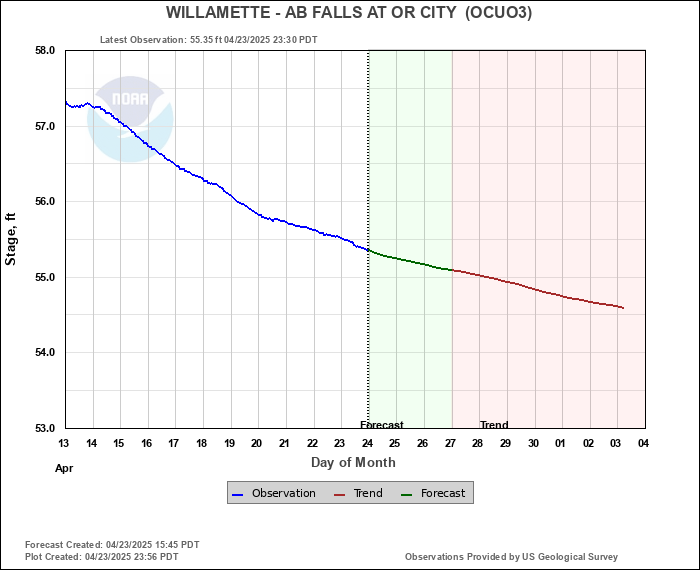 The Guide's Forecast – Although anglers aren't likely to score copious numbers of spring Chinook this weekend, catches should improve, relatively speaking. Afterall, it's not like we're in for a banner run.
Anglers should keep their expectations low, but it's likely the weekend crowd will boat a few more spring Chinook in the very near future. Trollers working green label herring in the frigid waters of the Willamette must be optimistic, but also face reality, it takes serious hours to be seriously successful.
Sellwood Bridge will continue to be a good option, but with little flow due to low water, Portland Harbor and Multnomah Channel trollers also certainly stand a chance at success. Again, in cold, clear water, fish will migrate more slowly under these conditions.
It's fairly early for a Oregon City springer, but it's likely almost as good a bet as anywhere given these water conditions, especially with the absence of California Sea Lions.
Sturgeon anglers may start to stir this weekend, there's already been some boats out. Success has been fair, but will likely improve as temperatures warm. It likely isn't helping that the Stellars are picking them off river wide under these conditions. HELP ODF&W!
If you take away one thing from this week, please consider using the Sea Lion Reporting App from ODF&W to report your observations for salmon and sturgeon eating sea lions. Get more info HERE!
As for sturgeon anglers, we may have been a bit too excited reporting on smelt that may or may not be available to sport anglers to use for bait. Preliminary results from the commercial fleet don't show a robust return just yet, but it could be anytime now. Biologists are hopeful for a sizeable return this year.
Sturgeon fishing should continue to improve however although sea lions certainly have them on the run. Sand shrimp and herring or anchovies should prove worthy of soaking, either in the Portland Harbor or Oregon City area. The Milwaukie reach seems to be where the bulk of the Stellars are hanging out.
Steelhead returns over Willamette Falls aren't that impressive given the good passage conditions for fish. February is typically a robust month however so we'll wait to see what this month brings. Regardless, it's a viable option to target steelhead on the mainstem, right around Goat Island (across from the mouth of the Clackamas) this time of year. Bobber dogging or backtrolling plugs would be the best idea. There should be some sizable fish around.
Columbia River Fishing Report and Forecast
No sign of spring Chinook, Coho forecast excites
Columbia River Fishing Report – Still quiet on the Columbia River as anglers await early season catches of spring Chinook, which have yet to show. February springers are certainly not out of the realm of possibility, they are just extremely rare with a big body of water and tempered effort.
Spring Chinook have yet to ascend Bonneville Dam, it may be a few more weeks before we see another and mid-May before we see the peak.
The Guide's Forecast – Nothing to see here but some crusty crabbers may be excited about the soft incoming tide in the estuary this weekend. Weather looks good and crabbing could be fair for sport-keepers if you get lucky (and use awesome bait too).
The afternoon outgoing tides are conducive to plunking for steelhead or a very rare spring Chinook that may be in the system.
Clackamas and Sandy River Fishing Report and Forecast
Clackamas Steelhead Improving, Sandy Seems To Be In A Lull
Clackamas River Fishing Report – Clackamas River anglers have access to fish basin-wide, with fair reports coming from the mouth of Dog Creek. Mornings are still cold and somewhat slow, but when temperatures warm in the afternoon, steelhead get more excited. The popular drift from Barton to Carver remains the top option for driftboaters and bank anglers are finding a few fish all the way up to McIver Park. The action is getting more consistent, but anglers feel that the mother lode has yet to arrive.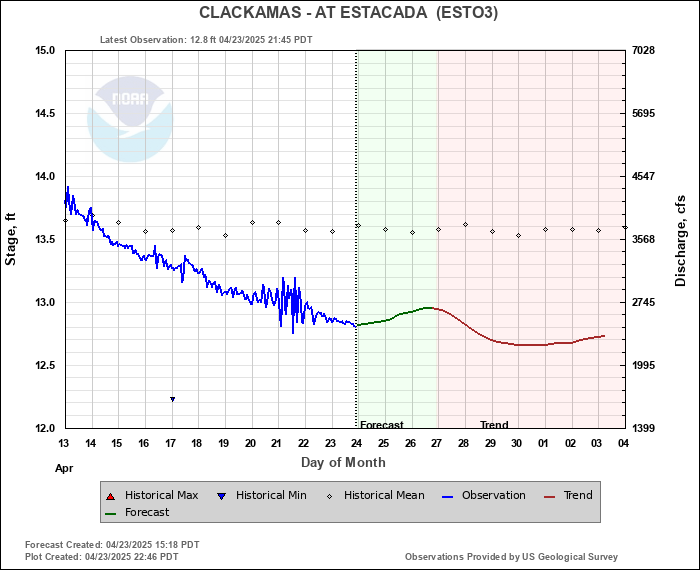 The Guide's Forecast – Anglers should see favorable conditions through the weekend, with warmer temperatures warming the slopes and bringing down more water for an artificial freshet over the weekend.
As low, clear water persists, anglers need to consider using small presentations and more subtle colors. Bobbers and jigs or shrimp can be an effective tool on the Clackamas this time of year, and under these water conditions. I remain a proponent of a late start, when air and water temperatures warm up.
Nothing new here, Barton to Carver for driftboaters, steelhead will be migrating fairly slow in these low, cold waters so look for them in the deeper, darker, broken surface areas of the river. This is a good time for 10mm soft beads using light lead and bobbers to secure a more natural drift.
Sandy River Fishing Report – Avid angler Jeff Stoeger writes, "Hello All. I fished Tuesday and the river was low and noticeably clear and will stay that way until we get some decent rain. There were lots of anglers and boats on the lower river from Dabney to Lewis and Clark Park. There have been some good days on the river from Cedar Creek to Dabney with double digits and there were some particularly good days in Oxbow Park area. Here are some of the numbers from the hatchery as of 2/7, 362 fish back to the hatchery with 260 recycled and all the recycled fish will have a right cheek hole punch and once they return a second time the fish is then given to the local food bank."
The Guide's Forecast – Jeff continued, "The most effective technique has been beads in size 10mm with low, clear water and spinners in size 4 Blue Fox or torpedo weighted bodies. The guys who fly fish have done well with pink, purple/black and blue/black flies. Those who like to fish jigs have done well on the nightmare pattern as well with any jig with two pink or red color beads on the collar in pink/white or all pink jigs. So, if you're planning to fish this weekend, plan to find lots of pressure on the river and get out early to find your favorite spot. So, wishing you all the best of luck and tight lines."
SW Oregon Fishing Report and Forecast
Weekend outlook great for bottomfishing, steelhead rivers need rain
Looks to be another great weekend out of Brookings with the "Chetco effect" providing a calm ocean and temperatures in the upper 70's. Even as you go further North, the bottom fishing from Coos, Charleston and Winchester Bays has been great. Crabbing has also been excellent all over.
A few stealthy (and lucky) anglers have managed to catch a few, and I mean few winter steelhead on the Rogue with most action seen below Agness. The mid and upper Rogue is at a Fall time flow in the low 1200 cfs. Catches have been slow but for those avid anglers willing to work for em have been graced with a fish or two primarily below Hog Creek. The winter run has yet to arrive.
The Chetco is a trickle and still holds a few fish but won't pick up again until much needed rain comes. Not much pressure except for some die hard bank anglers enjoying a nice day.
The smaller rivers and streams such as the Elk, Sixes, Coos, Millicoma, N. Umpqua and Coquille are way low and clear to make an effort to fish right now.
Surf perch are biting along the rocky jetty's and sandy beaches too!
Tight Lines 🎣 – Romer
From the guides mouth:
Local Brookings guide Riley Wallace of Wallace Guide Service 541-761-2386–
Riley reports that the Chetco which had been producing decent catches last month following the last big rain is now not worth the effort until rain blesses the system. The same for the Elk and Sixes. He suggested that right now the best steelhead opportunity is to fish the Rogue from Agness on down to the bay. Finding a "slot" in 3-4 feet of water and anchored above while working metallic combos of 3.5 mag lips have had some bites
He also noted that even though the river is low, there are some fish that will be working their way up through the skinny flows. When rain does come, he expects it to be great through April!
On a side note:
2nd Annual SOUTHERN OREGON STEELHEADERS TOURNAMENT
March 26th & 27th, 2022
PLEASE READ
Rogue and Applegate river
Bank fishing only
Tournament closed from mouth of Applegate down on the rogue
Open on Applegate from the mouth to legal fishing zone at hatchery
Floatation device ok for transport
Longest measured fish wins
1st, 2nd and 3rd place
Cash prizes! Sponsored prizes!
$50 entry can enter online or in person
Can also sign up with Rodney Degener at the Cigar Cave Monday-Friday 10-3 in grants pass, Oregon
if you sign up for the tournament you are responsible for your own well being so please be safe on the river!

We have spoken to OSP game warden along with odfw biologist and they support the tournament
If you do not plan on keeping fish on these days or you are fishing the Applegate and catch a native fish which must be released unharmed we HIGHLY encourage you to handle all fish with care and for measuring a great way to do that is to use a cradle or a rubberized net that is easier on the fish please check regulations for the rogue and Applegate prior to fishing.

Rules: picture of fish with measurement and paper with word of the day written on it in one photo AND a video to southern Oregon Steelheaders page or you can send to admins phone! word of the day will be provided each day!

Tournament ends at 2pm on the 27th! all photos and videos or your fish must be submitted by that time!
Ounce you have entered please send me a personal message We look forward to the tournament
GOOD LUCK!
SW Oregon Guides Forecast
Marine Forecast:
Weekend outlook for pretty much the entire Southern Oregon coast looks like another good opportunity for bottom fish and some nice Ling Cod action. The Lings are still relatively close in but are finishing up their spawning and will be moving to deeper water. Opportunity is still good though if you know where to target them.
Crabbing remains good especially out of Charleston and Winchester bays.
Brookings has been fair.
Don't forget about Surf perch! When the surf is not pounding, you can catch redtail surf perch on the sandy beaches like Horsefall and Bullard's beaches and striped surf perch along any of the rocky shorelines all along the South coast beaches and jetty's. These excellent dinner fare and fun to catch fish using sand shrimp, mole crabs or Berkley power worms.
The daily general marine fish bag limit is 5 fish for the 2022 season with a 1-fish sub-bag limit for China and copper rockfish combined. There is no harvest of cabezon allowed until July 1. Bottom fishing is now open to all depths through June 30. Anglers can still harvest 2 lingcod per day.
Andy Martin- Brookings Fishing Charters 541-813-1082
Andy reports that all fishing has been aimed at the ocean. Despite one windy day earlier this week, his forecast for the weekend is looking excellent to get out for bottom fish and Ling Cod. The rock fish are in fairly close and the better Ling cod action is a little further North he said. Either way, it's gonna be nice out for some great action
Crabbing has been good in the 25′-30′ depth where that seems to be where more males are. Females are deeper.
NOAA Weather Marine Forecast for Brookings, Chetco Cove, OR
Friday High : 63ºF
Variable winds 5 kt or less. Sunny. Mixed swell…W 7 ft at 15 seconds and NW 1 to 3 ft at 18 seconds becoming SSW at 15 seconds . Wind waves around 2 ft.
Saturday High : 60ºF
Variable winds 5 kt or less. Sunny. Mixed swell…W 4 ft and SW 1 ft becoming S. Wind waves around 1 ft.
Sunday High : 56ºF
SSE wind around 6 kt becoming SSW in the afternoon. Partly sunny. Mixed swell…W 3 ft and NW 2 to 3 ft. Wind waves around 1 ft.
.
NOAA Weather Forecast for Charleston, OR
Friday High : 61ºF
NNE wind 9 to 11 kt. Sunny. Mixed swell…WNW 7 ft at 15 seconds and WNW 4 ft at 16 seconds becoming SSW 1 ft. Wind waves 2 to 3 ft.
Saturday High : 61ºF
E wind around 6 kt becoming variable and less than 5 kt in the afternoon. Sunny. Mixed swell…W 4 ft and SW 1 ft becoming S. Wind waves around 1 ft.
Sunday High : 57ºF
SW wind 7 to 11 kt. Partly sunny. Mixed swell…W 3 ft and NW 2 to 3 ft. Wind waves around 1 ft.
Mid Valley Forecast:
COOS RIVER BASIN: Steelhead anglers are finding a few fish in the deeper holes as the local systems await much needed rain. Popular fishing areas are at the Millicoma Interpretive Center on the West Fork, Nesika Park on the East Fork Millicoma, and 5 Mile Marker on the South Fork Coos rivers. Anglers wanting to fish the South Fork Coos River above tidewater will need an access permit from Weyerhaeuser.
Rivers and streams to fish this week:
COQUILLE RIVER– Steelhead catches have slowed dramatically since lowering to pre rain level. Side drifting eggs, soft beads, spoons, and floating jigs under a bobber are popular methods here.
CHETCO RIVER: Even though there is still fish in the river, low and clear conditions have made for pretty much bank anglers plunking and side drifting. A few fish are still being caught, but the pressure is low until rain comes.
Elk & Sixes– Both systems dropped back into low and clear conditions where there's been little to no effort by anglers.
Lower Rogue:
Jim at Rogue Outdoor Store – Gold Beach, Oregon 541-247-7142
Jim reports that the lower Rogue has been slow for both drift boaters and bank anglers. A few steelhead have been caught mostly from Agness and below from plunkers. Until rain comes, it's going to be slow, but when rain does come….oh boy!
Middle Rogue– The mid Rogue is a paltry 1230 cfs as of Thursday (Grants Pass). Winter fish are expected to trickle up despite low water conditions. Best opportunities will be to cover as much ground from a boat or change spots throughout your fishing day to "hunt" where there's some fish. Side drifting the usual multitude of baits along with running 3.o – 3.5 mag lip plugs from boats are good enticements. Some success from Grave creek up to Galice from anglers side drifting soft beads in the holding seams have been reported this week. 1 wild fish over 24″ can now be kept.
BE SURE AND KILL EVERY PIKE MINNOW – AKA SQUAWFISH!
Upper Rogue- The river is back to low and clear flows and catches have been "slow" at best for those avid anglers and guides that know specific holes. This weekend looks great weather wise, but expect success to be slow. Small baits and spinners make the best offerings in these conditions.
UMPQUA RIVER System– Reports of slow steelhead catches as the river has dropped to pre rain conditions. Guides and locals are the most successful as they know where the fish hide. There seems to be decent numbers all throughout the system. More rain is needed.
North Umpqua – Conditions are low and clear but there are some winter fish in now. Better prospects are lower.
South Umpqua– Good steelhead numbers throughout the system but is quite low again and has slowed catches. As with the North, it's better to fish in the lower sections.
Central Oregon Fishing Report and Forecast
Metolius and Fall River Winter Trout; Haystack Reservoir Stocking
Weather Outlook Across Central and Eastern Oregon:
The current above average temperatures will drop on Friday to highs in the 50s through Saturday, game day Sunday will be another warm one before we return to slightly more normal February temperatures. Although fishing has been pleasant on these warm days and its feasible to camp when farther afield this past week, this temperature regime doesn't bode well for snowpack in the region.
There may be some scattered rain on Monday.

ODFW News – Angling Restrictions

Deschutes River
Mouth at westbound I-85 bridge upstream to the Pelton Dam regulating reservoir –
Closed to all angling for and retention of steelhead from Jan. 1 to May 31, 2022.
All other permanent rules for the Central Zone, as stated in the 2022 Oregon Sport Fishing Regulations, remain in effect.
Lower Deschutes River:
Flows are remaining steady at typical winter levels – currently right around 4700 CFS at Moody.
Water temperatures are warming during the daytime, as well as steadily climbing through this week. Anglers will find water temperatures well into the mid-40s and trending towards 47 degrees. Best fishing starts during the late morning and continues through the afternoon up until sunset.
It is primarily nymphing now, with best bets being stonefly nymphs, Perdigons, and caddis pupa/larva flies in various green and brown tones. That blue Perdigon type pattern at The Deschutes Angler is worth trying right now!
The Guides Forecast – Lower Deschutes River:

Fish have moved into the slower water for the winter. Go to the mellow, slower trout water. Back eddies, slow flows along the banks, and the pools (think those small, or micropools within the main river) are examples of winter holding water.
Whitefish are spawning, and a small (1/8") peach-pink egg fly will get attention from redsides.
Nymphing has been and will continue to produce. Euronymphing, indicator nymphing, and swinging will get you into trout. Some of the past week's flies are mentioned in the intro to the Deschutes report. Perdigons, Frenchies, Two Bit Hookers, small soft hackles will all produce. Amy at Deschutes Angler recommends a variety of colors, and suggest "changing up the bead colors on your beadhead nymphs from silver, to copper, to pink, to gold, to orange, etc, is a good strategy for discovering what the trout are eating on any given day." Don't forget to have the stonefly nymph box as well.
Continue to go for the afternoons, especially for dry fly fishing opportunities!
As for me, I recommend trout spey with a light Skagit setup in the same water anglers might nymph. Sculpins, leech, muddler and crayfish patterns. There is one fly, The Dirt, as originated by the guys at the Watershed Fly Shop in Corvallis developed that's been the hot fly for me.
Just be sure to use light gear, appropriate for trout fishing as angling for steelhead and salmon are closed.
Suggested Lower Deschutes Dries/Emergers:, BWOs – dries, sparkle duns, emergers in sizes 16-20.
Suggested Lower Deschutes Nymphs: October Caddis Pupa, Micro mayflies, Puparazzi #14-16, Jigged Copper John #14-18, Perdigon (try all colors) #16-18, Frenchies #16-18, Two Bit Hooker #16-22, Juju Baetis #16-22, Silvey's Submerger Caddis #14-18.
Middle Deschutes River: The river level is up and will stay this way for the winter. Currently not a good option.
Haystack Reservoir: Haystack is at 88 % full. ODFW stocked Haystack with several hundred big rainbows (broodstock) in January, and several hundred more again this past week. Good bet for this nice weather weekend.
Lake Billy Chinook:
Kokes are down deep right now. The most recent report on February 7 is that that an angler caught a quick limit trolling orange spinner hoochies. Kokes were in depths from 85 to 135 feet. Earlier, pink and gold were the hot colors.
Bull trout are also being caught at the same depths – nice sizes in and around 5 to 6 pounds.
Remember that the Metolius Arm is currently closed.
Crooked River: Flows remain low and steady. Not many reports, and the ones I have report slower than normal fishing on the Crooked which is colored up, slightly silty water.

Blue Wing Olive and midges will be the primary surface action, especially during the warmest time of day during the early afternoons. Most of the action will be on nymphing – Perdigons have been the ticket. Nymphing is consistent and anglers are catching redsides and whitefish.
If you really want to catch fish on the surface, be prepared with BWOs as emergers and cripples. Jeff Perin likes the Knock Down Dun. Sizes 16 to 20, mostly 18s. Also be ready for midges. The Fly Fishers Place recommends imitating midges in all stages from drifting pupa, emergin pupa, adults and cripples. Go light on the tippet!
There maybe some midge hatches during the later afternoons, and a Griffiths Gnat in the box will help on these days.

Suggested Crooked River Dries: Parachute Purple Haze #14-20 (larger sizes are helpful for hopper/dropper setups), Para Wulff Purple #16-18, Tilt Wing Dun BWO #18-20, BWO Sparkle Dun #18-20, Griffiths Gnat (with a bright post for visibility) #18-22, Klinkhammers #18-20, BWO Film Critic #18-20, Knock Down Dun #16-20, CDC caddis #14-18.
Suggested Crooked River Nymphs: Jigged Copper John #14-18, Perdigon black or purple #16-18, Twisted May #14-16, Zika Jig #18-20, Two Bit Hooker #18-22, Juju Baetis #18-22, Zebra midge #18-22, Flashback Pheasant Tail #14-18, Scuds, Leech patterns #6-12, caddis pupa (gray-olive colors) #14-16, Puparazzi #14-16 (various colors).
Fall River: The spring-fed Fall River continues to fish well with our warmer winter days this past week.
The BWO hatches will happen through the afternoon, but will typically be a shorter event now. Lunchtime hatches maybe up until 2 PM will happen. Most reports are that the BWOs are small, in the size 20 range. There will be copious amounts of sun over the next week that will probably translate to sparser hatches. Midges are also coming off now. The guys at Fly and Field say that midges just below the surface are attracting trout.
Nymphing with midges, thorax baetis and euro style nymph assortments is effective. Zebra midges are one of the standout flies.
There are also reports of micro-midges at times on the water.

Streamers and micro-leeches will catch fish. In addition, Jeff Perin at The Flyfishers Place in Sisters reminds anglers that having a dry fly box with not only duns and spinners, but be sure to have some cripples and emergers. These are important on Fall River.
Suggested Fall River Dries: Tilt Wing BWO #18-20, Parachute Purple Haze #18-20, Thorax BWO #18-20, Griffiths Gnat #18-22, Stillborn Midge #18-20, Hatching Midge #18-20, Winkers Midge #20-22
Suggested Fall River Nymphs: Rainbow Warrior #18-20, Juju Baetis #18-22, Tailwater Tiny # 18-22, Disco Midge #18-22, Glo Bug #12-16, San Juan Worm, Perdigons #16-20, Tungsten Micromayflies
Metolius River:
The Metolius remains accessible through the areas open to fishing including down to Bridge 99 and downriver, especially with the recent warm weather. The BWOs do come off during the early afternoon, around 1 PM. I did see some small gray caddis lower on the rivers upstream of Bridge 99.

Metolius bull trout is prime right now. If swing flies for bulls with a trout spey Skagit setup with a white and olive Intruder style streamer with success.
With the nice weather, there are a few more anglers during the weekdays this week than there are sometimes, but still plenty of room and places to fish.
Access to the lower stretches after the holiday period snow events is easier again now and should remain that way through the warm days of next week. Earlier in the winter, I found bull trout were active and present throughout the river. I was raising a few swinging trout spey flies in the mid-river areas (Another tip – try Brett's Klamath Intruder in brown tones). All the anglers I watched and talked with were targeting bigger bows and bulls, all of them nymphing or swinging streamers.
The river above Allingham Bridge is now closed until May.

The Guides Forecast – Metolius River:
BWOs are typically the most prevalent hatch, coming off during the first half of the afternoons – think noon to 1 PM. 1 PM has been the magic time recently. Monday of next week (Feb 14) is the first day in the forecast with chances of precipitation, which help this hatch.
Egg patterns remain important, as I fish these into early March with success. Whitefish are spawning and the trout will take a small (1/8") pink-peach egg fly. This is one of my winter confidence flies.
Fish stonefly nymphs not only for weighting down your other nymphs, but also because the redsides will take these. Use stonefly nymphs especially in the rocky bottom runs. Golden stone nymphs and little black stone nymphs all can be good.
Nymph fishing throughout the river is good and the go-to technique most of the day on the Met. Jeff Perin recommends golden stone, frenchies, perdigons, 2 Bit Hookers, Rainbow Warriors, CDC Guide Hares Ear, Red Copper Johns, Caddis pupa and soft hackles.
Jeff Perin also reports some silver stripe sedges (# 10) and small Bracycentrus caddis (# 14-16) can be present.
Jeff also highlights the color of blue for the winter. I've been a fan of some blue in nymphs for a while now, and I like bright blue Perdigon patterns. Jeff mentions blue jigs, blue zebra midges and blue prince nymphs.

Suggested Metolius Dries: Thorax BWO #18-20, Tilt Wing BWO #18-20, Hackle Stacker #18-20, Purple Haze #18-22, BWO Sparkle Dun #18-22, Black Stimulator #12-14, CDC Caddis #14-18, Caddis Film Critics #14-18, Yellow Sally #12-18, Golden Stone #8-10, Brown Micro Mayfly, Split Case PMD, Half Down Dun, Knock Down Dun
Suggested Metolius Nymphs: Lex's Improved Stone #10-14, Jimmy Legs #12-8, Electric Rock Worm #18-20, Zika Jig #16-18, Duracell Jig #14-18, French Nymph #14-16, Perdigons #14-20, Jigged Hares Ear Nymph #14-16, Two Bit Hooker #16-20, Terminator Golden Stone #10-14, San Juan Worms #12-16, Rainbow Warriors #14-18.
North and South Twin Lakes: We should say goodbye to North and South Twin Lakes for the season as much-needed Cascade snows made these lakes inaccessible.

Crescent Lake: Figure Crescent is icing over. Last report from someone two weeks ago is that fishing was super slow. Road is plowed out to the Snow Park.
Prineville Reservoir: The reservoir is at 19 % full as of today.
Crane Prairie Reservoir: Crane Prairie is now closed.
Lava Lake/Little Lava Lake: Lakes are open, but just like Twin Lakes, we should say goodbye to Lava and Little Lava for the season as much-needed Cascade snows made these lakes inaccessible.
Three Creek Lake: Inaccessible for the season.
Paulina Lake: Access closed on November 16.

East Lake: Access closed on November 16.
North Central Oregon/Mid-Columbia Waters:

The report from Gorge Outfitters Supply (541-739-2222) in Rufus, between the John Day and Deschutes Rivers is improving walleye fishing
Walleye are being caught with worm harnesses and bottom walkers. Hot colors this week include chartreuse with purple tips and pink with black tips. The shop reports that worm harnesses with 3 to 4 oz bottom walkers are working. It's been windy this week, but this looks to improve, especially on the weekend.
Eastern Oregon Fishing Report and Forecast
Owyhee Browns!
Weather Outlook Across Central and Eastern Oregon:
Northeast Oregon will see highs in the mid 40s through the weekend, with nights in the 20s. Temperatures cool to highs in the 30s next week. Some snow on Monday, and then clear.
Southeast Oregon will see highs in the 50s and some 60s on the weekend. Some precipitation on Monday.
EASTERN/SOUTHEASTERN OREGON WATERS
Ana Reservoir: Fishing on Ana Reservoir remains steady for legal and trophy size trout, but will slow down with colder temperatures. Trout will go for slowly stripped leeches and streamer patterns.
Trolling lures and flies, and bait are taking fish.
Blitzen River: No new reports. Latest water temperatures are in and around 32 degrees, meaning the trout will go to the bottom and get lethargic. The banks will begin icing over if not already. Flows remain low in the 30 to 32 CFS range.
If fishing there, it will be a nymphing game: PTs, Euro nymph style flies.

Lofton Reservoir: Likely iced over for the season.
Chewaucan River: Cold water and starting to ice over for the winter.
Krumbo Reservoir: Iced over.
Sprague River: Closed for the season. North Fork public lands are inaccessible from last summer's Bootleg fire.
Williamson River: Closed for the season.
Klamath River:

Keno Dam to JC Boyle Reservoir: Flows and water temperatures are low. Fish are being caught, but with water temperatures in the 30s, trout fishing will be slow.
JC Boyle Dam to JC Boyle Powerhouse: Good river levels for fishing that are remaining steady.
JC Boyle to California State Line: Flows are currently 400 CFS through the morning and bumping up to 1000 CFS at 1 PM for the remainder of the daytime. Be warned and be careful. Morning flows result in fishable water, but it becomes too high for good fishing during the afternoons. Reports of difficult, muddy access. Fishing the mornings, however, can be quite good.
Upper Klamath Lake: No direct reports with the winter weather we have had. Redband rainbows have been scattered through the lake.
Owyhee River: Activity is picking up. Midges have been active. In addition, there are some good blue wing olive hatches right now. Best flies reported to be blood and mighty-mite midges in the size 22 -24 range.

There are low, but fishable flows of around 190 CFS right now.
Brown trout spawning is complete. Still, be careful of redds in the gravel.
NORTHEAST OREGON WATERS
ODFW News: ODFW STEELHEAD UPDATE – as reported by Rob at The Joseph Fly Shoppe (for Grande Ronde/Imnaha/Wallowa Rivers).
The above rivers are expected to have a steelhead return equal to about 40% of the 10 year average – not bad considering other NW streams. As such, ODFW expects to keep these streams open to steelhead, with a daily 3 hatchery fish limit.
Wallowa Lake:
Winter conditions.

Jubilee Lake: End of season.
Northeast Oregon High Lakes: End of practical season.
Wallowa River: Rob at The Joseph Fly Shoppe reported some good fishing for trout on nymphs. It's been cold in Joseph, but a slight warmup for the region will happen next week. The latest conditions show the Wallowa River spiked last week and settled now to a mean daily flow of 280CFS. Temperatures are 35 – 36 degrees today, making for slow trout fishing.
ODFW Report/News on the Wallowa: Coho may be encountered in this fishery as they make their way to the Lostine River during fall and early winter. Coho may not be harvested in the Wallowa River and must be released unharmed.
Although there were a few steelhead caught this month, it is too early for many steelhead in the Wallowa, as the timing of the steelhead run on the Wallowa is later than that of the Grande Ronde.

Grande Ronde River:
The Grande Ronde spiked last week and is currently just over 1000 CFS. The warmer weather and sun is warming waters and possibly increasing fish activity.
The last reports are that the ODFW creel checkers checked 16 anglers with reports of 2 steelhead landed. This translates to a catch rate of 24 hrs/fish.
The steelhead seem to be moving through in pods, so it is a matter of timing. If angling at a time the pod is moving through, steelheading can be quite good. ODFW reports that steelhead are showing up at the hatchery. This will likely improve as we get into more of February.
ODFW REPORT/NEWS: Coho season is closed.
Imnaha River: Flows are steady around 500 – 550 CFS.
Rob at The Joseph Fly Shoppe reports that fishing for steelhead and for bull trout are quite good right now, saying that it is better than normal steelheading this season. Steelhead are in the river. ODFW reports that bull trout and fall Chinook within this river must be released unharmed.

Lostine River: Closed for the season.
Plus! Chinook Members got these additional articles from Bill Monroe and Salmon Trout Steelheader!
Anglers We're Due, February Will Deliver
By Bill Monroe
Everyone caught spring fever last month after Reese Foxworthy of Estacada caught and released the year's first spring chinook salmon last month while drifting for steelhead on the Clackamas River. Spring fishing and beyond look promising, according to biologists. Credit: Trevor LaValley
Note: We encourage our valued Chinook members to ask questions, make suggestions and/or comment, either at the end of this column under "Leave a reply" or email to nwbill@aol.com
Following a pretty good salmon year (not so much for steelhead), 2022's outlook continues the trend.
We're probably not looking at another glut to match the blood bath of several years ago, but the stars are once again aligning in our favor.
Oregon and Washington biologists posted their outlook last week for 2022's spring and summer Chinook runs and the news is good.
It's even a little better than last year in that the Cowlitz and Kalama spring runs seem much stronger (Lewis is about the same) – strong enough that perhaps much of the lower river that was closed last year can once again support a spring fishery and, in fact, maybe a few days longer into April.
Willamette River: The spring forecast of 52,900 is only 500 more than last year's forecast, but more than enough to allow seven-day fishing and the use of two rods (with a permit) beginning March 1. Hopefully 2022's run will perform closer to prediction than 2021 (43,148 actual from a 52,400 forecast). The mark rate is expected to be 74 percent (81 in 2021). There should be a substantial increase in larger five-year-olds.
Clackamas River: Spring forecast is 4,247, well above last year's and predominantly wild fish bound for the upper river. Biologists say better ocean conditions and the PGE sorting/passage facility at North Fork Dam are responsible for the improvement. PGE's contribution cannot be overstated. The Oregon Department of Fish and Wildlife's hatchery at McIver is on the mend and will get a full season's worth of native broodstock from PGE, but it's still a few years away from restoring the popular hatchery run.
Sandy River: Prediction is 5,600 (5,654 in 2021), so another decent fishing season is due.
Upriver Columbia: Spring Chinook numbers are forecast to be 122,900, which is more than 47,000 higher than the 2021 prediction (91,736 actual) and should provide for a somewhat more liberal season. Summer Chinook are predicted at 57,500, well below the 2021 forecast of 78,000.
Upriver Columbia spring 122,900, 30,00 more than 21…
Summer 57,500…higher than 21 actual, but lower than 21 forecast of 78,800.
Sockeye: 2022 fortunes seem much better than last year, at 198,700, compared to 2021's forecast of 155,600.
Those numbers will come into play on Feb. 15 when the states decide commercial seasons and then again Feb. 23 for recreational spring and summer fishing.
Coho: Coastal biologists met late last week and came up with the first blush for coho season:
Although not as encouraging as last year for hatchery coho, that reduction is more than enhanced by a substantial increase in wild coastal coho numbers; meaning more can be allowed in incidental take while fishing for hatchery salmon.
These numbers will be considered in April as the Pacific Fishery Management Council sets offshore seasons.
(It's worth noting the Clackamas River's 2021 return of 10,198 wild coho across North Fork Dam was the highest PGE has ever recorded there. Clearly, the combination of the new passage system coupled with a better ocean and habitat improvements has made a huge difference.)
Fall Chinook: Columbia River biologists will crunch numbers in late February, prior to convening meetings in March to set seasons.
Smelt: Itching to dip? Unfortunately, commercial research nets have so far not seen much in the way of even a vanguard. Biologists suggest it may be another run like 2021's late-February glut.
Sea lions: During this past Monday's online Q-A session with myself and Buzz Ramsey, the question was raised about an online reporting link to let biologists know when and where sea lions are spotted.
While it seems a bit complicated, this early in the season you're going to have plenty of time between bites to figure out (Better yet, take your grandchild fishing. He or she will know better than you how to navigate the Web).
No California sea lions have been seen in Oregon City as of this past week and only a few Stellers seem to be in the lower Willamette.
Traps are out and the agencies are ready to permanently end their appetites if they enter the cage.
Spring Salmon Tricks: In Case of Emergency, Break Glass by JD Richey
Spring Chinook are enigmatic beasts. Some days they chew like they've got a good dose of rabid barracuda in their genes. Other times, they act like they're trophy brown trout in a spring creek. They'll drive you nuts…
To consistently get at them, you've got to be prepared to bust out some outside-the-box thinking! What follows are some of the tricks I like to keep in my back pocket — to be used when the chips are down and the fish are moody…sort of my "in case of emergency, break glass" techniques.
TUNA BALLS
It's no secret that springers love tuna.
Guys have been wrapping their plugs with tuna bellies, dipping their eggs in tuna oil…and now, Pro Cure's even got tuna egg cure. But not a lot of people use straight tuna for spring kings…but they should.
For reasons I don't fully understand, the use of tuna balls for springers has been popular for eons on the Trinity River in Northern California, but you'll rarely see them used on any other stream. The bottom line is they work away from the Trinity and will probably catch some fish on your home water too.
Basically, you make them up just as you would spawn sacks.
First, buy some oil-pack tuna and put the juice into a small plastic container (with a good sealing-lid). Cut some netting into squares and fill it up with enough tuna meat to make nickel to quarter-sized clusters. Add a Fish Pill or two to the sack for buoyancy and then tie the netting closed with Miracle Thread or Ghost Cocoon. Soak the tuna balls in the tub of oil until you're ready to fish them.
You can fish tuna balls any way you'd use eggs or sand shrimp – drift gear, under a float, behind a diver or back-bounced. The stuff holds it scent very well and looks good – particularly when you add a bit of yarn to the rig. They're also cool because you can extend the life of the bait by re-dipping it in the juice.
Again, springers can be moody buggers and tuna isn't the answer every day…but there are times when it is like crack to them as well so be sure to give it a try this season.
DOWNSIZE
Everybody from government to corporations seems to be downsizing these days — and so should you.
While springers can gulp down a whole herring, a giant Toman spinner or a K16 Kwikfish without any trouble at all, there are times when giving them something a little less "meatier" makes sense.
I typically scale down the size of my offerings on days when the fishing pressure is high and the fish seem to be off the grab.
I've written in the past about how much I used to love to pull the original STORM Pee Wee Warts for spring Chinook. In case you missed it, I stumbled onto small plugs like the Pee Wee's and size No. 50 Hot Shots for springers quite by accident years ago while fishing for trout. After getting my trout gear blown up enough times by marauding kings, I started intentionally fishing with little wigglers for salmon and found that they work more often than not.
With Pee Wee's long hunted to extinction, I've moved onto K11X Kwikfish for my small plugs. You can go down to the K9X without any problem but I like the fact that I can put a mini wrap on the slightly larger No. 11's.
Of course, pulling small plugs requires that you use lighter rods and thinner-diameter lines. The tiny hooks that you have to use to ensure that the plugs run properly means you're always flirting with disaster when a monster king comes calling.
My take on the whole thing is, however, I'd rather get bit and then worry about how to land a fish than to not get any bites at all…
I've also had success on those tough days by scaling down the size of my spinners when chucking hardware from shore. Generally, I'll toss a size No. 4 spinner for springers under normal conditions and then bump it up to a size 5 if the water's super cold or off-color. But there are times, too, when dropping down to a size No. 3 is just the ticket. I know, it feels kinda strange tossing what amounts to a trout lure at big Chinook, but on the right day you can go from zero to hero in a few short casts with one of these!
Regardless of size, the three best spinner colors I've used are:
silver blade/fluorescent orange body;
silver blade/metallic purple body;
gold blade/fluorescent red body.
BASS GEAR?
They say that necessity is the mother of invention but dumb luck also has its moments. While fishing for stripers over the past several seasons, I've found…quite by accident…that spring-run Chinook (fall fish, too!) have a real taste for swimbaits.
We can debate for hours why a fish that's 100 miles inland will eagerly chase down a 5-inch lure that looks a heck of a lot like a herring or anchovy, but I'm here to tell you that they do. So frequently, in fact, that I now employ swimbaits from time to time when all else fails.
There are plenty of companies making swimbaits these days – I like the 5-inch white or purple/blue flash models from RoboWorm and I'll run them on ½-ounce jig heads.
In deep, slow pools, work them at a easy, methodical pace just off the bottom and don't give up on the retrieve until your lure is out of the water.
The same moody tendencies that make springers so frustrating at times are also what makes them so interesting to fish for. I really enjoy tossing convention to the wind and trying to come up with something a little different they might like. Some days they do; Some days they don't…but it's always fun!
- written by JD Richey