Summer has come in with high temperatures and good options for your fishing pleasure! There's lots of stocked trout in many of the lakes and ponds with Lost creek
and Applegate among my favorites around Medford area. Coastal lakes and streams have plenty of fish that have been stocked earlier this year and typically don't get too much pressure.
Coho Salmon season out of Brookings opened up with good numbers of fish being caught when the winds cooperated and appears to be a good year so far. Chinook salmon opens this Saturday and is expected to be good as well but might be a bit wind choppy.
Bottom fishing is still excellent from Brookings on up to Winchester bay!
Spring Chinook on the lower Rogue is dwindling as the fall run is just starting to show as more and more boaters are working the bay now and should progress. The Upper Rogue is seeing some Springer action as well as some summer run steelhead. Good steady flow of 3000+ cfs has kept the water flow good and cool for these fish to get up to their spawning grounds. The salmon fly hatch is also under way and fly fishers are having a good time.
The warm and soon to be HOT weather with usually taper the trout bite but enhance the bass and pan fish bite so don't forget the small ponds to take the kids out for a fun time.
I just came back from a "trip of a lifetime" with some fishing buddy's up in a remote area of Vancouver Island BC……. it was amazing and my 3 freezers are completely full! I'll try and do a pictorial story in next week report🎣😎
Tight Lines 🎣 – Romer
SW Oregon Guides Forecast
Marine Forecast:
Ocean coho salmon fishing out of Brookings-Harbor on and hot!!
Chinook opens June 25th and will run through Aug. 21. Limit will be 2 salmon a person (coho-hatchery only and Chinook (wild or hatchery). Bottom fishing is excellent out of Brookings
on up to Winchester bay
where the crabbing is good too
!Ocean conditions are looking to be a bit windy for the weekend, so check your local port first.
The ocean Chinook salmon season opened on March 15 from Cape Falcon to Humbug Mountain. Salmon anglers have been catching decent numbers of salmon from Winchester Bay to Bandon.
Pacific halibut is open to All Depths in the Central Coast Subarea (Cape Falcon to Humbug Mt) 7 days a week through June 30 or until the quota is met. During May and June bottom fish may be combined with all-depth halibut. Long leader gear fishing cannot be combined with all-depth halibut during these months.
The Southern Oregon Subarea (Humbug Mt. to OR/CA border) is open for halibut 7 days a week, through the earlier of quota, or Oct 31.
Surf perch anglers are reporting good catches of redtail surf perch, with some fish weighing over 2 pounds, on the sandy beaches like Horsefall Beach, Bullards Beach, and near Cape Blanco. Anglers can catch surf perch when the ocean swells are calmer, using sand shrimp, mole crabs or artificial sand worms.
Crabbers are still doing well out of Winchester bay and Bullards beach near Bandon. If you're over Bandon way and doing some crabbing, you might catch a tagged crab worth some $$$, be sure and stop by Tony's Crab shack
for up to date local fishing info, tackle and turn in your tag
NOAA Weather Marine Forecast for Brookings, Chetco Cove, OR
Friday High : 64ºF
NNW wind 9 to 14 kt. Sunny. Mixed swell…WSW 1 ft at 14 seconds and SW 1 ft at 17 seconds. Wind waves around 4 ft.
Saturday High : 64ºF
Variable winds 5 kt or less. Sunny. Mixed swell…NNW 4 ft and SSW 2 ft. Wind waves around 3 ft.
Sunday High : 62ºF
Variable winds 5 kt or less. Mostly sunny. Mixed swell…NNW 3 ft and SSW 2 ft. Wind waves around 2 ft.
NOAA Weather Forecast for Charleston, OR
Friday High : 69ºF
N wind 13 to 18 kt. Sunny. Mixed swell…WSW 1 ft at 14 seconds and WSW 1 ft at 17 seconds. Wind waves 4 to 5 ft.
Saturday High : 72ºF
N wind 9 to 11 kt. Sunny. Mixed swell…NNW 4 ft and SSW 2 ft. Wind waves 3 to 4 ft.
Sunday High : 72ºF
Variable winds 5 kt or less. Sunny. Mixed swell…NNW 3 ft and SSW 2 ft. Wind waves 2 to 3 ft.
Mid Coast Forecast:
COOS RIVER BASIN: As weather and wind permit, jetty fishing from bank and boaters have been doing well for rock fish and ling cod. Fishing the lakes and ponds that have been stocked early this year are still fishing well for stocked trout.
Lakes and ponds to fish this week:
AGATE LAKE (White City): Has warmed up well for bass and panfish catches…there's also stocked trout to be caught. Target around the dam and boat ramp. Anglers might also find some crappie and yellow perch on the flats. Anglers are encouraged to catch any of the carp in the lake of which there is no limit.
APPLEGATE RESERVOIR: is about as full as it's gonna be and is just under 90%. Fishing for recently stocked and hold over trout is good dropping power bait to the bottom and drifting with the wind. Bass catches are picking up with the warmer weather too. Bait is allowed and 5 trout per day, year-round. The tributary streams above the reservoir are also open year-round, with bait allowed, but only 2 trout per day. All boat ramps are usable now!
BEN IRVING RESERVOIR: Trout fishing is decent in the cooler water near the dam as the water has warmed. The bass bite has picked up with the warmer weather and the upper end of the reservoir has great habitat for bass to hide in.
COOPER CREEK RESERVOIR (Sutherlin): was stocked and there should be lots of other fish available including some landlocked coho from last fall's stocking. These fish are small but might be legal-size by the fall. Anglers seem to be doing well on trout and bass. Bass should be picking back up with warmer temperatures in the forecast.
DIAMOND LAKE-trout fishing has finally taken off with good catches of trout in the 14-20 inch size! Warmer weather got some insect action on the lake and warmer water to produce a good trout bite. The Summer season is on and should be great fishing action until the lake gets too warm.
EEL LAKE-Fishing for the stocked trout has been fair to good. Crappie are starting to gain numbers in the shoreline weeds. Anglers should be careful of the large wild coho smolts that are still in the lake. There are no kokanee in Eel Lake and all coho salmon need to be released immediately.
EMPIRE LAKES– Trout and bass catches have been fair to good at the upper and lower ends of the lake. With warmer water, the panfish are biting as well along the weedy shore.
EXPO POND: is fishing fair for the stocked trout for morning anglers. Bass and bluegill angling is picking up with the warmer weather too. Power Bait and nightcrawlers on smaller size 6 and 8 hooks are the usual. Spoons and spinners have also led to strong strikes.
GALESVILLE RESERVOIR: the water level is rising slowly making the boat ramp now usable with lots of planted trout to be had. Bass should pick up with warmer weather on the way. All landlocked salmon are considered trout and are part of the five-per-day trout limit, with only one trout over 20 inches long allowed for harvest.
GARRISON LAKE– holdover fish from last season, native cutthroat, and recently stocked rainbow trout are available. When the weather warms the lake, the bass will become more active and ready to bite. Best time to fish is early or late in the day when the wind is not howling. Bank anglers can find access at the 12th street or Pinehurst boat ramps and off Paradise Point Road. The lake can be very windy so anglers will want to check the weather before heading out. Fishing earlier in the day is usually better because the winds tend to pick up in the afternoon.
LAKE SELMAC Weed growth along the shoreline is starting to be an issue but it's good for crappie and bluegill to hid in. Trout fishing has been good for the large amount of stocked trout mostly for boat anglers able to fish the deeper areas. Power bait from shore is probably a good bet.Trollers will want to fish small wedding rings tipped with a night crawler. Or troll a leech for some early season bass.
LOST CREEK RESERVOIR: is as full as it's going to get. Reports of good to excellent catches of stocked and hold over trout in the mid to upper teen range. Trolling the typical flasher setup with a wedding ring tipped with worm or power bait is the trick. The lake is still pretty cold, so trolling about 1.5 mph and down to between 35-60 feet will catch em. Also, small spoons in silver and gold (on cloudy days) work good too. The main marina boat ramp is finally open as well as the Takilma ramp.
MEDCO POND: Bluegill and bass catches have picked up again with the warmer weather. Trout fishing in the morning is best right now.
REINHARDT PARK POND (Grants Pass) Warmer weather improved the panfish bite but slowed the trout bite. Power Bait fished from the bottom, or a threaded nightcrawler fished under a bobber on smaller hooks from the many band and dock areas to fish from will catch fish.
WILLOW LAKE: There's plenty of other holdover and recent stocked trout available, as well as yellow perch. Fishing should be good and angler pressure is low. Fishing from shore will likely produce plenty of perch and possibly some bluegill. It's recommended that you take as many yellow perch as possible as they have over populated the lake.
Rivers and streams to fish this week:
COQUILLE RIVER-has dropped and small mouth and striped bass fishing has picked up in the upper main stem. Shad are in and fun to catch. A temporary regulation started on May 22 allowing anglers in Coquille River system to use spears and spear guns to harvest small mouth bass. Traditional rod and reel anglers can also use bait throughout the river system.
Lower Rogue:
Jim at Rogue Outdoor Store – Gold Beach, Oregon 541-247-7142
Spring Chinook catches have been sporadic between the bay and up river to Agness. It's still a bit early for the "bay run" of fish that "unofficially" kicks off after the 4th of July. Some… a few fish are getting caught as the boaters are starting to work the bay a bit more each day Jim reports. Also some summer steelhead and cutthroat trout are being caught from Indian creek to Agness. All Chinook can be kept now!
Anchoring above the hole and working Brads cut plugs, naked anchovy, spin fish, and mag lips are favorites there. Jim said that the most productive bait has been a naked anchovy and Brads cut plugs in Black Jack, Jack Pot and Mt. Dew (in that order). Even though there are some, but not a lot, of good bank access, the best success is from a boat.
Silver perch along with red fin are in the mix of surf perch action that will continue through August. There's plenty of places from the jetty's and or sandy shores to target them. Cocktail shrimp, clam necks, jigs with twister tail are perch favorites. Come in and see Jim for more info and tackle set ups.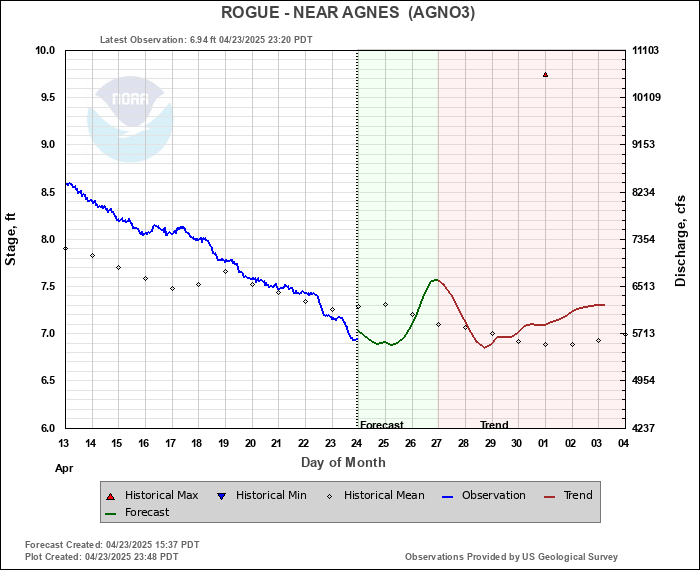 Middle Rogue–
Trout and steelhead season is open for hatchery fish ONLY. Few spring Chinook have been reported in the lower mid section from Hell Gate Canyon on down and around the Gold Hill area where "known" holes have struck silver. Boaters working the deeper holes and seams with Kwikfish wrapped with anchovy and back bouncing roe. These fish don't usually bite well in the mid section until further up as they have more pressing things on their mind. River flow has been over 3000 cfs for several weeks which have had fish screaming up river and not holding much. Summer steelhead are just starting to show as well. It's best to use spinners, plugs and spoons instead of bait so as to keep the squawfish off. Wild salmon can be retained now from Hog creek on up.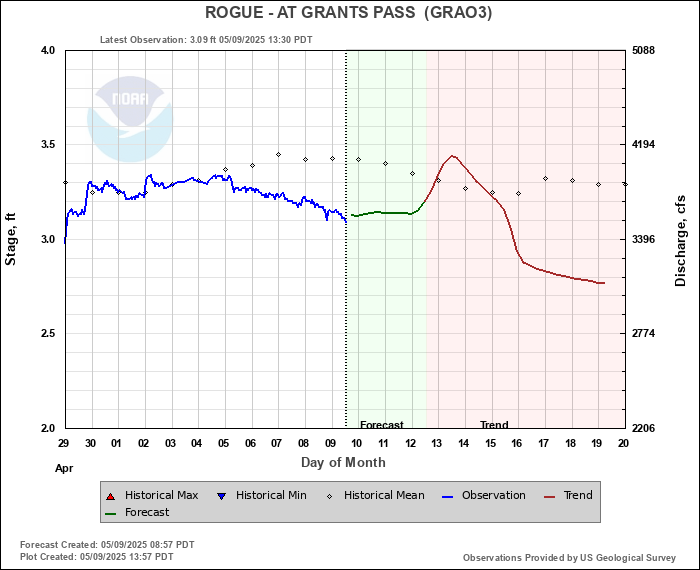 BE SURE AND KILL EVERY PIKE MINNOW – AKA SQUAWFISH!
Upper Rogue- Salmon fly hatch is going on from Rogue Elk on up to the Holy water and fly fishermen are having a blast catching trout and a few summer steelhead. Spring Chinook fishing is prime time for both bank and boat anglers.
Bank anglers are picking up fish around the Casey Park and McGregor fishing access areas to a bit further downstream. Drift boat anglers are using sardine/ anchovy and or tuna wrapped Mag Lips or Kwikfish, or back bounding roe in the deeper holes.
Trout fishing is open for hatchery fish ONLY. Fly fishers are seeing sporadic salmon fly hatches between Shady Cove on up. Anglers are reminded that the Holy Water is fly angling only and catch and release.
The Hatchery Hole, which encompasses the blocker dam to 1200 feet below, is closed to ALL fishing from April 1 through July 31. It is also closed year-round to Chinook fishing.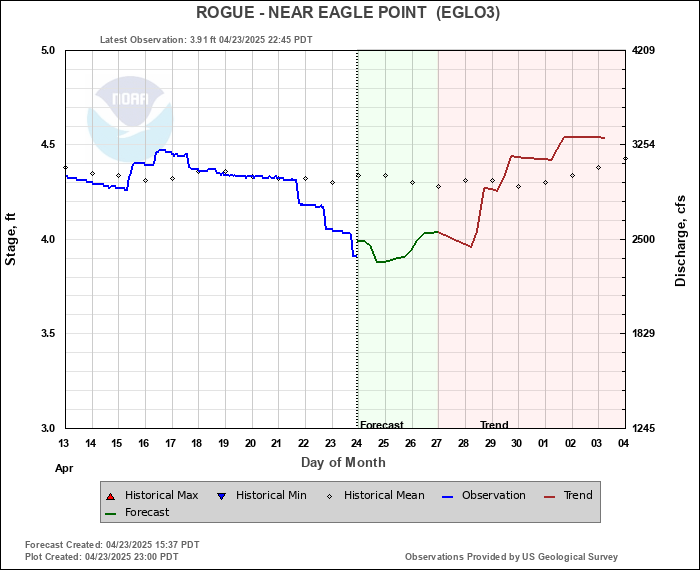 Rogue River, above Lost Creek Reservoir– Trout fishing has picked up with the warmer weather and good cool runoff. There's lots of stocked trout available and most of the camp sites in the area are open…. and beautiful. The flow is strong and cold and anglers working the pocket water with fly's, small spinners and spoons should catch fish as it will get better when it warms up more later next week.
The Rogue and tributaries above Lost Creek Reservoir remain open year-round, with a daily retention limit of 5 trout. Stocked rainbow trout in this reach are not fin-clipped and there are also residential cutthroat ,brown trout, and even the occasional brook trout.
SMITH RIVER, Umpqua system- Fishing for salmon, trout and steelhead is closed but is open for stripped bass. Trout season re-opens the 22nd and should be good. Shad are coming in as well.
UMPQUA RIVER Main– Spring Chinook catches are sporadic and fair at best. No wild harvest of spring Chinook is allowed in 2022 (jacks or adults). Summer steelhead are entering the river now and anglers targeting strippers are finding increased numbers and will get better as the weather gets warmer.
Trout season is now open.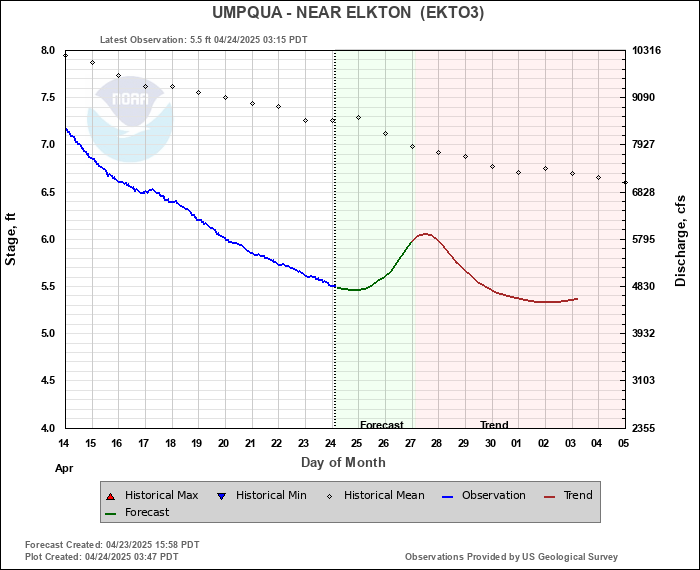 North Umpqua – Spring Chinook have been caught with better numbers as of late in the lower part of the river. It seems the lower flow from the highs a while back got fish on the move without biting much and now it seem to be better. Summer steelhead are coming in as well with trout anglers catching some as a surprise.
Only one wild spring Chinook adult per day and ten per season may be kept on the North in 2022. Anglers may still retain one additional Chinook if it's a hatchery fish.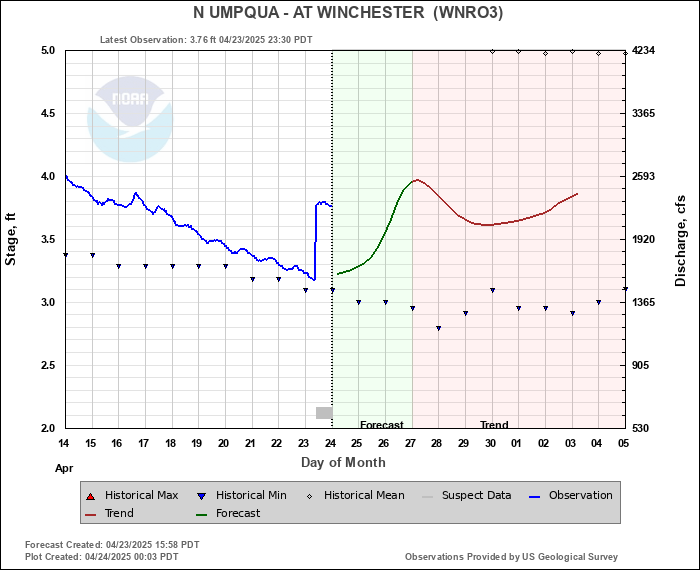 South Umpqua– Now open to bass and catch-and-release trout.