Spring Chinook continue to show, larger 5-year olds are present in March
Willamette River Fishing Report – When the rain ceases, it doesn't take long for the Willamette to drop and clear into fishable shape. Anglers as early as Monday of this week were reporting fishable conditions and willing fish. Meldrum Bar near Oregon City has been putting out a few spring Chinook in recent days.
It's a shrimp show this early in the season and although effort remains light, there's been some fair catches reported already this season. It's a good sign, but hopefully we don't get fooled like it seems we are for winter steelhead after a fairly good early season showing. The bulk of the Willamette return is made up of 4-year old fish, they're still several weeks away, but a strong 5-year old showing bodes well for later in the season as well.
Trollers working the Portland Harbor and Multnomah Channel continue to come up light, but Oregon City catches are happening, albeit it's still a needle in a haystack situation. Here is what the season's first creel report tells us:
As you can see, all of the spring Chinook are of hatchery origin, wild ones will come a bit later, but how cool is a 100% mark rate? Chicken tonight!
Besides Meldrum Bar, there are a few boats anchored above the I-205 Bridge, but action is likely slow for the few hogliners present. It'll be several more weeks before the Sandbar and Lakeline become more consistent.
One reader asked about where to anchor in the Clackamas when flows on the mainstem Willamette are too high to feasibly fish it. I'm not sure if anyone took advantage of this opportunity following the recent high water, but when we used to anchor there, we'd set the pick about 30 feet upstream (in the Clackamas) of the seam, where you could clearly see Clackamas and Willamette water were mixing. From there, we could back down off our anchor rope so we could use 3 or 4 ounces of lead to back-bounce our leads and baits (shrimp/prawns) into the seam, where fish were most likely to hold in the cleaner than Willamette waters. It is really a 1 to 3 day golden opportunity to get a jump start on getting back on the Willamette when flows and turbidity improved. Fishing wasn't epic really, but it was certainly worth our time. I know anglers are still doing this, but like the old days, it'll get better as the month wears on.
The Guide's Forecast – There should be several more days of opportunity for mainstem Willamette spring Chinook anglers. Weather-wise, it's supposed to get cold and wet this weekend so it may not be much fun come Sunday.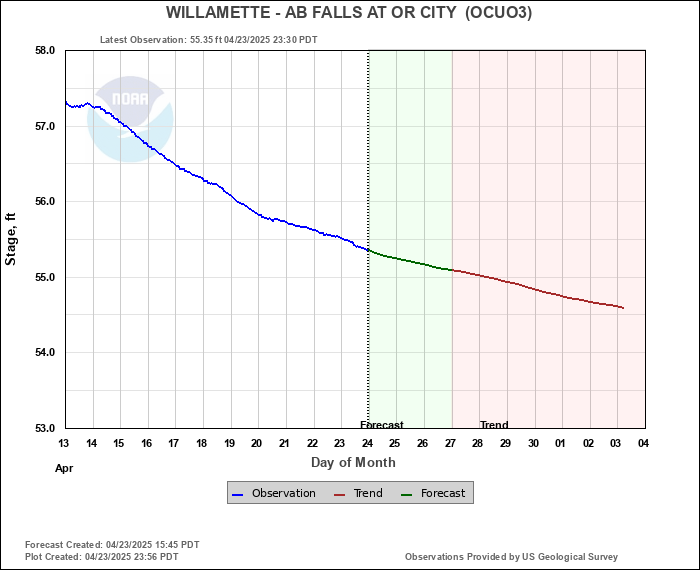 The peak of the high water event looks like it'll wait until after the weekend, giving weekend anglers a fair chance at March madness (spring Chinook). It'll likely remain a shrimp show, either back trolled or on anchor above the I-205 Bridge if that's your thing. It's a bit early for eggs or prawns, and certainly too early for hardware in these cold flows.
Look for Meldrum Bar and the Garbage Hole to continue to produce some of the better opportunities this weekend although the Multnomah Channel should improve in the coming days as well, at least until the next high water event hits early next week.
Sellwood Bridge has been a big disappointment this season, I don't see that changing.
Steelhead counts are bumping at Willamette Falls, at least for wild winter steelhead destined for the upper basin. There are a few summer steelhead showing as well. Two spring Chinook have also ascended Willamette Falls, hardly enough to get excited about just yet.
Three steelhead were kept by boat anglers this week and FOUR by bank anglers in the Oregon City reach. They were fin-clipped, I have to guess mostly winter broodstock fish, but maybe a summer steelhead in the catch as well. I'm not sure.
We get a look at the season's first creel check for sturgeon anglers this week. 29 boats (57 anglers) yielded 144 shakers and 10 keepers for their day's effort. Not a bad start to the creel season. Upper river anglers just didn't put out the effort, that's partly the reason for paltry catches. Only 2 boats were tallied fishing the middle river, none in the upper reach (Milwaukie Bridge to Willamette Falls).