Steelheaders Struggle On The Sandy, Clackamas Remains Barren Of Hatchery Fish
Clackamas River Fishing Report – The Clackamas remains a disappointment for steelheaders, most have written it off for the season. That said, this is the time of year when more wild steelhead start to show. Although that's not an attractive option for most steelheaders, it can make for some good action for those that put the time in.
Most recently, catch and effort has been low, even with fair to good water conditions for steelheaders working the river downstream of Barton Park.
Tim Wilson of Knipe Realty fished with his son Alex last Friday, drifting from Barton to Carver Park, catching one native steelhead that went between 10 and 12 pounds. The group caught the fish using a plug and stated that they had not heard much else caught from other boaters working the stretch.
The Guide's Forecast – With a good rain freshet on the horizon, anglers interested in a fair catch and release opportunity can look to next week for the possibility of getting into some fish.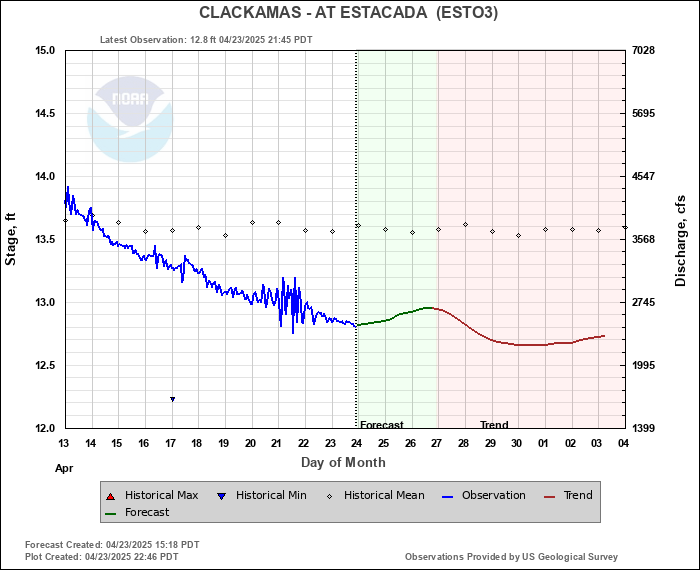 With the river already on the rise, anglers would fare best if they waited for the water levels to stabilize. When that does happen over the weekend, anglers should feel pretty good about the prospects of catching some wild winter steelhead in the reaches above Carver Park. Wild fish should start to make a fair showing in the next several weeks with some fish likely to tip the scales in the high teens.
Side-drifted soft beads, egg clusters and even plugs should become effective over the next several weeks as these wild fish show in better numbers. Don't overlook hardware either as these fish should be pretty territorial this late in the season.
Sandy River Fishing Report – Pro guide Jeff Stoeger (503-704-7920) reports, "Hello All. I hope that everyone is doing well and that you've had time to get out and do a little fishing. The river is running low and clear at 9.2 ft. and the river shows a small bump over the weekend with the rain forecasted and going up to 10.5 ft. The Sandy has produced some bright new fish over the last couple of days. Although we haven't got the number of fish back we were expecting this year, we did get more fish back so far than last year at this time. Fish are scattered throughout the entire river with some down-river fish heading out."
The Guide's Forecast – Jeff continued, "The most effective way so far has been beads in various colors in size 10mm and 12mm at the current river level and clarity. Side drifting yarnies has also worked well. Spinners in sizes 3 and 4 have also worked and change out the treble hooks to a siwash hook for its easier to remove if you hook a native fish. Jigs have also worked and the pink/white and nightmare pattern jigs have been most effective just under 2ft and look for the ideal walking speed water and areas that have lots of trees an big boulders. If you have a side planer they also can be very effective if you don't have a boat and fish from the bank. In the lower river, some fish have been picked up by plunkers using sand shrimp and eggs with small to medium spin-n-glos. The fly guys have been concentrating on the upper river from Revenue Bridge to Dodge Park or to Oxbow.  The river traffic has been on the light side for the most part as well as bankies. With the forecast of a small rise in the river , it would be a good time to hit your favorite spot for the fish will be on the move. Target the tops of runs and tail-outs. Use fresh bait if you can get it and don't be shy to use various scent to help with attracting fish. If you fish the deeper holes with bait, don't be surprised to hook into a sturgeon of various size for the sturgeon have been holding in these pools. So please be safe, and wear a mask when your on the river around lots fellow anglers. So best of luck and tight lines."