Wild Steelhead Beginning To Show On The Clackamas And Sandy; No Sign Of Springers
Clackamas River Fishing Report – Water levels have remained fairly stable on the Clackamas this week, but so have the numbers of fish present for anglers to fish on. You might guess what that looks like. In reality however, wild fish numbers are starting to build on the Clackamas and although I haven't heard of one yet, summer steelhead should start to show in the coming weeks.
Effort remains low but those putting in the time are finding some wild fish for catch and release fishing. It's been a disappointing hatchery return on the Clackamas, but that's no surprise to anyone.
The upper reaches of the Clackamas are typically the better place to target fish this late in the season. The upper reaches are simply better defined, making it easier to predict where fish may be lying in wait. It's likely wild numbers will be more robust than the hatchery return so don't overlook the opportunity that happens this time of year, for quality fish that won't necessarily make it to your table for Easter brunch.
No word of spring Chinook yet, or if they'll even show this year as the last several have been busts. Is it too early to think about coho here?
The Guide's Forecast – The Clackamas is headed for a spike, maybe Sunday afternoon, but should fish through most of the weekend for anglers looking for a quiet place to catch and release some quality wild steelhead.
If you're familiar with the McIver to Barton reach, fish should be holed up there as long as the water levels remain stable.
PGE has tallied over 100 wild ones this month at their fish passage facilities with April and May the big months here. We're on the verge of improving numbers in the coming weeks so angler's chances will only get better from here.
The single soft-bead bobber doggin' thing remains productive on the Clackamas, and these late run fish are also receptive to plugs as they become more territorial the closer they get to spawning. The summer steelhead in the system, as few as there are, will more likely be willing bait takers so egg clusters or sand shrimp will be a good option for those still hungry silver bullets. There are far few of the summer runs in the system to be "targeting" them however.
Watch for the spike late Sunday, a rising river won't do anglers any favors but as it drops, a fresh batch of steelhead should be receptive to your favorite strategy on the Clackamas.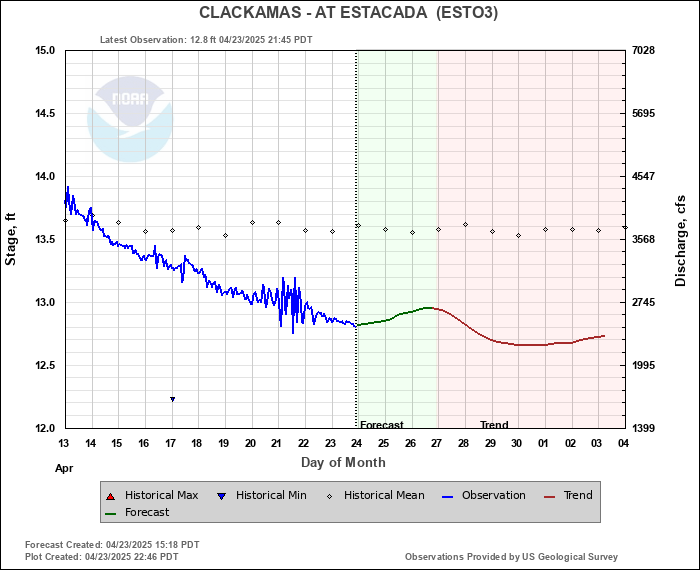 Sandy River Fishing Report – Pro guide Jeff Stoeger (503-704-7920) reports, "Hello All. I hope that everyone is doing well. Lots of folks are getting their COVID shots and we wish it was faster. Please take precautions still for we're not out the woods yet and still wear a mask. The river this week has seen some new fish enter and it won't be long until we start seeing summer steelhead showing up in the mix. If you plan on using bait referring to eggs, please use larger hooks for ODFW has released another batch of steelhead smolts from Bull Run. The upper river has some older natives so please handle with care and try not to drag them up onto the bank and release in the river. Oxbow and Dodge seem to have some fair numbers of fish but have been hard to get to bite. The brighter fish have been in the lower river from Dabney down to the mouth."
The Guide's Forecast – Jeff continued, "All the normal techniques have been producing throughout the river. Side drifting beads and yarnies with scent have worked the entire river with most of the fish being natives. There have been a few hatchery fish caught mid to upper river. The river is running at 9.8 ft. and will slowly take a bump over next couple of days and then the following week we will see the river go up to 10.5 ft. if we get the rain predicted. The boat traffic has been on the low side with most boat action taking place from Revenue down to Oxbow or Dabney. So wishing everyone the best of luck and tight lines."