Guides Cancelling Trips, Transitioning To Springers As Steelhead Remain A No-Show
North Coast Fishing Report – You read that right, guides cancelling trips. It's been that tough of a steelhead season.
Wilson River guides and anglers are catching on occasional steelhead, but it's usually the guides that are taking an aggressive approach to fishing. They'll work the lower reaches of the rivers early and quickly, taking advantage of new fish that may be inspired to bite, most likely because they haven't seen an anglers offerings just yet. For the Wilson, that means Donaldson's to Sollie Smith, or if you have a motor, anglers might fish downstream of Sollie Smith Bridge itself. Regardless, success rates have been low with nearly an equal mix of wild and hatchery fish falling on a rare occasion. It's been next to worthless to put in a full day's effort. There's just not the number of fish around to justify it.
If you can believe it, the Nestucca has been even more challenging. Guides are going days without landing a fish and to exacerbate the problem, harbor seals are plying the waters upstream of 1st Bridge and taking steelhead right off the spawning beds before fish get a chance to do their thing. It's bad enough that there aren't many adults showing up. Let's hope the pinniped predation doesn't compromise the future of this run.
Other systems such as the Siletz, Trask, Alsea, Kilchis and even the Nehalem, have been producing poorly. At least the Nehalem has been in good shape when other north coast systems are running quite low. Smaller streams such as the Necanicum, NF Nehalem and Three Rivers are simply a waste of time due to spooky fish in low, clear water. The Salmonberry River (Nehalem system) has been a fair option but obviously it too, has been short on returning adults.
There should still be a few more weeks of opportunity for steelhead this season and this weekend's rain freshet should re-invigorate the return, but it's clear by now, it's far from a banner year on the north coast for steelhead. Summer steelhead will be a distant finisher as well.
With such dismal steelhead reports, the ports were jammed packed, full of saltwater anglers looking for offshore opportunity. Big blue didn't disappoint as sea bass, lingcod and Dungeness crab all fell to anxious anglers fishing the nearshore and offshore as well. Calm seas were seen a few times late last week and this week, but that will change in the very near future.
We fished dinner reef and came up with about 15 or 16 black sea bass and about that many nice Dungeness crab for a 4-hour effort. It wasn't as good as we had hoped and there were plenty of boats fishing in the vicinity that weren't doing even that good.
Bay crabbers had a lot of competition as well, they fared mediocre at best.
The Guide's Forecast – A much needed rain freshet is already starting to rise district rivers, but it's not supposed to be a deluge so anglers shouldn't be out of commission for long, if at all. We'll be fishing tomorrow on the Wilson, excited about a slow rise that will hopefully draw in fresh fish for a good smack-down on Friday morning. All district rivers will benefit from a rain freshet although it doesn't look to be a big one, which wouldn't hurt anyone's feelings either.
Meanwhile, we're keeping our 4-point suggestion box available to you below, it certainly applies again this week. The good news, we're in peak season right now1
Anglers have heard us preach the staples of fishing on a coastal river system, they haven't changed: (Re-read these, we've added some fodder to #1 & 2!)
Fish high in the river system when flows are high. This offers a distinct advantage for bank anglers that typically see more public access in the upper reaches of a watershed. Fish the lower reaches when flows are low, like this week! Don't overlook the tidewater reaches, you may just have to modify your technique however. Bobber and worms? Work plugs on the outgoing tide? Cast spinners? They may all produce results, but undoubtedly, steelhead will still be challenging to catch this week, no matter where you fish.


Fish the slower flows, these fish, like all animals, will take the path of least resistance. If the water is high, don't over look just 2 – 3 foot of water closer to the riverbank, where adults don't have to burn as many calories as they do in the swifter flows. The less the visibility, the closer to the river bank they will be. Fish the heat this weekend! Steelhead will be in the deeper, darker water, likely with a broken surface that'll make them feel secure. They'll be hanging in the "bouldery" water too so fish plugs or bobber and jigs in that water when you find it. That's where the big boys hand out in these conditions.


Fish big and bright, and ideally bait in the higher flows. As flows drop and clear, go more subtle and consider jigs and worms when it clears. Plugs aren't a bad idea either, steelhead get more territorial as migration slows in dropping flows. They get more responsive to plugs in these dropping flows.


It'll be crowded under these ideal conditions and as we enter peak season for this run of fish. You may benefit the most if you go innovative, don't fish what everybody else is fishing, you should find it rewarding.


These tactics and strategies have been consistent through the years, keep them handy if you don't have them memorized already.

Now, onto the river by river forecast!
Mainstem Nehalem River – Until the rain raises the river levels, the Nehalem will remain the best bet. That said, it too should be on the rise as early as Friday afternoon, which could prove productive as fish start to sense a growing opportunity. The lower reaches should produce as well as the upper reaches but once the river starts a shape incline, the bite will shut off.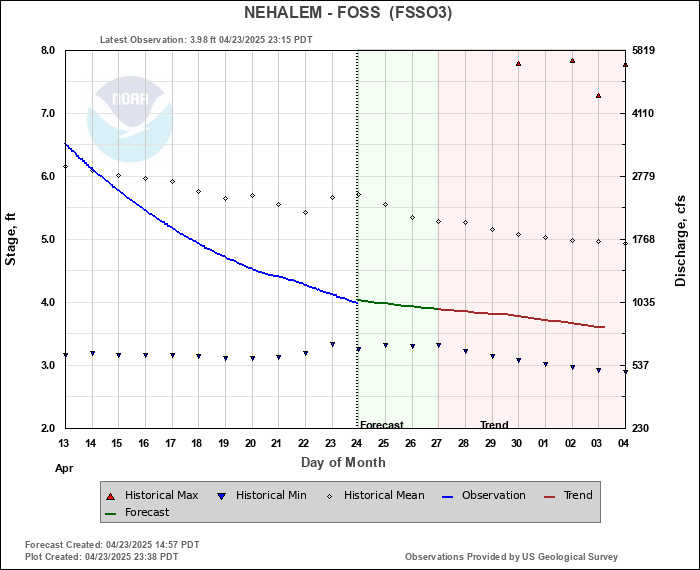 Wilson River – The Wilson should see good action in the slow rise we'll witness on Friday morning. Overall, it's really only supposed to rise a little over half a foot, which is sorely needed, yet may not put fish off when it happens. By Sunday, the river is expected to level off, which should make for some good steelhead fishing into early next week. Follow the guidelines above, based on what the water conditions are doing, but if the river comes up as is expected, the entire river from Siskeyville to Sollie Smith should hold fair to good numbers of fish, especially given the fact we've been a significant amount of time with low, clear water conditions. Once the hydrograph flattens out, don't overlook pulling plugs as an effective means of drawing strikes. Bait and soft beads as well as pink worms should provide some good opportunities for anglers throughout the weekend.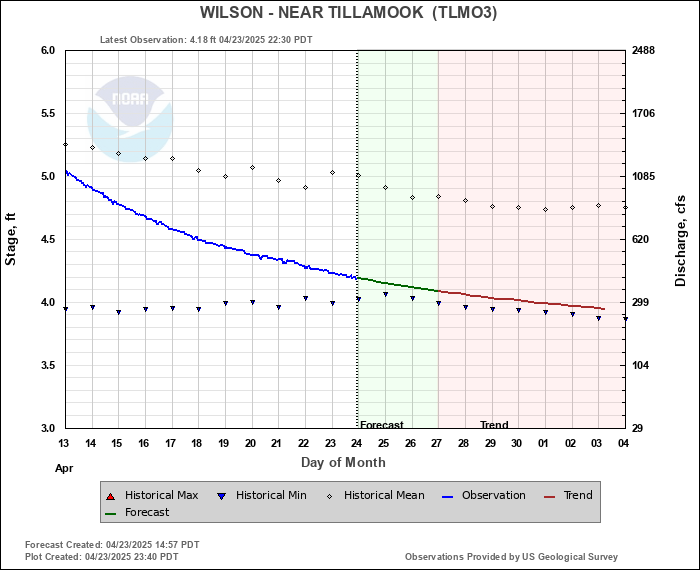 Nestucca River – Despite the Nestucca hitting rock bottom, a fresh batch of fish should hit the river this weekend. This river has shown serious signs of stress however, with low adult returns to date and seals working the river as well. None-the-less, this rain freshet should provide a late season opportunity for anglers still willing to try their luck. The rivers should theoretically be less busy as spring Chinook reports have improved and winter steelhead results have faltered but the steelheader can be a different and surprising animal. One just can't simply pass up a "steelhead green" river system. Given the mediocrity of the rise predicted, it may be best to stick to the water downstream of 1st Bridge.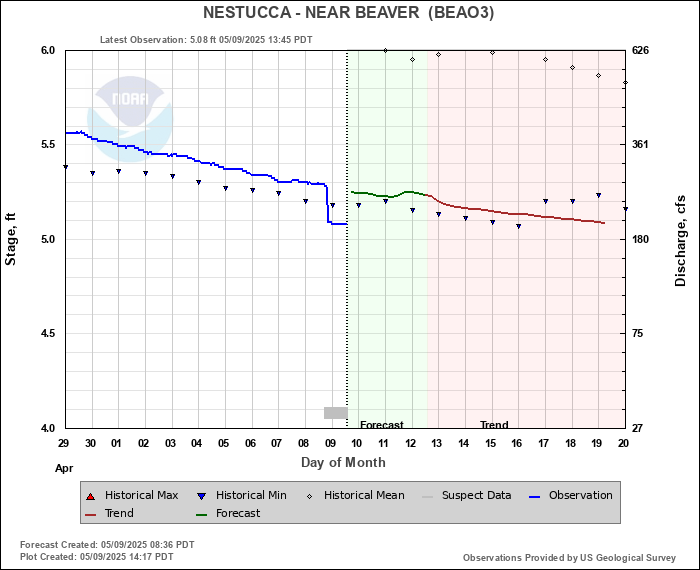 Siletz River – The Siletz for all intents and purposes, should be largely over, for hatchery fish anyway. This river does get a substantial return of wild fish and given the surprising number of hatchery fish this system saw in the early season, it may be worthwhile this weekend, if you're ok with catch and release fishing. Like the extensive Nestucca, fishing the lower reaches will likely be the better bet if the rain isn't all that significant.
Trask River – The Trask will benefit from the district rainfall predicted. There should be a few hatchery strays here, but from here on out, wild fish will dominate the catches. The river won't come up enough to safely float a boat down the upper reach (Stone's Camp to Upper Peninsula), but Cedar Creek down should produce some fair catch and release options this weekend, and into next week.
Alsea River – There should be a better showing of wild fish on the Alsea, and a rare hatchery broodstock fish too. It likely won't light up, but due to the mediocrity of the return this year, there isn't much competition.
Necanicum River – The Necanicum often gets a fairly good return of March wild fish. This weekend should provide some fair to good opportunities for those that put a pontoon boat down it, or bank fish the upper reaches if that's your thing.
North Fork Nehalem – There should be some wild fish available in the NF Nehalem for the few that will be in pursuit of them. Like the Necanicum, there may be a few spawned out hatchery fish headed their way back downstream. There may be enough rain to inspire a batch of wild ones to make their way upstream, with Saturday being the best option when the hydrograph flattens out.
Three Rivers – Big and Gnat Creek – Klaskanine River – Not much left to pursue in these systems. There might be a few wild fish entering, but the run is so low, they probably shouldn't be harassed.
The ocean doesn't look like it will give up much opportunity this weekend, or next week either for that matter. Here is the ocean forecast, I don't think it's worth a look at this point:
FRI  S wind 25 to 30 kt with gusts to 40 kt. Combined seas  20 ft with a dominant period of 13 seconds. Showers in the  morning. Slight chance of thunderstorms. Showers with small  hail in the afternoon.  
FRI NIGHT  SW wind 20 to 25 kt with gusts to 30 kt, easing to  15 to 20 kt with gusts to 25 kt after midnight. Wind waves SW  5 ft at 7 seconds. W swell 15 ft at 12 seconds, subsiding to  12 ft at 11 seconds after midnight. Showers with small hail and  isolated thunderstorms in the evening, then showers likely  after midnight.  
SAT  W wind 10 to 15 kt with gusts to 20 kt. Wind waves W  3 ft at 4 seconds. W swell 11 ft at 11 seconds. Chance of  showers.  
SAT NIGHT  NW wind 10 to 15 kt with gusts to 20 kt, easing to  5 to 10 kt with gusts to 15 kt after midnight. Wind waves NW  2 ft at 4 seconds. W swell 10 ft at 9 seconds.  
SUN  SW wind 10 to 15 kt with gusts to 20 kt. Wind waves  3 ft. NW swell 7 ft.  
SUN NIGHT  SW wind 15 to 20 kt with gusts to 25 kt. Wind  waves 3 ft. W swell 7 ft. Rain.  
MON  NW wind 10 to 15 kt. Wind waves 2 ft. NW swell 9 ft.  
TUE  W wind 5 to 10 kt. Wind waves 2 ft. NW swell 8 ft.
Bay crabbing may be fair at best, given the relatively low amounts of precipitation we've received as of late. Tides look to be good too, but watch that wind as it's likely to be fierce at times this weekend.