Steelheading Slowing Again, But A Nice Run This Week
North Coast Fishing Report – As angler focus switches to spring Chinook, pressure on north coast steelhead is slowing. That doesn't mean the steelhead fishing is however.
We all know it's been a challenging season for steelheaders coast-wide but persistent anglers have been able to make most conditions work for them. The hydrological bumps north coast systems saw this week were a late season bonus that yielded some fair results.
The Nestucca continues to challenge anglers, not just because the return seems to be less than robust, but there's three seals that have been plying the waters for an easy meal. These pinniped predators are working the tail-outs, where unsuspecting spawning steelhead are falling victim to their voracious appetites. It's kept steelhead pretty spooky and on the run, less than willing to fall to angler's offerings. The Nestucca still has a few willing biters however, since seeing the bump last week that put it out for a day or so. Once guides and anglers returned to the river earlier this week, some fish were had, but overall, the challenging fishing has persisted here. It's been a disappointing turn-out here this season.
Pro guide Chris Vertopoulos (503-349-1377) felt pretty good for his 2 for 3 day today (Thursday). He floated from Mills Bridge to Sollie Smith, hooking 3 nice fish, landing two of them. Of the two he landed, one was a 11+ pound broodstock female and the other was a small hen that the trio of anglers gave over to the broodstock program. Here are Jeremy and Scott from Logan, Utah:
Chris noted that he hooked 2 of the 3 fish on plugs, while the other (the larger pictured above) fell to a small cluster of EZ Eggs with a small tuft of white yarn complimenting it. Chris noted that most other boats seemed to struggle today, but heard of one other boat that hooked 3 fish, losing all of them.
As we mentioned on our Friday BONUS report, pro guide Rob Gerlitz (503-812-4950) had a great day on Saturday, and had fairly consistent, but not explosive, catches for a few more days this week. Here's one of the three fish Rob's crew landed on Tuesday, with one more broodstock fish and a wild one to boot.
Pro guide Chris Vertopoulos (503-349-1377) also put some time in on the Nehalem River, prior to the high water event over the weekend. Chris reported that the river did give up a couple of opportunities per day with a few spawned out down-runners in the mix as well. The Nehalem is a fair late season option, especially if the other rivers in the district are running low and clear. Chris has been employing plugs on that system as well.
Reports from the Siletz remain positive, especially for the few number of anglers fishing it. Anglers have come to realize that the wild fish dominate the late returning portion of this run, and that's certainly been the case as of late. Anglers fishing Twin Bridge to the around town drift have been finding continued success.
The Alsea saw a small shot of steelhead too on the last rain freshet. As to be expected, the majority of the fish caught were wild, but a few broodstock fish were reported.
Smaller systems such as the Kilchis and Necanicum as well as a report from the North Fork Nehalem saw a small batch of wild fish also enter these river systems. Of course that's to be expected after a prolonged period of dry weather, and the fact we're in peak migration period for wild winter fish.
The ocean hasn't been all that friendly, but anglers are still talking about the good fishing we had last time it was. One avid angler reported exceptional lingcod fishing at Three Arch Rocks last weekend. An easy limit with about a dozen that went back while pursuing their sea bass. It's making for some excited anglers once that opportunity returns.
The Guide's Forecast – It's all downhill from here. Well, at least until a slight bump in the hydrograph early next week, which isn't likely to have much of an impact on most north coast streams.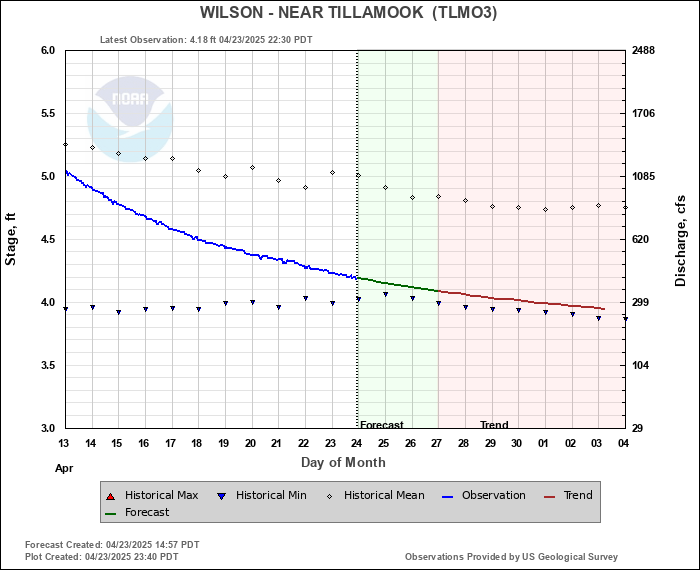 Make no mistake, there are more winter steelhead coming to a north coast stream near you. But let's also be realistic. There can be some great April winter steelhead fishing on years when runs are strong. This is NOT one of those years. That said, there will be some April steelheading, but anglers shouldn't expect great fishing. The best fishing can happen under the same scenario that we witnessed last weekend, following a prolonged period of dry weather, and a nice river rise to inspire staging steelhead to bolt upstream. Not a gully washer that sends them all upstream without any opportunities for us worthy anglers. Watch for that scenario to line up, it just won't be happening this week.
Meanwhile, we're keeping our 4-point suggestion box available to you below, it certainly applies again this week. Peak season is past, but there's still some good steelheading to be had.
Anglers have heard us preach the staples of fishing on a coastal river system, they haven't changed: (Re-read these, we've added some fodder to #1 & 2!)
Fish high in the river system when flows are high. This offers a distinct advantage for bank anglers that typically see more public access in the upper reaches of a watershed. Fish the lower reaches when flows are low, like this week! Don't overlook the tidewater reaches, you may just have to modify your technique however. Bobber and worms? Work plugs on the outgoing tide? Cast spinners? They may all produce results, but undoubtedly, steelhead will still be challenging to catch this week, no matter where you fish.


Fish the slower flows, these fish, like all animals, will take the path of least resistance. If the water is high, don't over look just 2 – 3 foot of water closer to the riverbank, where adults don't have to burn as many calories as they do in the swifter flows. The less the visibility, the closer to the river bank they will be. Fish the heat this weekend! Steelhead will be in the deeper, darker water, likely with a broken surface that'll make them feel secure. They'll be hanging in the "bouldery" water too so fish plugs or bobber and jigs in that water when you find it. That's where the big boys hand out in these conditions.


Fish big and bright, and ideally bait in the higher flows. As flows drop and clear, go more subtle and consider jigs and worms when it clears. Plugs aren't a bad idea either, steelhead get more territorial as migration slows in dropping flows. They get more responsive to plugs in these dropping flows.


It'll be crowded under these ideal conditions and as we enter peak season for this run of fish. You may benefit the most if you go innovative, don't fish what everybody else is fishing, you should find it rewarding.


These tactics and strategies have been consistent through the years, keep them handy if you don't have them memorized already.

Now, onto the river by river forecast!
Wilson River – The Wilson should continue to give up fish although conditions will become more challenging in the coming days. Another Monday bump won't hurt anything, but since water levels have been good, there won't be many steelhead that have been staging, like what we witnessed from last weekend's surge of steelhead.
Anglers would be wise to re-focus efforts in the lower reaches, as in Donaldson's to the water downstream of Sollie Smith Bridge as they will be slow to migrate and the freshest of fish will be found further away from the crowds, as in downstream areas better accessible by motor boat. It is coming closer to the end of the season on a less-than-stellar return so temper your expectations, but keep those single soft-beads bobber-doggin' and don't overlook the effectiveness of plugs this time of year.
Nestucca River – There's no reason for the 3-pack of problematic seals to be leaving the Nestucca anytime soon. They're pretty dynamic in their feeding routes but it'll continue to put a damper on angler success. It may be more fruitful to work the lower reaches of the Nestucca as I get a feeling these seals are spending more time picking off fish on the upper reaches where they are trying to spawn. The lower reaches are strategically a better choice to catch the new tidal fish coming in anyway.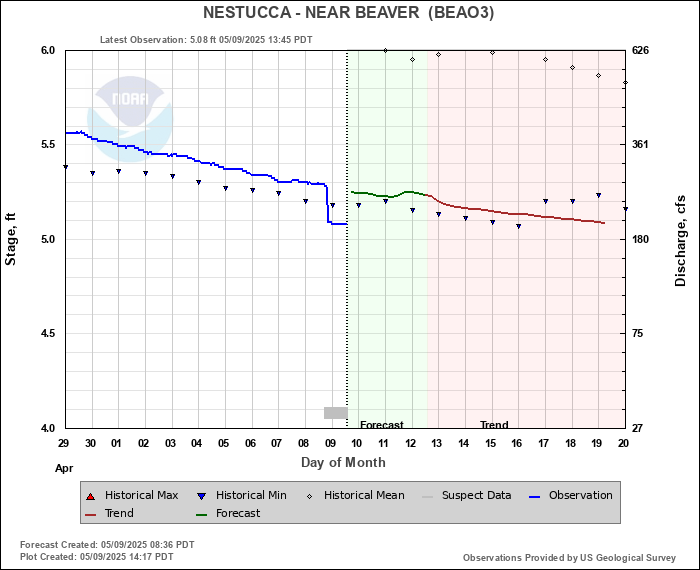 Again, plugs are a good option but there will still be plenty of anglers scoring on soft beads and small clusters of eggs as well. You'll want to cover large reaches of river to find the few biters left in this system, but I feel your frustration people.
Siletz River – Although the Siletz is more likely to have wild winter steelhead than any hatchery fish, it should remain a strong option for those happy with catch and release opportunities. That said, catching a summer steelhead this early in the season isn't out of the realm of possibility. Twin Bridge Park to the around town drift will remain a fair option for Siletz River anglers.
Trask River – The Trask should start to see more brutey wild fish in the coming weeks. There's already a fair seeding of wilds in the upper reaches, but more are coming. Yea, you guessed it, plugs are an effective option the way this watershed lays out. Pitching bait certainly won't compromise your chances either however. Fin-clipped salmon are allowed for retention right now, but you're quite unlikely to catch one, but imagine that…
Mainstem Nehalem River – Steelheaders upstream of the Highway 26 Bridge only have until the end of the month to pursue steelhead, but anglers downstream should still see fresh steelhead entering the river system for the next few weeks. You won't have much competition and water conditions should be good.
Alsea River – Far from a fan favorite this season, but a few more wilds and fewer late-run broodstock fish are still due in. You won't have much competition here, and you'll soon find out why.
Necanicum River – Only a few days left on this river for steelhead as well. Most of the fish are nearing spawning so please be respectful of that, but this system, along with the Kilchis, still have fresh wild fish entering into early April. The difference is, the Kilchis remains open past March 31st.
North Fork Nehalem – Mostly over here, but a few wild fish should be available.
Three Rivers – Big and Gnat Creek – Klaskanine River – Not much left to pursue in these systems. There might be a few wild fish entering, but the run is so low, they probably shouldn't be harassed.
The ocean doesn't look like it will give up much opportunity for most of the week, the exception being Saturday. The wind waves may produce a problem, despite the forecast only calling for 1 footers every 4 seconds. Be cautious of that forecast but for much of the week, fish n' chips looks challenging:
FRI  NW wind 10 to 15 kt with gusts to 20 kt. Wind waves NW  3 ft at 5 seconds. NW swell 8 ft at 10 seconds. Patchy drizzle  in the morning.  
FRI NIGHT  NW wind 10 to 15 kt. Gusts to 20 kt early in the  evening. Wind waves NW 2 ft at 4 seconds. NW swell 6 ft at  10 seconds.  
SAT  NW wind 5 to 10 kt. Gusts to 15 kt in the morning. Wind  waves NW 1 ft at 4 seconds. NW swell 4 ft at 9 seconds.
SAT NIGHT  SW wind 5 to 10 kt with gusts to 15 kt. Wind waves  W 2 ft at 4 seconds. NW swell 3 ft at 8 seconds.  
SUN  SW wind 20 to 25 kt with gusts to 30 kt. Wind waves  5 ft. W swell 5 ft. Rain.  
SUN NIGHT  W wind 20 to 25 kt with gusts to 30 kt. Wind waves  6 ft. W swell 11 ft. Chance of rain.  
MON  NW wind 20 to 25 kt. Wind waves 6 ft. NW swell 15 ft.  TUE  NW wind 15 to 20 kt. Wind waves 3 ft. NW swell 11 ft.