Springers Hit Or Miss in Tillamook, Halibut and Bottomfish a Nice Option
North Coast Fishing Report – It's still springers time in Tillamook Bay. That's the good news. The bad news is that there aren't many springers in Tillamook Bay.
There was some fairly good fishing in the upper bay on the last big tide series, but since the rains came earlier this week, and frankly before that, the bite had died for spinner and herring trollers in the upper reach. Overall, many would say the Tillamook Bay springer season may be producing slightly better than last year, but it's still been a tough fishery. Veteran guides are still getting skunked with an average day just one fish. But there's been a few boats that have posted 4-fish days as well.
In recent history, later in June has been better so it's too early to give up hope for one of these quality fish. We're coming into a softer tide series, which is my favorite to fish for T-Bay springers, but we'll talk about that more in the Forecast section.
I did fish on Thursday, hoping to take advantage of the low tide swing along the jetties this day. It was still close to a minus tide and there was some seaweed fouling our gear, even on a late 10:00 start. No biters were had however and after calling my guide contacts in the upper bay, it was dead up there as well with one guide witnessing just a single fish caught. Effort was light on Thursday, and I could see why.
Bottomfishers in the ocean did well for mostly bass, some lingcod. One of the halibut boats out of Garibaldi did well too, it was an all-depth opener. The bar was a bit snotty on Thursday so hopefully it improves this weekend.
Newport has come on strong, as it commonly does, for halibut fishing along the coast. Charleston had a strong early season showing, especially for the nearshore. HERE is the coast-wide stats if you wish to view. You may notice that the Columbia River Sub-area has yet to open for halibut. We have Washington to thank for that too. They've become quite the fishery stifler here lately.
Crabbing has been improving in the ocean and it's been decent in Tillamook Bay, fair at best in Nehalem.
District rivers saw a nice bump at mid-week and the Trask was in fine shape Wednesday and Thursday. The fishing was surprisingly slow however, with one good fisherman stating he had only hooked 3 fish back-bouncing eggs, which was oddly slow given the ideal fishing conditions. It simply appears as if the run here too, is in fact in tough shape, damn ocean conditions.
The Nestucca has posted a few fish, mostly in tidewater before the rains hit. Fish should be pretty well distributed here now, but with the hold-over tides coming, the mouth and tidewater reaches may become the better weekend option. Three Rivers has both summer steelhead and spring Chinook in it.
The Siletz is slow for springers, slow for summer steelhead but the reports aren't quite in yet following this week's rain freshet. Summer steelheading should be picking up there.
The Guide's Forecast – Starting with springers, my favorite hold-over tides are in on Tillamook Bay. Tides are already starting to soften and by Saturday, anglers willing to fish along the jetty should start to see some results if you target the tide right. High tide at Barview on Saturday is at 6:39. Anglers should be trolling with the last trickle of incoming tide from daylight through high slack, and then turn and go with the tide on the first sign of outgoing. The best time frame however will be the middle 2.5 hours of outgoing, directly after max ebb. On Saturday, max ebb should start to slow at about 10:00 a.m. As soon as it starts to slow, that's when the springers should start coming across the bar. You'll be tempted to fish through low-slack and you may certainly catch fish through low-slack, but if you see a fairly good bite just after max-ebb as I've described, it may serve you better to hop-scotch up the bay and try and intercept those traveling springers again in front of the US Coast Guard Station in Garibaldi versus wait for more springers to cross the bar at the jetty. It likely won't happen. There's only a finite numbers of salmon coming into the estuary this time of year.
The Ghost Hole, Bay City and the West Channel may also be good bets on high tide and the first part of outgoing. Herring behind Pro Trolls or 360 flashers would be a good idea. The fish shouldn't be traveling too high up into the estuary on these softer tides, it'll be best to work the lower reaches on both the incoming and outgoing tides. The upper bay will likely be slow.
As far as rivers go, the Trask is the only Tillamook Bay tributary getting any number of hatchery fish any longer. We might see another slight bump over the weekend, but the soft tide series may not inspire them to move up-bay all that fast.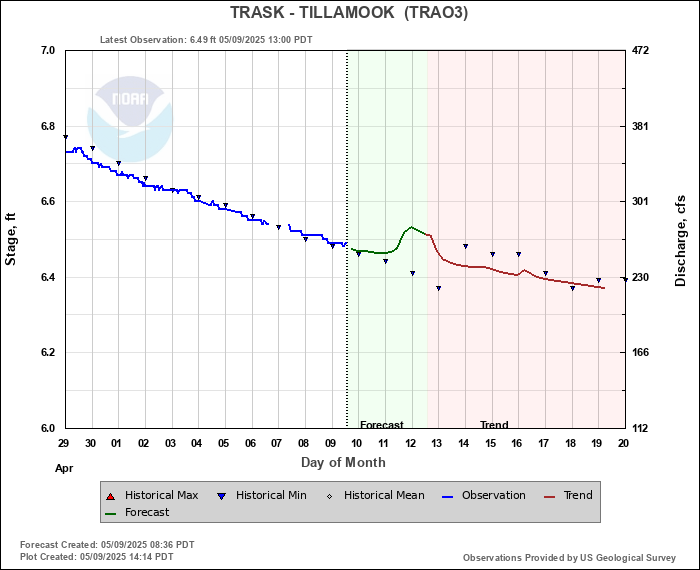 If you drift it, it will still be low but low-water tactics could still score results. Use smaller baits and plugs should work well in the dropping flows. Some fish could be holding up in tidewater too if you're a bobber and bait fisherman. Back in the day, we had some great fishing in the piling hole in mid-June, trolling spinners or plugs on the second half of outgoing tide. Although the action certainly won't be as good as it was in the 'olden days, it can still pay to go rogue when the fishing is this challenging.
The Nestucca should be floatable and springers should be available from First Bridge downstream. The jaws and tidewater should also be holding fish.
The Siletz will likely remain fair-at-best for springers but summer steelhead numbers should start to come on stronger, even in a down year.
Offshore, the halibut opener will last through Saturday and the ocean doesn't look too bad:
FRI W wind 5 to 10 kt. Wind waves W 1 ft at 4 seconds. W swell 6 ft at 10 seconds. Chance of rain in the morning.
FRI NIGHT SW wind 5 to 10 kt. Wind waves SW 1 ft at 4 seconds. W swell 5 ft at 9 seconds. Showers likely after midnight.
SAT W wind 5 to 10 kt with gusts to 15 kt. Wind waves W 2 ft at 4 seconds. W swell 4 ft at 9 seconds. Chance of showers.
SAT NIGHT NW wind 5 to 10 kt. Wind waves NW 2 ft at 4 seconds. W swell 4 ft at 8 seconds.
SUN SW wind 5 to 10 kt with gusts to 15 kt. Wind waves 2 ft. W swell 3 ft.
SUN NIGHT S wind 10 to 15 kt with gusts to 25 kt. Wind waves 3 ft. SW swell 4 ft. Rain likely.
MON W wind 10 to 15 kt. Wind waves 2 ft. W swell 5 ft.
TUE W wind 5 to 10 kt. Wind waves 2 ft. W swell 7 ft.
Sunday looks the nicest, a Tillamook spring Chinook/bottomfish option may be in the works! Don't overlook the last part of incoming tide on the south side of the south jetty for ocean springers, it could be a good option!