Chetco Slow, Grants Pass Steelheading Worthwhile
SW Oregon Fishing Report – Greetings! This is my second report and I'm trying to provide as much up to date information from as many places in SW Oregon as possible. However, I'll try and not just "fill space" with less valuable info. I'm learning about and obtaining more resources every day and will adjust the report according to the latest fishing opportunities. If I don't mention your particular interest and/or area, please leave a comment and I'll try to get info on it ?. If The Guide's Forecast is of value to you, please pass along the link to your fishing buddies: www.theguidesforecast.com
After last week's upbeat fishing forecast, I was "chomping at the bit" to get on the river and see if the fish are in. I talked to Mike, a fishin buddy from the gym, and we made a date for Saturday morning. I got my "work in progress" drift boat ready in the sub-freezing morning temp and started a float from Schroeder Park (just a few miles downriver of Grants Pass proper). Mike started off with a bobber and soft beads and then added a worm. I used my standby of pink corky with worm. We drifted and worked the holes and slots to a froth without a nibble ?. The day grew brighter and warmer, so we tried just worms, roe with and without corky, yarn balls, plugs and eventually some spinners. A beautiful day on the river eventually brought us 2 small ½ pounders….. more like ¼ pounders! Oh well, that's fishing! ? Remember I'm NEW! Tight lines! Romer ?
Southern Oregon Rivers "slow" for winter Steelhead, but Grants Pass guides catch fish!
Despite some great weather and river conditions the past week, the latest rain freshet is in the past and so are any fish that may or may not have been flushed up. Various local Grants Pass anglers reported very few fish being caught no matter what was being put in front of them. Some success was had by some of the local guides that know every fish-holding seam and pocket of the river. Hence, that why they are professionals and are paid to put you on fish! ? The mid Rogue flow at Grants Pass is falling slowly at 1800 cfs, 3 NTU and 45 degrees (as of 8am 3/18) which means it's fairly low and clear and still pretty chilly. There's some rain in the forecast for the next few days into next Tuesday 3/23, so hopefully it may bring some fish on the move and bite. It might be worth trying to hit the river on the weekend after the heavier rain…. Unless you're a true "Steelhead die-hard"!
From the Guides Mouth: Local Grants Pass guide Troy Whitaker of Troy's Guide Service (541-761-0015) reported that this week had some, but not hot success. "There are some fish around, but you have to stay diligent and keep working the places you know have fish and maybe try something else that most boats haven't tried yet," Troy told me. There was a bunch of boats working the same holes one after another with no success (he could see) and so he tried back trolling plugs and caught 2 10+ lb fish! I must have been one of the bait drifters above him, fishless!
Here's one of Troy with a nice steelhead:
And his clients with nice steelhead:
I asked Troy about bobber doggin' soft beads (seems to be my nemesis lately?) and he said yes, they are effective and better when you smear some Pautzke Fire Gel on em. He likes shrimp, crawfish and anise and will even put some on his plugs.
Troy mentioned it wouldn't be a bad idea to fish from Gold Hill to Rogue River since what fish were closer to Grants Pass, may now be upriver….go get em! There are quite a few good places to fish within the middle/ Grants Pass area- Gold Hill sports park ramp, Coyote Evans Park at Rogue River bridge, Chinook Park, Pierce Rifle, Pierce Park, Baker Park, Schroeder Park, Lathrop, Findley bend, and Griffin Park.
BE SURE AND KILL EVERY PIKE MINNOW – AKA SQUAWFISH!
Boat fishers should also use the same for success and include back trolling plugs- Kwikfish K9's in the copper colors along with black and silver, 49er, and pink/ silver combos seem to be the latest picks.
Bobber doggin' with soft beads and yarn balls soaked in nectar is also another choice and technique that is gaining popularity and taking Steelhead. Try some with Pautzke Fire Gel!
Local Grants Pass guide Riley Wallace of Wallace Guide Service 541-761-2386. Riley has fished every day since Saturday and has got some nice fish including a 29"er Saturday?
He's been fishing from Rogue River to Baker Park to Robertson Bridge with decent success…. In fact, the best I've heard so far! Even though the river dropped, he fishes the slots and deeper holes by bobber doggin' with soft beads and or roe w/ yarn. He was 3 for 7 on Monday! With the expected rain and higher colored water, he'll fish plugs closer to shoreline. Blue/ silver, blk/ pink stripe are his favorite colors. Below is a client with proof!
Josh from Rogue Fly Shop in Grants Pass 541-476-0552
Josh, my new fly-fishing contact said that because of the cold water temperature, fly fishing is slow although not impossible to catch a fish. Best bet for the next few days is mid Rogue wherever you got room to swing a fly. He did suggest the Applegate by the Hwy 199 bridge where swinging a stone fly with egg pattern, march browns and caddis pupa are his favorites there. As the weather warms up there will be more hatches and fly fishing will improve.
Lakes and ponds to fish this week:
TROUT STOCKING MAPS: Find your place to fish
Check out the ODFW fishing and trout stocking maps to find nearby fishing locations, driving directions and descriptions of amenities.
Lake Selmac (Selma) recently had 5000 stocked rainbow trout 3 weeks ago and is expected another nice stocking next week. . Try Power bait and/ or worms. The bass bite is picking up with the warming weather. Various bass hardware and plastics
Reinhardt Pond in Grants Pass will see its third stocking of 500 rainbow trout this week. A good bite often takes place mid to late morning. A simple setup of a nightcrawler under a bobber, or a dime size piece of PowerBait fished off the bottom is a good bet… plus some patience for the little ones
Lost Creek is 63% full and surface temp is 44 degrees is a good bet for trout fishing. Only the Takelma boat ramp is usable at the time! 20,000 rainbow trout is expected to be stocked next week. Bank anglers near the marina and Takelma boat ramp have been catching with power bait or worm with marshmallow floating from the bottom. Troller's try the classic Wedding ring with worm or power bait trolled slowly at about 30-50 feet down.
Trout fishing on most rivers and streams remains closed until May 22.
Applegate reservoir- it's about 35% full and surface temps are in the mid 40's now. The French Gulch boat ramp is usable now and shouldn't be too muddy.
Rivers and streams to fish this week:
Lower Applegate – Riley Wallace of Wallace Guide Service 541-761-2386 said that the lower river toward the mouth had been hot earlier this week. Friends of his that actually live on that stretch of the river reported 2 out of 5 fish caught success with soft beads and yarn balls. Some rain is expected the next few days through next Tuesday so the low and clear river should be a good prospect for weekend fishing. What rain we do expect shouldn't blow it out. Try casting silver spoons and spinners, small gobs of roe, soft beads, yarn balls, and worms of course.
Remember that only hatchery steelhead and trout may be kept and fishing from a floating device is prohibited! There is a lot of private property but good bank access around the Hwy 199 bridge, Fish Hatchery Park, Cantrell Buckley Park, upstream of Murphy, and near McKee Bridge. There are also scatterings of BLM lands in the upper river around McKee Bridge.
Lower Rogue- River conditions are over 1500 cfs lower than last week at this time however, some decent rain is expected to bring it up from Thursday through Saturday. Sunday/ Monday looks to be a window of opportunity. Boats bobber doggin with soft beads in the milky natural and pink seemed to have some success as is plugging closer to shore as the river is higher and is going down. Favorite colors of plugs are silver/ chartreuse & silver/pink got a few too. Bank anglers drifting small gobs of roe, yarn balls with scent, and soft beads will see some fish too.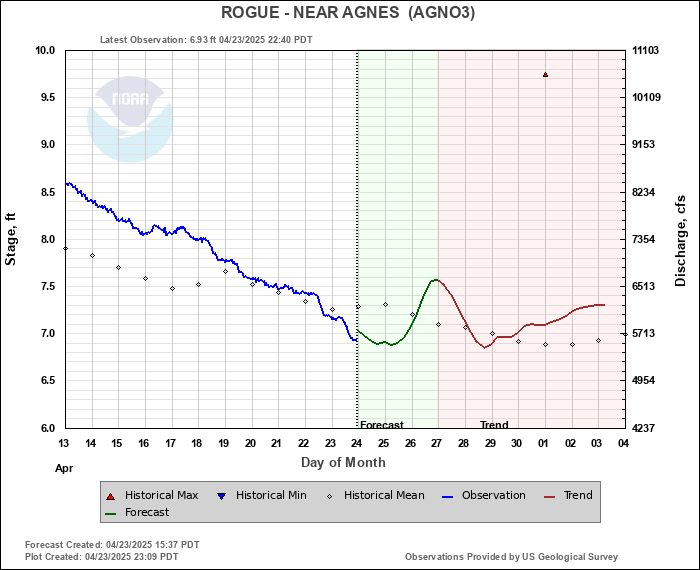 Middle Rogue- Fishing pressure during the Spring like weather was high during the past week with varying success. The cold nights and lower flow are thought to decrease the bite action of what little fish there are. Rain is expected Thursday through Saturday and should improve river conditions and "fingers crossed", the fish numbers starting Sunday when there's a break from the rain.
Usual tackle fare for bank anglers- side drifting worms or roe with corky, soft beads and yarn balls soaked in scent should do the trick. If that doesn't work, try your hand at bobber doggin with the above baits. Try some Pautzke Fire Gel on plugs, corkys, soft beads and such.
Boaters running plugs in the slots and seams of the river current should also produce. Don't be afraid the change colors and types of plugs. Down runner steelhead are also reported to be in the catch mix. These are spawned out fish that have "done their duty" and unless you're really hungry, it's encouraged (but not necessary) to release them. Wild steelhead can now be retained in the whole Rogue basin, as long as the fish is a minimum of 24 inches long. Only 1 wild fish per day, and 3 per year zone wide in aggregate may be kept.
Upper Rogue- Fishing has still been slow with a few winter fish are being caught from Touvelle to the hatchery and numbers will only increase in the next month. The flow rate is much lower than in the middle and is a favorite for avid fly fisher and spoon/ spinner casters.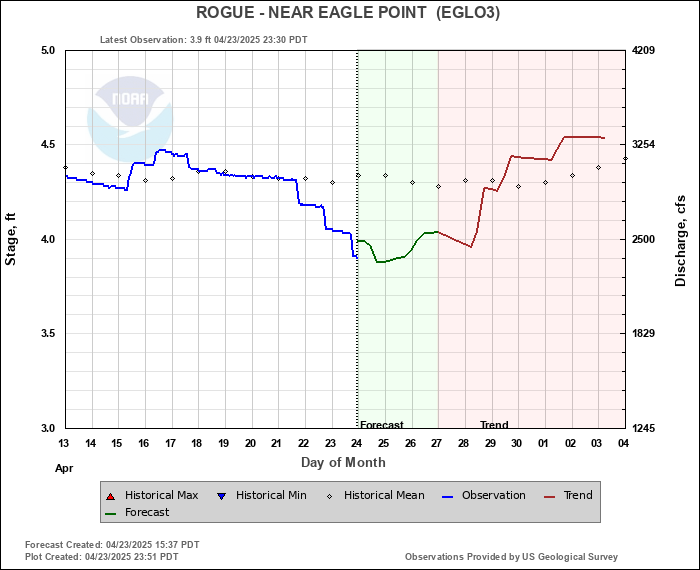 Chetco River- Not much to report here except the pressure and fish are low. The outlook for weekend fishing is promising since rain may bring some fresh fish in. Social Security hole plunkers (a popular spot for locals) will be hitting it hard. Plunking Spin-n-Glo's tipped with a piece of shrimp or roe is most popular. Reports of down runner fish are also in the mix of catches. PLEASE be courteous to other bank and boat fisherman! ???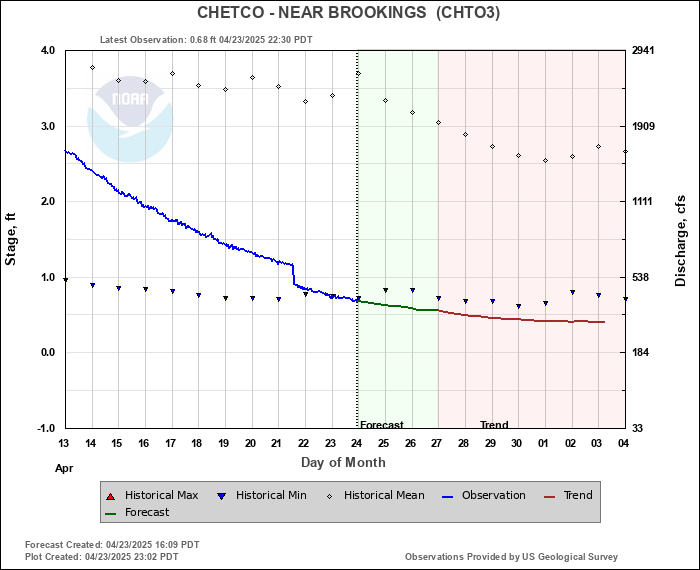 UMPQUA RIVER System- River conditions have been good and seasoned guides are catching some nice steelhead. With some rain in the forecast, fishing should improve especially for boater's bobber dogging roe, yarn balls and soft beads. Those plug enthusiasts will also be rewarded with popular colors of pink, silver, blue and chartreuse combos. Bank anglers drifting roe and nightcrawlers can get fish too.
Spring Chinook anglers will start fishing in the lower river towards the end of March. Most anglers plunk from a boat or the bank using either a spinner or other lures. Please remember that the mainstem is temporarily closed to the harvest of all wild Chinook (including jack Chinook) through June. Consider using gear that will be less harmful to fish that need to be released. Tactics such as using single point hooks and artificial lures may ensure a higher survival of wild fish after release.
Note that as of Oct 1, fishing in the fly water area is restricted to the use of a single, barbless, artificial fly.
NOTE: Umpqua winter steelhead study Anglers who catch a hatchery winter steelhead in the Umpqua Basin are being asked to turn in the snouts from those fish. Some of these snouts contain small tags. Anglers who turn in snouts that contain these tags will be entered into a raffle for a $50 gift card. Snouts may be turned in at barrels located around the basin, Sportsman's Warehouse in Roseburg, or the Roseburg ODFW office. Tags obtained from the fish will inform ODFW on the best release strategy for juveniles to provide the most fish back to anglers in the future.