Willamette River Fishing Report – Well, this will be easy. The river remains very high and very turbid with little sign of improvement in coming days. The mid-valley got hit so hard that the US Army Corps of Engineers is still releasing water to keep the reservoirs from overflowing. The river is forecast to drop, but very few fish were taken this week as creel counts indicate. Here is the future according to the USGS: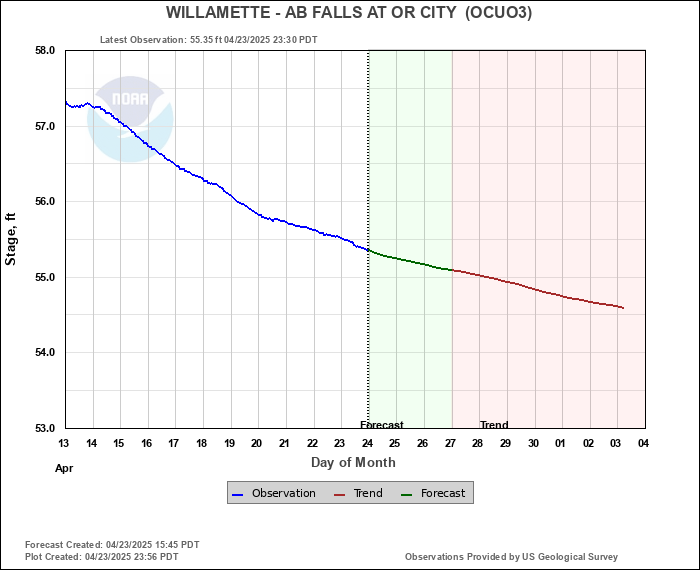 There's little sense in highlighting creel data. ODF&W data cruncher Eric Ollerenshaw produced this scientific data from last week's catches: "As expected due to river conditions, estimated 2 chinook caught last week."
Nuf said…
April 15st Willamette Falls-Temperature: 48, Visibility: 1.2
The Guide's Forecast –We certainly have more to think about this week as the hydrograph points out that the river is dropping, and therefore will clear. It's still several days away, but conditions should improve into the weekend.
Fish passage at Willamette Falls has dropped to nothing, but that's to be expected given the current water conditions. Passage should ramp up after the weekend, when flows begin go subside.
So, where to go, what to do? Well, although the river is dropping, it doesn't appear to be clearing all that much, and it is still relatively high. Conditions look much more favorable come early next week, but as knowledgeable anglers will tell you, you don't need much visibility to make for a productive spring Chinook outing. We could see a few caught over the weekend but it'll be like finding an Easter egg in a haystack. (Good luck with that too).
When the river does clear enough to gain some confidence (I'd estimate by Monday, possibly Easter Sunday), all reaches of the river should be producing. It's hard to say whether one reach will be more productive than another, given we're entering peak season here, but Oregon City is usually the first place to clear and there's enough soft water just downstream of the West Linn Bridge that Chinook should start to pool up there, and they'll certainly appreciate 16 or 18 fewer California sea lions in that reach of river too.
Bait will typically dominate the catch right after a high water event, that shouldn't be any different this time around. Plugs can be effective as well. Keep both baits and plugs well scented as fish will be motivated to bite in the bigger water, but they'll have a harder time finding your bait/offering to bite. It might be best to add some color to your offering (small corkie, spin-n-glo or yarn) for added measure. Black can be a good high water favorite, especially for backtrollers working the Oregon City area. It may be a bit early to backbounce eggs just yet, but later in the week may prove effective.
The Sultan of Sellwood hopes to be back on the water late in the weekend, but definitely early next week. It's not a pretty sight to see John Shmilenko go stir crazy! Trollers working from Milwaukie through the Portland Harbor should also finding migrating biters. They won't be around for long given the run timing and water conditions however so be there when it starts to clear.
The Multnomah Channel should also produce good catches by early next week, if not by Sunday. Again, fish will be moving through at a fairly fast pace so weekend anglers might find success as well. Some of the sediment should settle out by the time it hits the lower channel. Keep those herring spinning and cover lots of water for success. It won't be a bad idea to anchor with herring or plugs either in the channel on the outgoing tide, just don't anchor in the trolling lane please!