Willamette River Still Putting Out Springers, But Luck Will Still Have To Be On Your Side
Willamette River Fishing Report – As was to be expected, effort for Willamette River spring Chinook increased this week; it doesn't take long to inspire cabin-fevered fishermen to get outside and justify the effort it takes to catch a prized spring Chinook. Also to be expected, catch rates dropped.
It's not uncommon to see a strong spurt of success when the Willamette first comes off a period of high, turbid water and if it stays in that prime condition for long, catch rates are best in the lower reaches (The Multnomah Channel in this case) will often take the lead over mid-river and upper river areas during these prolonged periods of steady water conditions.
You can see from the creel check below how the Channel remained the strongest reach of river to pursue spring Chinook in, and note that the mark rate for hatchery fish was a whopping 100% in the upper reach (Oregon City area) for this week too. That's not very typical for this fishery, under these conditions. But who really has fishing figured out anyway?
There's only been a few spring Chinook ascend the falls so they're safely stacking up in Oregon City and NOT being chased around by sea lions. What a pleasant change from years past.
Nothing is different as far as strategy goes. Folks are still largely trolling herring in pursuit of these fish. The one exception is Oregon City, where hogliners are frequenting their favorite lines above the I-205 Bridge. The Lake Line and Sand Bar spots have frequent visitors that are finding an occasional fish now and then. Hogliners are largely using sand shrimp and plugs this early in the season.
The Sultan of Sellwood (John Shmilenko) reports, "Still very slow, although there was a 23 pounder caught at the Rail Road Trestle Tuesday, one at the Spaghetti Factory Wednesday and one on the ledge at Sellwood as well." So, those putting in the effort, with a fair degree of luck, can come across a keeper indeed. The fishing will improve in the coming weeks however.
Here's the week's production as compared to year's past:
The Guide's Forecast – There won't be a whole lot of change for Willamette River anglers this week. Water conditions look as if they'll remain somewhat consistent, with only a minor bump anticipated for next week: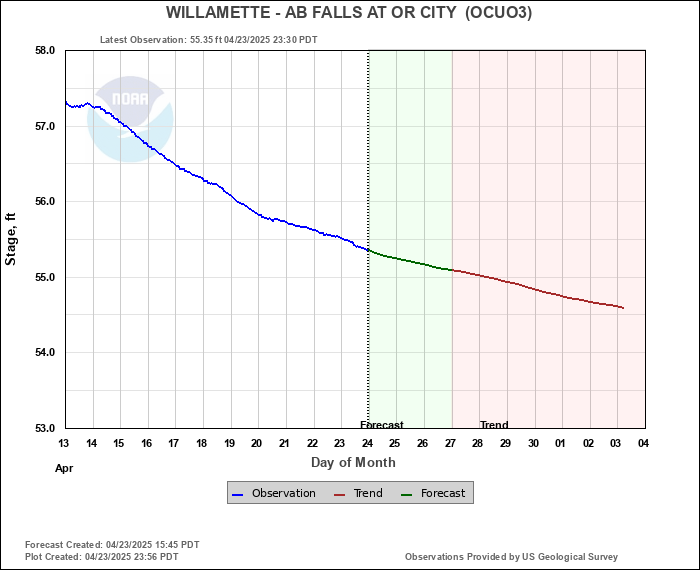 For this reason, anglers can expect much of the same results as we saw last week. All reaches of river should produce fair catches, but don't expect a marked improvement in catches for spring Chinook this week. Effort will likely increase with spring break and the simple anticipation of improving numbers, but with the increased effort and the likelihood of not seeing dramatically improving numbers of fish until more 4-year olds show in April, anglers will still have to have a strong run of luck to come across spring Chinook this week. Thankfully, that won't slow interest.
The Multnomah Channel will remain the best reach of river to pursue fish in, with herring still producing the bulk of the bites for this fishery. As you likely know by now, green label herring are hard to come by. There are some blue label herring and some orange label herring, but the preferred size, green label for these spring Chinook, have largely been absent. While that may cause concern for those that troll herring naked, many anglers will be just fine with trolling these smaller sized herring behind a Pro-Troll flasher since we have good success using size 3.5 spinners behind these Pro-Trolls most times of the year. The Portland Harbor is a fine place to employ this exact technique, and should remain a viable option for most metro anglers that don't want to travel to St. Helens in search of success.
Upper Willamette anglers will also be doing some trolling around the Railroad Bridge and upstream to Cedar Oaks. Backtrollers, mostly using sand shrimp, and anchor boats hoglining will stick with plugs, sand shrimp and maybe some prawns this time of year. It's still a bit early for spinners to be effective, but not out of the realm of possibility if that's what you have the most confidence using. If the flows are strong enough, running a herring off of the back of your boat isn't a bad idea either, IF you can keep it spinning.
Sturgeon fishing remains relatively productive in all reaches of the lower Willamette, and that's not likely to change for the next several weeks. Here is the creel report if you care to research what reaches of river are producing the best over the last 2 weeks:
Smelt will make a great bait but anglers should be able to rely on fresh sand shrimp as well. Most anglers will have springers on the mind, but if springer fishing is slow, dropping some bait over the side in a select location should prove fruitful for those looking for action, of the catch and release variety that is.